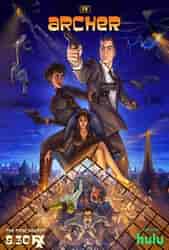 TV Info
---
Category
TV Series
Genre
Animation, Comedy
Starring :
H. Jon Benjamin,
Aisha Tyler
, Jessica Walter, Chris Parnell,
Judy Greer

October 13, 2014 10:10:25
Since the term ISIS has been linked to a terrorist group, "
Archer
" will no longer use the abbreviation. The animated series on FX had been using ISIS (International Secret Intelligence Service) as the name of the spy agency but the acronym will no longer appear or be spoken of in season 6.
"We won't say ISIS anymore, and the only visual representation of it will be that sign rolling off the show," executive producer Matt Thompson told The Daily Beast. "It's just the most awful thing, and we didn't want to have anything to do with it."
...
February 24, 2012 09:02:12
"
Archer
" has been officially renewed for a fourth season, so FX announced on Thursday, February 23. Beside greenlighting the animated espionage series, the cable channel has sealed a two-year overall production deal with the show's executive producers Adam Reed and Matt Thompson, as well as the duo's animation studio Floyd County Productions.
"It was an easy decision," FX EVP of original programming Nick Grad said of the renewal. "['Archer' executive producers Adam Reed and Matt Thompson] and our amazing voice cast are delivering one of the funniest and smartest shows on television. It has deservedly grown beyond its initial cult following to become both a critical and ratings success. It is a true asset to the FX comedy roster."
...