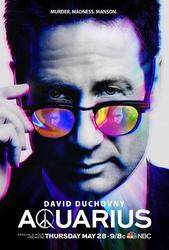 TV Info
---
Category
TV Series
Genre
Drama
Starring :
David Duchovny
, Gethin Anthony, Grey Damon, Emma Dumont, Michaela McManus, David Meunier, Chris Sheffield, Ambyr Childers, Beau Mirchoff,
Claire Holt

June 21, 2014 10:06:02
NBC's "
Aquarius
" has found its Charles Manson. Gethin Anthony, known for playing Renly Baratheon on HBO's "
Game of Thrones
", will tackle the role of the real-life criminal on the 13-episode miniseries, a representative for the network has confirmed.
The 30-year-old English actor will star opposite
David Duchovny
who is cast as Det. Hodiak, an LAPD sergeant in 1960s who is investigating a then-unknown Manson. The murderer, described as the "archetypal Authentic Hippie Freak" on the show, is also a budding cult leader trying to lure vulnerable women to join his "cause."
...
April 01, 2014 07:04:04
David Duchovny
did not wait long to set his eyes on another TV series before "
Californication
" ends. The actor has lined up his next project, a 13-episode straight-to-series order about notorious murderer Charles Manson.
"
Aquarius
" was announced by NBC on Monday, March 31 as an "event" series. "Event series are a big priority for us, and the combination of a show that charts the lead-up to the Manson murders, along with a television star of the magnitude of David Duchovny, is the very definition of an event," said NBC Entertainment president Jennifer Salke. "We're thrilled to be working with these talented producers, including Marty Adelstein and creator John McNamara, to present something truly original."
...