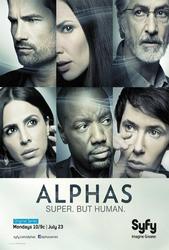 TV Info
---
Category
TV Series
Genre
Drama, Sci-Fi
Starring :
David Strathairn
, Malik Yoba, Warren Christie, Laura Mennell, Ryan Cartwright, Azita Ghanizada

January 17, 2013 10:01:50
Another show has come to an end. A day after
Lifetime pulled the plug
on "
Drop Dead Diva
" which has aired four seasons, Syfy announced on Wednesday, January 16 that it canceled "
Alphas
" after two seasons.
"Syfy has decided not to renew Alphas for a third season," the network said in a statement. "We've been proud to present this entertaining, high-quality series for two seasons and to work with an incredible ensemble of talented actors, producers and creatives as well as our partners at BermanBraun Television. We'd like to thank the show's dedicated regular viewers for their tremendous support."
...
May 27, 2011 03:05:06
While mutants are ready to storm big screen in "
X-Men: First Class
", another group of super-powered humans will grace small screen on "
Alphas
". Coming from "
X-Men: The Last Stand
" writer Zak Penn, the TV show follows a team of ordinary citizens with extraordinary mental and physical abilities.
A new promo for the Syfy new series is now available for viewing pleasure, introducing the characters as well as their special abilities. Nina (Laura Mennell) is able to re-program people's brains, Bill's (Malik Yoba) ability is to summon amazing strength, Gary (Ryan Cartwright) can read electromagnetic wave, Rachel (Azita Ghanizada) can enhance one of her senses, while Cameron (Warren Christie) possesses flawless aim, perfect balance, and greatly enhanced motor skills.
...