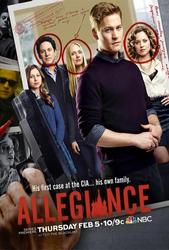 March 07, 2015 09:03:11
Hope Davis
and Scott Cohen's "
Allegiance
" is broken. The freshman drama is canceled by NBC after airing only five episodes of it. The cancellation, however, comes as no surprise since the show failed to attract a large number of audience since its premiere.
Another newbie, "
The Slap
", which originally airs on Thursdays at 8 P.M. will take over "Allegiance" vacated timeslot at 10 P.M. Starting March 12, "Dateline: The Real Blacklist" will air at 8 P.M., leading into "
The Blacklist
" at 9 P.M.
...
December 26, 2014 08:12:30
After "
The Americans
" on FX, another TV series about a spy family is coming to NBC. The first sneak peek for midseason drama "
Allegiance
" has now made its way out online, giving a look at the complication that arises in the family.
Years ago, Russian-born Katya was tasked by the KGB to recruit American businessman Mark O'Connor as a spy and the two fell in love. It was agreed that as long as Katya remained an asset for Russia and that her services could be called on in the future, she would be allowed to marry Mark and move to America.
...