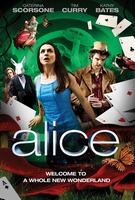 TV Info
---
Category
TV Series
Genre
Drama
Starring :
Caterina Scorsone
,
Tim Curry
,
Kathy Bates
, Andrew Lee Potts, Matt Frewer, Colm Meaney,
Philip Winchester
, Harry Dean Stanton Meaney, Alessandro Juliani, Timothy Webber, Alex Diakun, Zak Santiago, Eugene Lipinski

November 16, 2009 10:11:29
"
Alice
", SyFy's take on the Lewis Carroll classics "Alice's Adventures in Wonderland" and "Through the Looking-Glass" has been given a short but new promo. This TV spot introduces one by one briefly the main characters of the miniseries from the titular character to the villainous Red Queen.
28-year-old actress
Caterina Scorsone
plays Alice since the writer/director Nick Willing wants this version to follow the more adult and "fiercely independent" version of the character. Alice is a stranger in an outlandish city of twisted towers and casinos built out of playing cards, all under the rule of a deliciously devilish Queen who's not very happy about Alice's arrival. Playing the Red Queen is
Kathy Bates
.
...