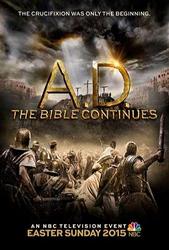 TV Info
---
Category
TV Series

Genre
Drama

Starring :
Juan Pablo di Pace, Richard Coyle, Vincent Regan, Adam Levy, Emmet Scanlan, Chipo Chung, Jodhi May, Joanne Whalley, Greta Scacchi, Babou Ceesay


This special event miniseries picks up where the smash hit, "The Bible," left off, continuing the greatest story ever told and exploring the exciting and inspiring events that followed the Crucifixion of Christ.
As most of the world knows, the Crucifixion was only the beginning of the story. The immediate aftermath of Christ's death had a massive impact on his disciples, his mother Mary, and key political and religious leaders of the era, completely altering the entire world in an instant. Watch as the disciples struggle to survive and share their beliefs, guiding us from the sorrow of Christ's ultimate sacrifice to the awe-inspiring wonder of the Resurrection and beyond.