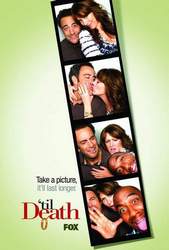 January 10, 2009 02:01:05
FOX apparently have not given up on "
'Til Death
". The comedy series that struggled with the rating when it premiered its third season in September 2008, has been given a green light from the network to 22 more episodes for the fourth season.
It is not clear yet though whether the third season that stops airing only a month after its season premiere will be continued or not, especially knowing that FOX's midseason schedule has been packed with the new season of "
American Idol
", and new series such as "
Dollhouse
" and "
Lie to Me
". Supposedly there should be 15 more episodes to complete the third season and bring the show to a total of 80 episodes.
...