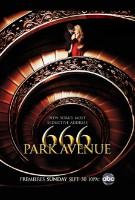 July 19, 2012 04:07:48
As you prepare to go back to routine after the summer holiday, TV networks are lining up a bunch of entertainments that will accompany you to enjoy the night after work. While still bringing back some of your favorite programs this fall, they also have some new shows which could provide more options to watch, from horror to comedy.
To give a quick overview of these upcoming shows, AceShowbiz presents Guide to 2012 Fall TV Series, the first part of which highlights some of the rookies. The spooky "
666 Park Avenue
", the action-packed "
Arrow
", the thrilling yet romantic "
Beauty and the Beast
", as well as the ticklish "
The Mindy Project
" are just some of these freshmen that will be rolled out for your pleasure.
...