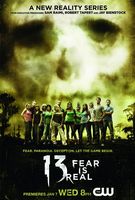 TV Info
---
Category
Reality TV

Genre
Reality, Horror


December 20, 2008 09:12:43
The CW have started with the promo of their new reality TV series, "
13: Fear is Real
". After a clip previewing
a scene from the show
was released yesterday, the network have unleashed two more promos, an intro to the show and a title sequence.
Apt to its title, the promo gives introduction to how the game will be played, and where it will take place. 13 people are transported to a remote place in Louisiana Bayou which is deemed the most haunted place in the U.S. as well as the place where Voodoo is practiced largely. The contestants only know that they will be dropped into a dark wood to face their fears but they have no idea that they are being watched. The last person standing will be granted a cash price of $66,666.
...
December 19, 2008 11:12:09
The CW make an introduction to their new reality show, "
13: Fear is Real
" by releasing a clip from one of the episodes. Using a night vision camera, the clip shows Ted trying to look for Leah in the dark and eventually hears her screaming asking for help in the distance.
To be premiered on January 7, "13: Fear is Real" is a new show designed to evoke a person's deepest fear. Pitted against each other in situations straight from the horror movies, the 13 will face shocking surprises, psychological scares and lots of "beware of the dark" moments, all designed by a "mastermind" of terror.
...