NBC planned a big transition in its late-night line-up, Angelina Jolie revealed her brave decision to prevent cancer, and Kim Kardashian gave birth to her daughter in the second quarter of the year.
Entering the second trimester of 2013, NBC announced plans for a big shakeup in its late-night line-up which is highlighted in the second part of AceShowbiz's annual Kaleidoscope. The network officially appointed Jimmy Fallon to take over the "Tonight Show" throne from Jay Leno effective February 2014. Upcoming movie projects were also shaping up, with some casting news coming from big films like "Transformers: Age of Extinction", which tapped Kelsey Grammer as its villain, and "X-Men: Days of Future Past", which brought Evan Peters into the fold to play Quicksilver.

In celebrities' personal lives, Angelina Jolie might now inspire more people after revealing her brave decision to have double mastectomy to avoid cancer after she found out that she's a breast cancer gene carrier. Meanwhile, congratulations were in order for Kim Kardashian and Kanye West, who welcomed their first child, a baby girl named North West, in June.


APRIL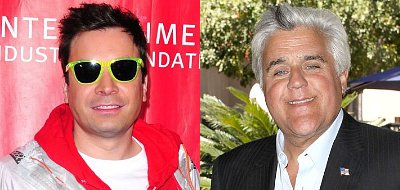 It was only a matter of time before NBC confirmed that
Jimmy Fallon
would take over "The Tonight Show" from
Jay Leno
. After months of speculation about the veteran talk-show host's retirement, it was finally made official on April 3 that the "
Saturday Night Live
" alum was tapped as Leno's successor on the 11:35 P.M. slot. Making sure that the transition would be smoother than the previous time involving
Conan O'Brien
, Fallon and Leno appeared in sketches on both "The Tonight Show" and the "Late Night" show to address the issue. Talks have since begun about what Fallon's planning to do on "The Tonight Show", with him saying that the "Late Night" team intended to pretty much do the exact same thing, just an hour earlier.
Other notable events of the month:
Apr 01: "Buckwild" star Shain Gandee died.
Apr 03: Jimmy Fallon was officially tapped to take over "The Tonight Show" from Jay Leno.
Apr 03: Richie Sambora stopped joining Bon Jovi on tour due to "personal issue".
Apr 04: Movie critic Roger Ebert died.
Apr 07: Luke Bryan was named Entertainer of the Year at the 2013 Academy of Country Music Awards.
Apr 11: Comedian Jonathan Winters died.
Apr 12: "Spartacus" had a bittersweet ending.
Apr 14: "The Avengers" was named Movie of the Year at the 2013 MTV Movie Awards.
Apr 17: Lady GaGa was chosen by Time magazine as the second most influential person over the past ten years.
Apr 17: "The Croods" and "21 Jump Street" sequels were officially greenlit.
Apr 19: Reese Witherspoon was charged with disorderly conduct as husband was booked for DUI.
Apr 22: Comedy Central canceled "Futurama" after seven seasons.
Apr 22: Barbra Streisand was honored with Chaplin Award.
Apr 24: Gwyneth Paltrow was named the world's most beautiful woman by People magazine.
Apr 25: Lauryn Hill denied accusation that she inked a mega deal with Sony Music to avoid prison time for tax evasion.
Apr 26: Country legend George Jones died at 81.
Apr 27: Selena Gomez took home Best Female Artist award at 2013 Radio Disney music Awards while ex-boyfriend Justin Bieber won Best Male Artist.
Apr 28: Helen Mirren was hailed as the best actress at the 2013 Olivier Awards.
Apr 30: Tyler Blackburn left "Pretty Little Liars" to star on its spin-off, "Ravenswood".
MAY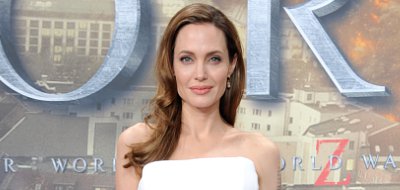 When it comes to health,
Angelina Jolie
wasn't reluctant to sacrifice one of her best assets. The actress, famous for her curves, announced in mid-May that she had undergone a preventive double mastectomy in April to avoid cancer. Her bold decision was made following her family's bad history with cancer. Her mother Marcheline Bertrand had breast cancer and died from ovarian cancer, and her maternal grandmother died from the same disease. With the surgery,
Brad Pitt
's fiancee lowered her chances of developing breast cancer to under 5 percent. Health campaigners praised her decision as she hoped that "other women can benefit from my experience."
JUNE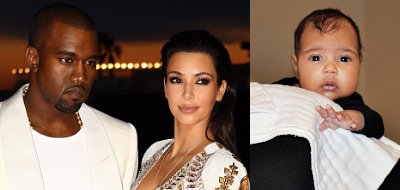 Kim Kardashian
closed an old chapter in her life and began a new one in June. Less than two weeks after her divorce with
Kris Humphries
was finalized, the E! reality TV star gave birth to her daughter with
Kanye West
five weeks earlier than the due date. The proud parents named their bundle of joy North West, which means the baby is the highest point for the couple. While the world was eagerly waiting to get a look at their daughter, the couple decided not to sale the baby's first photo to any media but debuted it on Kim's mother
Kris Jenner
's talk show in August, ending months of fans' curiosity.
Other notable events of the month:
Jun 02: "The Sopranos" was dubbed the best written TV series of all time by The Writer Guild of America East and West (GA).
Jun 03: "Iron Man 3" became the fifth biggest-grossing movie of all time with $1.18 billion.
Jun 05: Showtime canceled "The Borgias" after three seasons.
Jun 05: Paris Jackson attempted suicide.
Jun 06: Mel Brooks was awarded with the Life Achievement Award by American Film Institute (AFI).
Jun 06: HBO announced season 4 of "Eastbound & Down" would be the last for the show.
Jun 09: Cyndi Lauper and Tracy Letts won at the 67th Tony Awards.
Jun 10: "Game of Thrones" and "Breaking Bad" were tied as Best Drama Series at the 2013 Critics' Choice Television Awards.
Jun 12: Khloe Kardashian confirmed Kim Kardashian had given birth to baby daughter.
Jun 16: "The Ellen DeGeneres Show" and "Sesame Street" won big at the 40th Annual Daytime Emmy Awards.
Jun 16: Erin Brady from Connecticut was crowned as 2013 Miss USA.
Jun 17: Ryan Reynolds dropped out of "Highlander" reboot.
Jun 18: Selma Blair was out of "Anger Management" after alleged feud with co-star Charlie Sheen.
Jun 18: Rihanna became the most viewed artist on YouTube, edging out Justin Bieber.
Jun 18: Danielle Bradbery won "The Voice" season 4.
Jun 19: "Fifty Shades of Grey" officially hired Sam Taylor-Johnson as director.
Jun 19: James Gandolfini died in Italy of heart attack.
Jun 19: Shailene Woodley, who was cast as Mary-Jane, was cut from "The Amazing Spider-Man 2".
Jun 20: Robert Downey Jr. signed up to return as Iron Man in two "The Avengers" sequels.
Jun 21: Food Network dropped Paula Deen amid her alleged use of N-word.
Jun 22: Demi Lovato's father died after reported battle with cancer.
Jun 22: George Lucas married his fiancee Mellody Hobson.
Jun 24: Kerry Washington married Nnamdi Asomugha.
Jun 25: Miley Cyrus set new record as her raunchy "We Can't Stop" music video garnered 10.7 million views during its first 24 hours on YouTube.
Jun 26: Lady GaGa topped Forbes' list of the most powerful musician.
Jun 26: "Revolution" and "The Walking Dead" were among the winners at 2013 Saturn Awards.
Jun 26: "The Avengers" claimed big victory at the 39th Saturn Awards.
Jun 28: Pierce Brosnan lost daughter Charlotte to ovarian cancer.
Jun 29: Sarah Guyard-Guillot of Cirque du Soleil died after falling 50 feet during performance.
Jun 30: Jessica Simpson and fiance welcomed son Ace Knute.
« Back to Part 1
|
Next to Part 3»
|
Next to Part 4»
© AceShowbiz.com