December 29, 2011 09:02:53 GMT
The highlights on this second quarter of the year are the royal wedding of Prince William and Kate Middleton, the final bow of 'The Oprah Winfrey Show', and the removal of Rebecca Black's video.

---
AceShowbiz's look-back at 2011 continues with this second part of Kaleidoscope. Many celebrities shared happy news about marriage, pregnancy or newborn babies, but there were also others who coped with personal woes like divorce, split and health scares. Among those receiving wide coverage, it was the royal wedding of Prince William and Kate Middleton which stole the most attention. 's star-studded farewell and the removal of 's "Friday" from YouTube also stole the headlines.

In movie business, big studios had already packed their big movies ready for summer releases, so they focused more on the promotions. Still, they got their hands full for fall and next year's projects. The casting departments were busy with securing high-profile actors, and the crew were occupied with production works. That's why casting reports and first-look or sneak-peek stories dominated the movie news during this second quarter of the year.


APRIL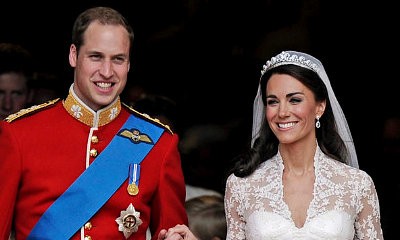 All eyes were on England on Friday, April 29 to witness the union of Prince William and his commoner girlfriend Kate Middleton. The second heir to the British throne looked dashing wearing the famous tunic of an Irish Guards officer, while his bride was radiant in an Alexander McQueen dress which was praised by many for having a timeless quality with its elegant cut. Glowing with happiness after exchanging their vows at Westminster Abbey, the newlyweds shared the joy with the world by kissing not just once, but twice, on the balcony of the Buckingham Palace.
Other notable events of the month:
Apr 01: and Brian McFadden ended their relationship after seven years of dating.
Apr 04: and officially secured roles in "".
Apr 06: Grammy Awards announced new rules and trimmed categories.
Apr 07: Bravo canceled ""
Apr 10: "" got official title and villain.
Apr 10: "" and "" were honored at GLAAD Awards.
Apr 13: sought treatment for bipolar disorder.
Apr 13: gave birth to her first son.
Apr 15: signed two-year deal to return to "".
Apr 18: was officially out of "" U.K.
Apr 18: came out as bisexual.
Apr 19: exited "".
Apr 19: revealed about her bipolar disorder.
Apr 22: was sentenced to 120 days in for violating DUI probation.
Apr 22: married her actor fiance .
Apr 25: announced Bad Meets Evil reunion.
Apr 27: confirmed her engagement to Matthew Bellamy.
Apr 28: "" announced 2011 summer tour dates.
Apr 29: Prince William married longtime girlfriend Kate Middleton.
Apr 29: won double victories at MTV's inaugural O Music Awards.
Apr 30: and husband welcomed their twins.
MAY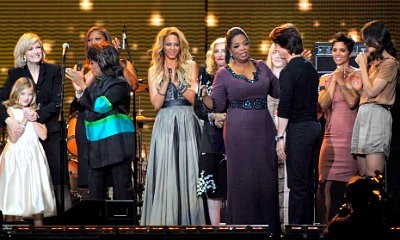 After hosting "" for 25 years, pulled down the curtain and took a final bow on May 25. Taking place at the United Center in Chicago in front of 13,000 people, the final chapter of the show featured appearances of living legends, once-in-a-lifetime performances, and ultimate tribute among other unforgettable things. Supported by a list of high-profile friends like , , and , the queen of the daytime show closed the star-studded affair in tears. The episode helped the talk show draw its highest rating in 17 years.
Other notable events of the month:
May 01: and renewed wedding vows.
May 04: re-married her first husband Stephen Craig.
May 05: debuted "Judas" music video.
May 06: premiered inspirational music video for single "Mean".
May 09: and Jessica Szhor exited "".
May 09: and Maria Shriver announced separation after 25 years of marriage.
May 11: and called it quits.
May 12: frontman Caleb Followill tied the knot with .
May 12: broke Hot 100 record by spending the whole year on Top 10.
May 13: officially joined "".
May 13: officially joined "".
May 14: exchanged wedding vows with .
May 15: 's M-Bone was shot to death.
May 16: confessed fathering a love child.
May 18: Lionsgate uncovered the first look at in "".
May 18: released music video for women-empowerment single "Run the World (Girls)".
May 18: got engaged to .
May 20: The first look at as villain Bane in "" was unveiled.
May 22: "" chose John Rich as the fourth season winner.
May 22: dominated winner list at 2011 Billboard Music Awards with seven prizes.
May 24: "" announced Hines Ward as the winner of season 12.
May 25: "" crowned as the winner of its tenth season.
May 25: bid farewell to "".
May 26: broke up with Shannon Woodward.
May 26: The first look at in "" was revealed.
May 29: had a life-threatening jet ski accident in Miami.
May 29: "" sets new record on Box Office chart.
May 30: "The Hobbit" films got official titles and release dates.
May 31: and were signed to Mercury Nashville.
May 31: dropped a controversial music video for "Man Down".
May 31: broke Hot 200 record by selling 1.1 million copies of "Born This Way" in its first week.
JUNE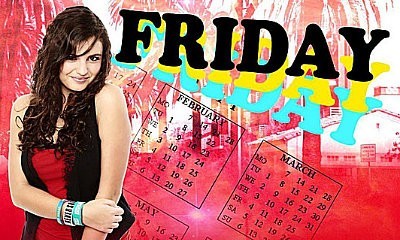 's viral fame on YouTube was cut short at the beginning of summer 2011, the season when upbeat music like hers became favorites among the party crowd. The teen singer decided to delete her "Friday" clip from the video-sharing website as a protest against Ark Music Factory which rented the music video without her consent. She quickly followed the complaint by accusing the company of copyright infringement which they strongly denied. The video had been viewed by more than 165 million people before being yanked off the web.
Other notable events of the month:
Jun 02: gave birth to her first child with motocross husband Carey Hart.
Jun 05: "" dominated full winner list at 2011 MTV Movie Awards with five kudos.
Jun 05: made public her engagement to Paul McDonald.
Jun 06: was replaced by as "" judge.
Jun 06: 's "Next 2 You" music video featuring leaked.
Jun 07: was officially tapped as a sex club owner in "".
Jun 07: left ""
Jun 08: 's "Fast Line" music video made its way out.
Jun 08: got the top honor, Video of the Year, at 2011 CMT Awards.
Jun 08: Meredith Vieira had tearful farewell on "".
Jun 09: was hospitalized for malnourishment and exhaustion.
Jun 09: MTV canceled controversial show "".
Jun 10: was hospitalized for food poisoning.
Jun 10: released a geeky music video for "Last Friday Night (T.G.I.F)".
Jun 11: got married to boyfriend Sam Cooper and announced pregnancy.
Jun 14: gave birth to her first son.
Jun 14: and canceled their wedding five days before the nuptials.
Jun 15: and "" actor Vincent Piazza went public with their romance.
Jun 16: removed her "Friday" music video from YouTube after falling out with Ark Music Factory.
Jun 17: First look at long-haired in "" was released.
Jun 19: Alyssa Campanella was crowned 2011 Miss USA.
Jun 19: and led winner list of 2011 MuchMusic Video Awards with two gongs each.
Jun 19: Jazz veteran Clarence Clemons passed away.
Jun 19: "" won Best Drama Series at 2011 Daytime Emmy Awards.
Jun 20: Ryan Dunn died in a fatal car crash in rural Pennsylvania.
Jun 20: called it quits with boyfriend Cy Waits.
Jun 20: Middle-aged actor Doug Hutchison stirred controversy by marrying a 16-year-old singer Courtney Alexis Stodden.
Jun 22: announced that he and girlfriend were no longer together.
Jun 24: "" won big at 2011 Saturn Awards by sweeping five kudos.
Jun 24: parted ways with boyfriend of three years, .
Jun 26: and were entangled in an awkward BET Award mix-up.
Jun 26: dominated 2011 BET Awards winner list with five kudos.
Jun 28: Official "" trailer was released.
Jun 29: debuted a music video for his first-ever solo single "See No More".
Jun 29: Summit Entertainment announced the official release date for "".
Jun 29: won "" season 1.
«
|
»
|
»
© AceShowbiz.com
---
---
More Kaleidoscope News:
---