December 28, 2011 09:05:58 GMT
Rihanna releasing a controversial video, Justin Bieber going public with Selena Gomez, and Charlie Sheen getting fired from 'Two and a Half Men' are the highlights in the first quarter of 2011.

---
AceShowbiz is back with its annual Kaleidoscope which compiles the most important events in entertainment world throughout a year. If 2010 was marred with celebrity splits, the first quarter of 2011 is no different. High profiled couple and ended their relationship in March. A month prior, and filed for divorce.

As one romance fizzles out, another blooms. Teen sensation finally admitted to the world that he was dating in February. The happy news continued as emerged from her rehab stint and announced a comeback. There was also the reunion of the Cyruses and the announcement of 's second pregnancy.


JANUARY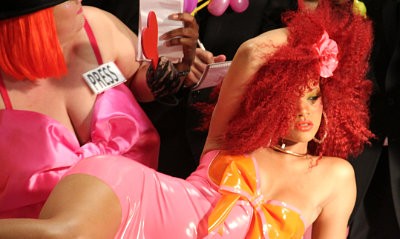 In late January, released a music video of her sex-fueled single "S&M" as a jab to the paps. The video, directed by Melina Matsoukas, was a picture of how the press treated celebrities like her. The singer was constricted by a clear plastic against the wall while the reporters jotted down demeaning words such as "slut". In other frames, she was a dominatrix who whipped and put blogger Perez Hilton on a leash. Upon its release, the video was immediately banned in several countries due to its overtly sexual content. Rihanna simply responded via Twitter, "They watched 'Umbrella'... I was full nude."
Other notable events of the month:
Jan 03: Longtime couple and called it quits.
Jan 04: split from .
Jan 04: wed her fiance Kyle Jacobs.
Jan 05: grabbed four trophies at 2011 People's Choice Awards.
Jan 05: and scored 2010 U.S. best-selling album and song.
Jan 06: went to rehab.
Jan 06: Homeless man Ted Williams appeared on national television for the first time.
Jan 07: and welcomed a baby boy.
Jan 07: was named Billboard's 2010 top-selling and most-played artist.
Jan 07: History Channel decided not to air "" due to unfitting theme.
Jan 10: announced separation from boyfriend of 11 years.
Jan 12: CBS announced that would no longer be part of "" for creative reason.
Jan 16: Teresa Scanlan from Nebraska was crowned as 2011 Miss America.
Jan 16: "" and "" won the highest honor at 68th Golden Globes Awards.
Jan 16: "" won Best Drama title at the 68th Golden Globe Awards.
Jan 16: "" ended its four-year run on Disney Channel with record rating.
Jan 18: confirmed split from .
Jan 21: secretly eloped with Shannon Brown.
Jan 23: Regis Philbin announced live that he's quiting "Live With Regis and Kelly".
Jan 24: Ted Williams ditched rehab only a few days after checking into the facility.
Jan 24: announced I Am Music II Tour with .
Jan 25: and welcomed a baby boy.
Jan 27: confirmed she's pregnant with Matthew Bellamy's baby.
Jan 28: was out of rehab.
Jan 30: left rehab.
Jan 30: was cast as the new Superman.
Jan 31: premiered controversial music video for "S&M".
FEBRUARY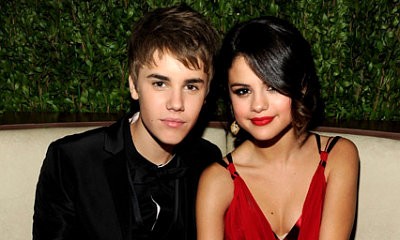 For almost a year, and had been dodging questions about their relationship's status, but they could no longer deny the romance when paparazzi managed to capture them kissing on a yacht. The young couple eventually went public with their romance on February 27 at the Vanity Fair Oscar after-party, holding hands and posing together on the red carpet. Few days later love-struck Bieber tweeted to Gomez "I miss you" and she tweeted back, "I miss all of y'all."
Other notable events of the month:
Feb 02: MTV confirmed the revival of their '90s cartoon "Beavis and Butthead".
Feb 06: messed up the Nation Anthem lyrics at 2011 Super Bowl.
Feb 08: ended marriage with her longtime husband.
Feb 08: Tarsem Singh's "Snow White" movie got as the villainous evil queen.
Feb 08: "" announced 2011 North American tour dates.
Feb 09: and filed for divorce.
Feb 09: was officially charged with felony grand theft for allegedly stealing jewelry.
Feb 10: Camille and 's divorce was finalized.
Feb 10: D'Angelo and Amanda were crowned the first winners of "".
Feb 11: finally confirmed his return to "".
Feb 16: ended his racing career.
Feb 16: announced as the new "Wonder Woman".
Feb 17: unleashed advertisement-friendly music video for "Hold It Against Me".
Feb 18: was named MVP at NBA Celebrity All-Star Game.
Feb 20: split from and moved out of their love nest.
Feb 20: dropped seizure-risked music video for "All of the Light".
Feb 21: cut his famous hair flip and debuted a more mature look.
Feb 21: was spotted kissing on public.
Feb 22: 's restraining order against was officially lifted.
Feb 24: confirmed that she's bisexual.
Feb 26: got married to his fiancee in a Broadway theater.
Feb 26: was locked to star in Sam Raimi's "".
Feb 27: and went public with their romance by attending 2011 Oscar after-party together.
Feb 27: "" was named Best Picture at 2011 Academy Awards.
Feb 28: debuted "Born This Way" music video.
MARCH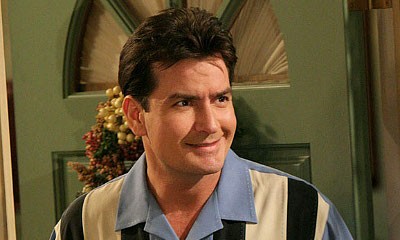 After weeks of erratic behavior which jeopardized the production of "", was fired on March 7. The kicking out of the actor from the show was not only due to his personal troubles but also because of his insult toward the show's creator Chuck Lorre. Responding to the termination, Sheen called it "very good news". A few days later, he launched a $100 million lawsuit against WB and Lorre accusing them of not having the basis to fire him.
Other notable events of the month:
Mar 02: was arrested for public intoxication.
Mar 02: premiered music video for his first post-prison single "6 Foot 7 Foot".
Mar 03: was hospitalized for blood clot in her lungs.
Mar 04: ' secret marriage with Kelly Tisdale was confirmed by rep.
Mar 04: and dominated 2011 NAACP Image Awards with double victories.
Mar 04: Disney Channel announced new title of "" without .
Mar 04: set world record shortly after joining Twitter.
Mar 05: Nude picture of leaked out.
Mar 07: was fired from "".
Mar 08: BP Oil Rig tragedy would be made into a movie.
Mar 09: debuted "Who Says" music video.
Mar 11: and called it quits.
Mar 11: "The Twilight Saga's Breaking Dawn" filming was delayed due to Tsunami warning.
Mar 10: 's second official posthumous single "Hollywood Tonight" got a music video.
Mar 12: was released from hospital after being involved in car crash.
Mar 14: created viral commotion with her poorly-reviewed single "Friday".
Mar 14: Brad Womack proposed to mother of one, Emily Maynard, on "" finale.
Mar 15: Gilbert Gottfried got fired from his gig in voicing Aflac Duck after making fun of Japan disaster.
Mar 16: unveiled "Just Can't Get Enough" music video (Tribute to Japan).
Mar 16: worked with cops after more of her nude photos leaked.
Mar 16: Nate Dogg died of complications from strokes at the age of 41.
Mar 16: unveiled his wax figure.
Mar 17: Darren Aronofsky left "".
Mar 17: and won 2011 mtvU Woodie Awards at SXSW Festival.
Mar 18: Representative confirmed ' split from .
Mar 18: announced he has called off divorce from wife Tish.
Mar 21: won Vito Russo Trophy at 2011 GLAAD Media Awards.
Mar 22: lost his little half-brother in a car accident.
Mar 23: passed away after suffering from congestive heart failure.
Mar 23: smashed a window at the "Good Morning America" studio in Times Square.
Mar 25: made his return to network TV in more than 20 years through his guest starring gig on "".
Mar 26: married agent Jim Toth at her ranch estate in Ojai, California.
»
|
»
|
»
© AceShowbiz.com
---
---
More Kaleidoscope News:
---