July 17, 2008 06:11:47 GMT
Sat down for an interview with gossip columnist Liz Smith, the supermodel talks everything from modeling to entrepreneurship to rose to sex.

---
Is having the season five of her hit TV show "Project Runway" debuted on Bravo on July 16, who serves as its host and co-creator sure has a very full plate on her agenda nowadays. In between her hectic schedule she, who's a supermodel, actress, TV presenter, fashion designer, television producer, and also mother of three children, arguably is considered success in juggling her career with her personal life.

Her success in balancing her career and family life is apparent in the recent interview she had with gossip columnist Liz Smith. Telling Liz she's the kind of person who "always think about the next thing", Heidi admitted that she's "eager to do certain things" besides her current projects "because I still have ideas, and I want to make certain dreams come true and work on things ... and I'm very passionate about creating things and making things."

And for the things she has achieved thus far, she gave credit to her friends and team, praised them as "great" people. "I don't think I got here by just doing everything by myself. You know, I had great help. I had great friends around me, I had a great team. You know, you have to bounce ideas off of people. And I never knew the right people to call but I would ask people who would know who to call," so she said.

When she was asked about her venturing from modeling to entrepreneurship, Heidi admitted "I don't know. I think it's something that you can't plan necessarily. Because it's not - you know, you want to be a teacher and you then can do all these certain things that you have to do to become a teacher ... or all the certain steps that you have to do to become a lawyer. Like in the entertainment industry, and being in front of the camera or even behind the camera, to come up with great ideas for a certain show, you never know if it gets picked up. How many great things are out there, ideas that people have but they necessarily don't know the right people to ask. You know, it just kind of fell into place."

For a more personal question that is of sex, Heidi described it as "definitely one of the most fun things to do." On her being credited as sexy, she said she liked the predicate a lot. She, in fact, admitted "I have a very, very sexy man so that helps a lot," when referring to her singer husband .

Despite all the things she's had, Heidi nevertheless was still mad that she couldn't bring the rose, named after her, from her home country Germany to the U.S. where she's currently living. Transcript and video of the interview are available at .


© AceShowbiz.com
Browse
Heidi Klum Pictures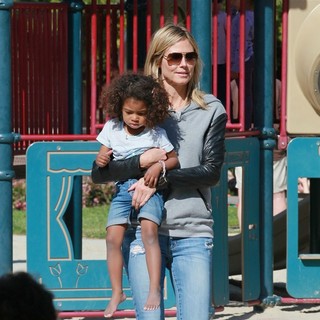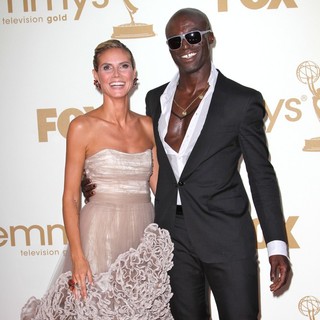 ---
---
---