December 02, 2005 03:20:56 GMT
BigCrowds/BeInAMovie.com is seeking extras to appear in the film "Rocky Balboa," the sixth installment of the successful Rocky franchise

---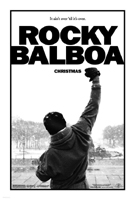 Wanna be a star? This is the chance to make your dream comes true. Make sure you would not miss it. Use your time and join the cast of extras for the highly anticipated "."

BigCrowds/BeInAMovie.com is seeking extras to appear in the sixth installment of the successful Rocky franchise, which is directed by and starring and being co-produced and co-financed by Metro-Goldwyn-Mayer, Columbia Pictures and Revolution Studios and will be distributed by Columbia Pictures.

In the film, lonely and retired boxer Rocky Balboa comes out of retirement, intending to fight a few low-profile local fights just to keep his hand in. But when he's approached to fight a match with reigning heavyweight champ Mason "The Line" Dixon, Rocky's modest little comeback becomes the center of a media firestorm.

For information and to sign up, please visit www.beinamovie.com.


© AceShowbiz.com
---
---
---