November 21, 2005 08:44:53 GMT

---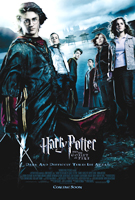 As everyone may think of and has predicted before, Harry Potter again speaks the spell. The adventure - fantasy flick, tentatively titled "," gloriously grossed $101.4 million in its debut weekend, to be the best movie in the box office of USA for November 18th to November 20th, 2005 period.

"The Potter franchise is just irresistible to moviegoers," so Paul Dergarabedian, president of box-office tracker Exhibitor Relations commented. "The combination of the Potter books and the love audiences have for the movies conspired a big opening weekend." In fact, Harry Potter really does the magic tricks on the box office. And it is a big success.

Meanwhile, the 2nd best movie is "" with $22.4 million, followed by last week's champ "" as the 3rd best with $14.8 million. No. 4 is "," grossed $6.5 million, ahead of "" at No. 5 scoring $5.1 million. No. 6 to 10 in a row are "," $4.8 million, "," $4.4 million, "," $3.9 million, "," $2.3 million, and "," $2.1 million.


© AceShowbiz.com
---
---
More Harry Potter and the Goblet of Fire News:
---