September 23, 2005 02:27:06 GMT
The world premiere of "The Chronicles of Narnia: The Lion, the Witch and the Wardrobe" will take place at London's Royal Albert Hall on December 7

---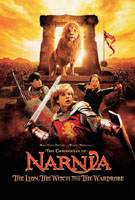 Andrew Adamson direction, "," is set to have its world premiere at London's Royal Albert Hall on December 7. Britain's Prince Charles and his wife, the Duchess of Cornwall, are among the attendances, organizers said Thursday.

The film, which is based on the first of the seven books written by C.S. Lewis set in the fantastical world of Narnia, follows the exploits of the four Pevensie siblings; Lucy, Edmund, Susan and Peter - in World War II England who enter the world of Narnia through a magical wardrobe while playing a game of 'hide-and-seek' in the rural country home of an elderly professor. Once there, the children discover a charming, peaceful land inhabited by talking beasts, dwarfs, fauns, centaurs and giants that has become a world cursed to eternal winter by the evil White Witch, Jadis. Under the guidance of a nobel and mystical ruler, the lion Aslan, the children fight to overcome the White Witch's powerful hold over Narnia in a spectacular, climactic battle that will free Narnia from Jadis' icy spell forever.

"The Chronicles of Narnia: The Lion, The Witch and The Wardrobe" shot in New Zealand and stars , , , , , and . It will later on open in cinemas worldwide this December. As for access to royal film premieres is normally restricted to invited guests and charity donors but for this event a "large numbers of affordable seats" will be offered for sale to the public, said organizers.


© AceShowbiz.com
---
---
More The Chronicles of Narnia: The Lion, The Witch and The Wardrobe News:
---
« Older Posting
Kung Fu Panda