May 27, 2009 03:05:16 GMT
The tension that was apparent on the season premiere of "" translates to an off-air statement from the couple, Jon and Kate Gosselin. After dropping the "divorce" hint, the mother of sixtuplets and twin girls said in a joint statement with Jon that they are indeed "navigating a very difficult time".

"Our current situation brings us together around the children and some times sets us apart," the statement goes on. "We keep our faith that we will make the right decisions for our family." Both Jon and Kate have been criticized for continuing the show and valuing money and fame more than their family.

May 26, 2009 09:53:17 GMT
After sending home 10 guys on the premiere of "" season 5, Jillian Harris eliminated further 4 men. Those getting axed from the dating reality show are IT consultant Brian, restauranteur Julien, personal trainer Mathue, and soccer coach Simon. With the departure of the four men, Jillian is left with 16 others to choose from.

The Monday, May 25 episode was highlighted with a date to one of 's concerts as well as the race to find Jillian who disappeared in the middle of L.A. In the race where the men are paired in twos, Wes and Brad won the challenge but Jillian picked only the former to have dinner with her. Brad was pissed off by the decision and hoped that Jillian will see through Wes.

May 26, 2009 06:38:04 GMT

It was another year for "" as the fifth season began Monday, May 25 for an extra long premiere. However, things are not as sweet as the last season after all the drama surrounding Jon's cheating scandal that has been going on off-screen while the reality show was having a break. For the first time in the show's history, there are times the parents of two older twin girls and a sixtuplet, Jon and Kate, did not sit together on the interview chair.

Kate, sitting solo, mentioned, "This could be our last family picture," when asked whether the fifth birthday of the sixtuplet was bittersweet. Kate revealed that the rumor of Jon cheating on her last month "kills" her, saying further "I have a lot of anger." On a separate interview, Jon said "I'd like to apologize to my family for my actions," adding "Everybody knows what I'm talking about."

May 26, 2009 05:04:25 GMT
A new TV talent search will be conducted by VH1, in order to find the right girls to reprise the glory and success of . The music network is brewing a project that will put together a girl-band act which possibly consists of different personalities.

And to judge who are capable of filling such position is Melanie Brown who is also known as Scary Spice in the disbanded British girl-group. "It's going to be a real chance to find some edgy raw talents and watch it unfold as part of the show," Mel B explained. No date or other details have been released.

May 26, 2009 03:04:17 GMT

and will, on June 26, team up for a new Disney Channel original TV movie "". A couple of sneak peeks are released along with two short behind-the-scenes.

The first sneak peek is on a bowling game where Rosie (Demi) catches the attention of Donnie (Robert Adamson). Carter (Selena), who has a crush on him, is feeling a little jealousy and she withdraws from the game when Rosie impresses the others with her lucky strikes.

May 25, 2009 09:27:40 GMT

This summer, Disney Channel plans to fill up its schedule with numerous TV series and original movies. In a new promo released for the summer line-up, popular Disney stars such as , , and come out in support to introduce their shows as one of the participants of the summer schedule.

Apart from the already running "" and "", Disney will continue pursuing the new series "J.O.N.A.S!". The channel is also presenting two new TV movies "" and "".

May 25, 2009 08:28:23 GMT
"" is coming earlier this week, with the episode called "Don't Poke the Leprechaun- Shillelagh". In the Friday, May 29 episode, Harper becomes jealous when Alex becomes friends with Max's tutor, ironically named Tutor.

Jerry hires the tutor to help Max pass a test at school, and Alex and Justin start bonding with her. They scheme to get her a permanent job with the family, so they can spend more time with her, but the plan involves Max failing a test. Meanwhile, Alex bets Justin that he couldn't become popular in 10 days or less.

May 25, 2009 06:21:02 GMT

One more promo has been released for "" in anticipation of its impending season 2 premiere. The new video offers the questions which will be answered later in the season as well as the continuous conflict between human and vampire, including that of Sookie and Bill.

Sookie tells Bill that she has doubts about their relationship. It was said that Sookie and Bill will be entangled in a love triangle with Eric after Bill asks for an assistance from the higher power vampire to help rescuing Sookie from an unknown creature.

May 25, 2009 03:12:35 GMT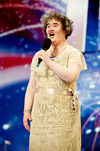 When Simon Cowell stood up for on "", it was not the only one he would like to give out this year. The notoriously acid-tongue and blatant judge got up from his seat for on another talent show he's judging "" after the 47-year-old woman delivered her rendition of "Memory".

Boyle, whose first audition performance received millions of hits on YouTube, went through to the semi final round on Saturday, May 23 and amazed judges and audience once again on Sunday, May 24 with her performance of the Broadway piece. All the three judges, along with the in-studio audience gave her a standing ovation and rave applause after she finished.

May 23, 2009 06:42:06 GMT

Executive producers are hoping to get a real drama and the adrenalin rush of "" for a new reality series. A casting notice, which was uncovered by E! Online, has been spread to at least a dozen hospitals which are promised a publicity should they participate and qualified.

"Reveille and the CW would like to document the extraordinary experience of Emergency Medicine residents at a world-class hospital," the casting is read. "Residents are at an incredible personal crossroads as they complete their medical education. Those training in the Emergency Department face exceptional professional pressures as they work on the frontlines of the medical system."

May 23, 2009 05:57:46 GMT

Sleeping-deprived, made time to sit with on "" to talk about his recent victory on "". After shaking hands with the host, the 23-year-old took his seat and said that he had only two hours of sleep.

Jay questioned his view about the biggest upset when was lauded as the winner but eventually lost to him. "I totally agree," he said, adding "Adam is amazing" before asking the in-studio audience to give Adam a round of applause. "He's seriously probably one of the most gifted performers that I've ever seen and probably ever been on that Idol show and I think we both deserve it and we're telling each other that everyday. We have a great friendship, so he's doing fine."

May 23, 2009 04:32:00 GMT

Showtime has released a behind-the-scenes featurette of "" which will soon enter the 5th season on June 8. The footage contains scenes from the first episode, called "Wonderful Wonderful", where Nancy is dealing with the discovery of her pregnancy with Tijuana mayor Esteban's baby.

It was previously reported that will play Dr. Audra Kitson who is a "no-nonsense" clinical obstetrician treating Nancy's pregnancy. The character will play a major part in the new season for the singer was scheduled to appear in 7 out of the 13 episodes ordered.

May 23, 2009 03:22:07 GMT

made a visit to "" shortly after being crowned "" winner of season 8. The episode is pre-taped and is scheduled to air on Tuesday, May 26 but an excerpt of his interview has been released.

To , the Arkansas native said that he owed it to his wife Katy whom he married only late last year. "My wife has been the (best) support ever," he told the host. "I seriously almost gave up a lot, and she was just like, 'You have to keep going.' She believed in me more than I believed in myself."

May 23, 2009 02:38:03 GMT

was one of the early birds to strike a deal for an interview with "" runner-up, . Just two days after he lost to , Adam called in to "" to talk about how he feels being in the second position despite the fact that many had predicted him to win.

"We all love you here," Ellen opened the conversation in the middle of the roar from in-studio audience. Adam responded, "I love you guys." Then Ellen did most of the talking, saying "I have to say, first of all, I think Kris is fantastic, and I know you feel the same." Adam said, "I'm a huge fan."

May 22, 2009 09:14:04 GMT

The CW is saving one drama, "Parental Discretion Advised", for the midseason line-up. Although still literally months away, the show coming from the producer of "", Liz Tigelaar, has been given a more than 5 minutes peek consisting of several clips.

The series is starring Britt Robertson ("Swingtown") as a girl who is in search of her biological parents after bouncing from one foster family to another and how that discovery changes all their lives. Other cast include , , and .