January 07, 2010 07:02:06 GMT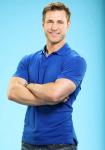 Chris Harrison assured fans of "" that the scandal involving a female contestant and a producer will be revealed soon to the public. "I can tell you next week, all questions will be answered," Harrison told Radar Online. This means there could be a certain section on Monday, January 11 episode which is focused on the affair claim.

Harrison said that the scandal is tough for the entire crew including bachelor Jake Pavelka. "It was an incident that we've never had to deal with before," he said. "It was tough for everyone, the crew, the women and Jake. Hopefully we can quickly move past this and it won't dominate the season. But definitely everyone will see what happens."

January 07, 2010 06:19:42 GMT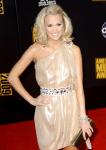 joins the run of becoming the possible Mother on "". The Grammy-winning singer will make her first acting gig on the CBS show in an episode scheduled to air in March as one of Ted's love interest.

"What makes her intriguing is the fact that she's a pharmaceutical rep, or Pharma Girl, which according to Barney has replaced nurses and stewardesses to become the Official New Profession of Hot Chicks," creators of the show were quoted as saying. Carrie's character will be named Tiffany.

January 07, 2010 04:59:43 GMT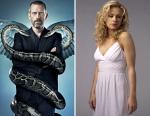 The live broadcast of 36th Annual People's Choice Awards has just been wrapped up and coming with double victory is "". The show airing on FOX was voted Favorite TV Drama after its leading actor received the nod as Favorite TV Drama Actor earlier at the event.

HBO's vampire drama "" was named Favorite TV Obsession, beating "", "", "" and "". Meanwhile, "" snatched the Favorite Competition Show category from two-times reigning champion "".

January 07, 2010 04:33:27 GMT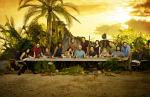 TV bosses decided to end hit mystery series "" because they "ran out of ideas". The show, starring and , focuses on a group of plane crash survivors stranded on a desert island. It began in 2004 and is set to conclude this year, 2010 at the end of the sixth season.

And now co-creator Damon Lindelof has admitted some of the past episodes weren't up to standard, and they didn't want to risk running out of ideas again by keeping the series going. He tells the Hollywood Reporter, "Look, it would be nice to look back and say, 'We love every episode of 'Lost' and every episode turned out the way we wanted it to'. There are s**tty episodes of 'Lost' that we wish we had never written."

January 07, 2010 04:33:06 GMT

The cast of "" and "" have something to celebrate when this year's People's Choice Awards wraps up on Wednesday, January 6 night. The shows have just been named Favorite New TV Comedy and Drama respectively, the only categories in TV that have more than 5 contenders.

It was unfortunate that the cast of "Diaries" did not attend the event that the presenters had to accept the trophy. The "Glee" ensemble on the other way, live up to their show, boarding the stage and giving thanks to people by handing out DiGiornio pizzas. The frozen food brand is the main sponsor of the musical show.

January 07, 2010 04:06:29 GMT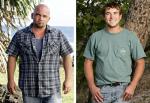 During the broadcast of 36th People's Choice Awards on Wednesday, January 6, host Jeff Probst stepped up on the stage to announce the cast of "" season 20 dubbed "Heroes Vs. Villains". The all-star edition brings back the previous contestants who are selected based on either their integrity or deception.

As expected, last season's runner-up Russell Hantz is back on the game to seek revenge. He is grouped in the Villains along with Ben 'Coach' Wade who is a self-proclaimed dragonslayer. "I'm the best player that ever played this game. Now guess what, I get to prove it," Russell said.

January 07, 2010 03:26:55 GMT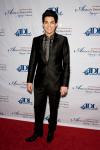 wants a piece of on her talk show. According to NY Post, she posted a message on her official website that encourage fans of him to tell her why they deserve a seat during an episode made out for him.

"Calling ALL Adam Lambert Fans!!!," the post under "Share Your Story" began. "Did you vote for him as many times as you could? Were you holding your breath when the new American Idol was announced, hoping and praying it would be HIM? If you are a HUGE fan of Adam Lambert's, email us now and tell us why you want to be in the audience for this once-in-a-lifetime show."

January 07, 2010 03:07:18 GMT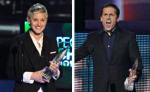 The first announced winner at the 36th Annual People's Choice Awards was "". The talk show won over "" and "The Tyra Show" in the category of Favorite TV Talk Show which was voted through texting VOTE to 24475.

"Thank you so much; that's very, very kind of you," said when collecting her prize. "This is an honor. I'm proud to be in the category with all the other nominees. Thank you so much. Oprah, I love you and I'm sorry to hear your show got canceled, so I share this with you." She added, "I like people. I've liked people for a long time, so this [award] means a lot to me."

January 06, 2010 09:12:47 GMT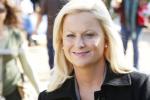 will be reunited with her real-life husband on "". The couple who once shared screen as lovers on "" will play dating couple on "Parks". Ann sets Leslie up on a blind date with a co-worker (Arnett), which does not go as well as Leslie hoped.

Beside Arnett, there will also be an appearance from , actor as well as the writer of "" and the upcoming "". An old friend of Ann's (Theroux) makes Mark feel insecure.

January 06, 2010 08:22:43 GMT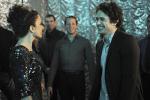 Some sneak peeks to the "" episode where will appear as himself have been released. Titled "Klaus and Greta", the January 14 episode focuses on the faux relationship between James and Jenna which is arranged to cover up his embarrassing secret.

The first clip shows Jack, Liz and Jenna discussing the pro and con of James dating her as publicity stunt while the second one shows James laying out the ground rules for dating including staging a story of how they met. The third and last clips see Jenna telling Liz that she is in love with James and him kissing her after a night out respectively.

January 06, 2010 07:41:10 GMT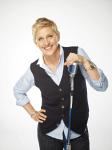 "" has started pushing the accelerator on promoting the ninth season. Beside releasing a bunch of the judges' photos earlier this week, the show has also started running TV spots that include the new judge, .

The competition will begin airing on Tuesday, January 12 on FOX with the Boston audition that presents as the guest judge. Post 's departure in August 2009, celebrities from to to were hired to sit in as the fourth judge. It was then confirmed in September that Ellen was going to sub for Paula. Her first appearance would be the Hollywood week on February 9.

January 06, 2010 05:00:37 GMT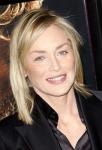 Just a day after Executive Producer Neal Baer confirmed that on "", it is reported that would also jump into the wagon. Unlike Barton who is to tackle only one episode, Stone is set for four episodes airing starting April.

According to EW, Stone will be a former cop who switches lane to become a prosecutor. She "presumably" will give Benson, Stabler and the rest of the team, a hard time. "It is obviously a thrill and a delight to have a star of Sharon's wattage and importance joining SVU," SVU showrunner Dick Wolf said.

January 06, 2010 04:02:53 GMT
may get a visit from fellow tween star on "". said in an interview with Pop Star that a cameo in the Disney Channel series "might happen". He, however, quickly added that nothing is on the card and that he did not know "what's going on there".

The rumors that the singing sensation would appear on the show sparked after he rang the New Year's Eve with Selena on TV special "Dick Clark's New Year's Rockin Eve". Selena got up on the stage when Justin was performing "One Less Lonely Girl" and they shared a couple of hugs. Justin also confirmed that he is a good friend of Selena and BFF .

January 06, 2010 03:24:06 GMT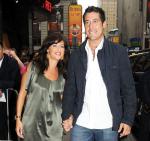 There's apparently another bump along the latest edition of "" beside the reported . ABC failed to air the "special announcement" that it has promised to air along with the season premiere on Monday, January 4.

Per Reality TV World, a spokesperson of ABC said the announcement was supposed to be a wedding date of Jillian Harris and Ed Swiderski, the couple who emerged from the last season of "". The spokesperson explained further, "They were worried about how the announcement would have affected their personal life, so they decided to pull it." The decision was made after Jillian and Ed talked to "Bachelor" producers.

January 05, 2010 09:26:08 GMT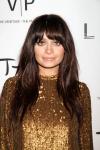 will be one of the guest judges in the new season of "" when it returns to Lifetime on January 14 at 10/9c. The first look of her sitting on the panel, joining Michael Kors and Nina Garcia, has been teased through an exclusive clip from E! Online.

Host introduces the competing designers to the judges one by one and gets to Nicole who was still blonde. The seventh season of the show was indeed taped late last year because the sixth season was still on air following between Lifetime and Bravo TV.