July 28, 2009 08:17:02 GMT

One person in, another is out. While is welcomed back as Sara Sidle on "", an actor has to be let go because the character is not working for the whole show. The unfortunate one would be Lauren Lee Smith aka Riley Adams, the crime investigator who joined the unit in season 9.

Executive producer Naren Shankar confirmed the elimination through , specifying that Riley will not return for the 10th season. "It was an issue of how we were feeling the ensemble was working," he reasoned. "When we brought in the character of Riley, it got lost in the shuffle a little bit because we had lost Warrick, we had lost Sara, and then in the middle of last season Grissom finally left. I think, as a result, the character never quite found its footing in terms of the rest of the gang."

July 28, 2009 06:29:48 GMT

Jillian Harris got her ring on the season finale of "". The 29-year-old was proposed by technology consultant Ed Swiderski from Chicago and she said yes. Ed was the contestant who briefly left in the fifth week due to work commitment before realizing that Jillian was more important than his job and returning to pursue her love.

In winning Jillian's heart, Ed managed to beat not only one finalist but two other guys who showed up during the July 27 finale. Kiptyn, who was one of the last two standing persons in the show, was the first to get rejected. A teary-eyed Jillian told him that she was in love with Ed. Before being sent home with a limo, Kiptyn told Jillian, "You're an incredible woman and Ed's a lucky man," and they hugged.

July 28, 2009 03:35:55 GMT

A&E is set to air for the first time one of 's biggest stunts on his "Mindfreak" series. On Wednesday, August 12, the illusionist will attempt never-before-seen effects which will place his safety on jeopardy including traversing a field of live explosives.

"The Five Lives of Criss Angel" will air as a five-part television event beginning 10/9c. The first one is called "White Death" where Criss is to tackle the 'buried alive' stunt under freezing temperatures of snow and ice. The second one, which is called "Death Field" sees Criss' risking walking over live explosives that could cost him a life.

July 28, 2009 03:04:18 GMT

is apparently looking forward to detach himself from estranged wife and "", a reality show that brought them to fame. A report surfaced that Jon is in talks for major international endorsement deals and "it looks like he is going to have his own show".

The news may still come blurry but has more details about it, claiming that the show could be called "Divorced Dads Club". This was based on a photo of Jon hanging out with another divorcee Michael Lohan, CEO of CWE Media Charlie Walk and attorney Mike Heller. It so happened that Michael's fiancee Erin Muller held a piece of paper with the writings "Divorced Dads Club" on it.

July 27, 2009 09:14:23 GMT

Two things that "" will offer a lot in the fifth season are the re-appearance of old faces and a bunch of new but interesting characters. During the show's panel at San Diego Comic Con, producers Eric Kripke and Sera Gamble, supported also by screenwriter Ben Edlund, explained that mythological creatures from the bible and even God himself may come at some point of the show.

Since the new season will jump on the apocalypse wagon, The Four Horsemen of Apocalypse is part of the plan. Kripke joked that these people will be modernized, saying "The Four Horsemen are not going to be riding horses but color coordinated muscle cars. Why ride a horse when you can be in a Mustang?"

July 27, 2009 08:21:11 GMT

Next week on "", Sam along with Tara are held captive. Betrayed by Daphne, Sam finds himself in an unenviable predicament at the hands of Maryann and her zombie minions.

During the Saturday, July 25 panel of San Diego Comic Con, who plays Sam Merlotte in the series said that he "gets a little bit lucky with Daphne". On his character's development in the second season, Sam said, "Sam's a real magnet for abuse this year in a lot of ways. I'm just trying to survive this year. But Sam's journey in this year, and hopefully years to come, is really sort of sparked by Daphne and what she teaches him, and whether he grows from that or regrets it, we'll have to see."

July 27, 2009 07:40:16 GMT

One of the first promos of FOX's "" has been shared, bearing the tagline "What happens when the doctor becomes the patient?". The sixth season of the medical drama will pick up where the season 5 finale left off, with House's delusion coming to a serious level.

Driven by Wilson, House voluntarily admits himself to Mayfield Psychiatric Hospital. In the promo, House is seen wandering, sleeping restlessly, and struggling while being escorted back to the building. Tony winner Lin-Manuel Miranda has been cast as House's psych hospital roommate for at least two episodes.

July 27, 2009 06:52:17 GMT

"" was one of the panels at San Diego Comic Con that came up with numerous hints for the new season. The session was attended by the main cast such as , , , , ; producers Kelly Souders and Brian Peterson; as well as new addition Callum Blue.

Leading the presentation was a trailer which contains a lot of recap scenes from the previous season and a new footage from the ninth season. One interesting fact shared through the trailer is that Clark will don a new suit which is totally different from the old red and blue. It is pitch black with the silver symbol "S" across the chest, topped with black trench coat. There was also a glimpse of as the new villain, Metallo, whose main source of power is kryptonite.

July 27, 2009 05:07:43 GMT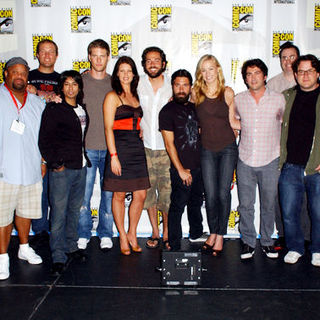 "" panel at San Diego Comic Con had a good way to warm up the air on Saturday, July 25. The presentation was opened with season 2 highlights and a footage of lead actor talking to creators Josh Schwartz and Chris Fedak on how if the show got canceled. The video reel then was cut when and got on the stage to perform as Jeffster!.

The fictional duo sang 's "Fat-Bottomed Girls" to more than 4,000 shrieking audience. In the middle of the song, cast of the show including , and came out in support. "Fat Bottomed Girls seems like a song that certainly Jeff would gravitate to," said co-creator Josh Schwartz.

July 27, 2009 03:39:30 GMT
It has been confirmed that the sixth season of "" will partly resemble the first season, including in terms of its cast. "There's a good chance you'll be seeing many characters you haven't seen since the first season again," said executive producer Damon Lindelof at the show's San Diego Comic Con panel Saturday, July 25.

One of the familiar faces that will come back is Boone. The word of confirmation however, came from the character's depicter who told Access Hollywood during the event, "Boone's gonna pop back in. Two minutes ago, I walked out of a green room with Carlton Cuse and Damon Lindelof. We're gonna work it out." The producers gave one big mystery to how Boone will re-enter the story because he had died in the first season from falling.

July 27, 2009 02:44:39 GMT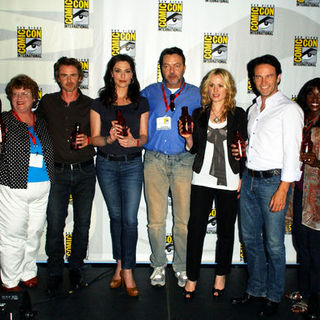 "" had a room full of people during its presentation at San Diego Comic Con Saturday, July 25. Led by a new trailer, the panel squirted out a lot of interesting tidbits from the second season which is airing on HBO every Sundays. There to provide the details were creator Alan Ball, book writer Charlaine Harris and most of the main cast except for who had another work commitment.

The Comic Con trailer ran well over a minute, giving previews to scenes which are yet to air on TV. Maryann finally revealed her true self, taking off her horned-creature mask who attacked Sookie at the season premiere. Jason has the tendency to betray the Fellowship of the Sun and is in to a whole lot of trouble. Viewers are also given a good look at as a queen vampire at the end of the trailer, feasting on someone and saying "Wanna join me?".

July 25, 2009 07:38:28 GMT

"" was one of the most anticipated panels at San Diego Comic Con Friday, July 24 convention, particularly because the un-aired episode "Epitaph One" was screened in full. Creator Joss Whedon and star along with a couple of other cast were present to give their take on the so-called 13th episode and season 2.

"Epitaph One", which will go straight to DVD, takes place in the year 2019. A group of human heroes, including the character played by , comes across an abandoned Dollhouse and finds one of the Actives. The band is trying to figure out how Dollhouse affects the state of the world, only to discover a larger global scenario.

July 25, 2009 07:01:33 GMT

The CW has released a new promotional picture of "" in front of the show's presentation at San Diego Comic Con Saturday, July 25. The three lead characters, Stefan, Elena and Damon are pictured looking straight to the camera with purple-black wardrobe.

"Diaries" will have its panel held at Room 6BCF from 6 to 7 P.M. The actors , , , and executive producer Kevin Williamson are the confirmed line-up on the panel.

July 25, 2009 06:21:23 GMT

In the middle of "" result night this week, paid a tribute to Judy Garland by reprising the legend's "Get Happy" routine. The video where Katie is singing and dancing ala Broadway in the 100th episode gets out online.

Katie was supporting DizzyFeet Foundation in which she serves as one of the founders. The organization is aiming to help underprivileged kids to get access to dance education. The other founders are the show's judge Nigel Lythgoe, director Adam Shankman and "" judge Carrie Ann Inaba.

July 25, 2009 04:54:41 GMT

"" panel at San Diego Comic Con was generous enough to give a 9-minute preview of the new series. To be debuted on AMC this Fall, the series is rooting on the '60s sci fi series of the same name. Thus, the preview compiles all those informations necessary to introduce "The Village" and roles of each character.

The footage gives the look of as Number Two, a man in white who looks to the town from a higher ground. Then comes as Number Six who believes that he is originated from New York and that there must be a logical explanation why he suddenly comes to The Village. Believing there is a foul play within the surreal world, Number Six tries to find a way out of the place.