March 16, 2009 07:09:14 GMT

"She's a Little Scared of Stick, But I Think She'll Be OK!", the fifth episode in "" 14 is the first non-elimination leg. The teams are kept intact at 7, with flight attendants Christie and Jodi checking in the last. Ironically, they were the first team to arrive last week.

Christie and Jodi embarked from The Theater of Musical Comedy around noon, taking a Trans-Siberian Railroad to Novosibirsk. Following behind them were Kisha and Jen who found out that the train won't leave until 10 P.M. that night. Thus all team will be departing at the same time.

March 16, 2009 05:01:43 GMT

After an on-screen kiss between Susan and Jessie, "" moves on with another shocking upturn. This may as well be the episode where a main character is dead. who plays Edie Brit had announced her departure from the show by having her character killed in an electric shock.

The March 22 episode is aptly called "A Spark to Pierce the Dark". Bree considers selling her business to save her marriage, Lynette is threatened by her new boss, boundaries are crossed for Gaby and Carlos, Katherine is caught in the most unexpected of circumstances and Edie's worst fears come true.

March 16, 2009 04:27:05 GMT

The women team has triumphed over the men for the third time in a row, in the third episode of "" celebrity edition. Athena won the challenge of selling 125 wedding dresses in an empty slot which is free to decorate, raising $103,000 from the sale of 22 dresses.

The men on the other hand, sold 21 dresses for $63,000 dollars. Project manager for the KOTU team, , consequently was in the board room and he brought along who also did a lousy job in the task. Donald Trump asked Dennis who he will fire, himself or Tom, and the former NBA star said he wanted to stay so he could fire Tom. Mr. Trump, based on the reason that Tom failed last week and this week, fired the comedian.

March 16, 2009 03:44:42 GMT
The eagerness to be "" topped with a situation exaggerated resulted in a pandemonium. The audition of the reality show at Park Central New York hotel in Manhattan on Saturday, March 14 turned out to be a mayhem when somebody said the word "bomb".

The CW held an audition for the 13th season at the New York hotel and hopefuls had been queuing since a night before. The crowd was queuing in a fenced line on the sidewalk of W. 55th St. when a car stopped due to overheating. Somebody suddenly yelled "There's a bomb" when smoke started coming off the vehicle and people began panicking. They ran in every direction away from the car, causing stampede and injuries to several people.

March 14, 2009 07:31:13 GMT

will bring a special guest to her show on Monday, March 16, her own wife. has taped an episode of "" on Thursday, March 12 at the WB lot in Burbank, California and even had a rehearsal of the interview with Ellen prior to that.

"In a meeting talking about Portia's appearance on the show Monday I'm told I'll learn something about her that she's never told me," Ellen said, giving a preview about the episode. Among the things that they talk about is "married life", pregnancy and Portia's new TV show "" which premieres on ABC Wednesday, March 18.

March 14, 2009 06:51:03 GMT

Dubbed the "" episode that "you'll never forget", the March 20 story is written by the creator himself, Joss Whedon. Echo tries to help a client heal the ache of a lost love as a TV reporter prepares an expose on the Dollhouse. Whedon himself said the episode represents "a much stronger vision" he considers the show to be.

Echo becomes the perfect wife for a lonely Internet mogul (guest star ), and Sierra's attacker is revealed. Meanwhile, Mellie's life is in danger and Agent Ballard's investigation takes a surprising turn when he comes face-to-face and goes fist-to-fist with Echo for the first very time.

March 14, 2009 06:15:18 GMT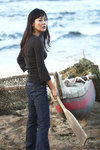 After weeks of separation and a thought of never meeting again, Sayid who was among the rescued Oceanic 6 will meet Jin who was thought of dead in an explosion. A sneak peek of "" episode "Namaste" has been dropped.

Another clip is also available for the episode, seeing Sun in pursuit of Ben in the woods and gets caught. The episode itself will center on the meeting of the Oceanic 6 who return to the island to rescue the rest, and the remaining people left on the island. The synopsis is read, "When some old friends drop in unannounced, Sawyer is forced to further perpetuate his lie in order to protect them."

March 14, 2009 04:41:19 GMT

There will be a new villain coming to "" fictional Louisiana town in Bon Temps and meeting the residents. "There's a new supernatural creature in town, one I've never seen on TV," says a source on the set. "Even vampires are scared of this thing. We'll be seeing a lot more of Eric () this year. Romance is in the air for most of our main characters, but as always with our show, nothing is ever what it seems."

According to E! Online, the drama will continue with 's Sookie Stackhouse and 's Bill Compton going out of town for a business trip. There, they find themselves involved in the middle of difficult vampire 'politics'.

March 14, 2009 04:21:31 GMT

The end is near, "" will air its very last episodes in a two-hour finale on March 20 starting at 9/8c. The preview is available, giving a peek on the battle, the dilemma and what truth will be revealed.

In an interview with The Hollywood Reporter, executive producer Ron Moore said that the ending is exactly what the creative team wants it to be, but it may be the subject of discussion for fans. "I'm sure there will be a lot of discussion," he said. "They have a lot of different expectations for what they think it's going to be, and a lot of opinions about how it should be. All of us who worked on the finale feel good about it, that this is the ending of the story we wanted to make."

March 14, 2009 03:02:14 GMT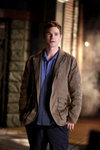 While for "" 8.16 released yesterday was focused on Clark and Tess, a clip that has just been released by The CW takes on another side of the episode called "Turbulence". Jimmy is accusing Davis of having something with Chloe and he wants him to confess.

While being confronted, Davis tries his hard not to unleash the monster within him. When Jimmy is taken down, Chloe approaches him and he discovers a surprising way to control the monster inside him.

March 14, 2009 02:15:23 GMT

"" second celebrity edition is looking forward to dismiss one more star from its line-up on Sunday, March 15. The challenge set for the KOTU and Athena teams are previewed through several clips that also expose the flaws and quality of the project managers.

Comedian who went to board room last week, decides to step in as the project manager for the men team while Playboy bunny Brande Roderick leads the women. Their task is to sell 250 wedding dresses, 125 for each team, in an empty retail space that they are free to re-decorate.

March 13, 2009 08:23:22 GMT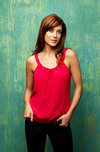 Oppressing her feelings to a very unattainable person, Addison finds herself in a similar situation with Sam. On March 19, "" will again juggle the personal lives of the staff as well as their professional work.

After Addison discovers that a mentally unbalanced pregnant patient has lost her baby, Violet must convince her that the baby has died and that surgery is necessary, while Cooper must tell a longtime patient he must remove part of his jaw due to a fast-growing cancer. Meanwhile, Dell copes with the absence of his daughter after his ex moves for a new job.

March 13, 2009 07:27:38 GMT

It's another showdown between Castiel and Alastair and the former seeks the assistance of Dean in getting an information out of the latter. In the next "", Angels are found dead, murdered by someone who uses a stolen Lucifer sword. Castiel and Uriel suspect that Alastair is behind all of this.

The angels have captured Alastair and ask Dean to use the torturing skills he learned in Hell to extract information from him so they can stop the murders. Sam is concerned Dean can't handle the job but Dean agrees to do it. However, when Alastair reveals some shocking information, Dean's world is shattered.

March 13, 2009 06:21:34 GMT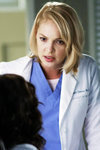 Months of speculation and several denials after, "" finally brings the story of Izzie's unfortunate fate. George notices something is wrong with Izzie while the she herself, does her best to keep her medical record a secret.

This has been speculated as an exit story for , who in February was the show to move on. Words have been circulating now that Izzie actually suffers from cancer. Co-star aka Alex also confirmed this to TV Guide, saying "Izzie has cancer, so I'm there to support her. I would expect Alex to shut down a little bit if something awful happens to Izzie, but these are opportunities to see his chivalrous side and his true love for her, so there should be some interesting stuff coming up."

March 13, 2009 05:00:59 GMT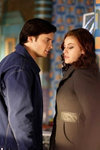 Clark and Tess are going for a little flight in the next episode of "". Apt to its title, "Turbulence", the episode will reveal a bumpy flight which is deliberately orchestrated by Tess in an effort to force Clark to reveal his powers.

"It's me and Clark," who plays Tess dished out on the episode to E! Online. "I approach him in a very different way than Lex did. I see Clark as an opportunity for security in a way that I've never felt before. I, like everybody else, need a hero, and I'm looking to Clark for that."