April 30, 2009 03:49:20 GMT
More than a week shy of the season finale, ABC has released a bunch of "" sneak peeks, ample to lead viewers into what happen to the Walkers family at the end of the third season. Released are six clips from the episode called "Mexico" that airs May 10.

In the first clip posted below, Kitty deals with her marriage to Robert by talking to Kevin. Kevin tries to resolve the problem for them but the supposed 'therapy' session ends up in further quarrels. In the synopsis it is written "Robert and Kitty reach a crossroads in their marriage that they may not be able to successfully navigate".

April 30, 2009 02:57:58 GMT

NBC has decided to go with one more "" for 2010 TV schedule, opting the celebrity edition instead of the non-celeb edition. Thus, this would be the third "The Celebrity Apprentice" on top of the 6 non-celeb ones.

This move was made based on the 8.6 million average of viewers that the show has this season where celebrities such as , Brande Roderick and join the competition for charity of their choice. There were some talks that the network would like to return to the original non-celeb format next year, but they eventually land the decision since the celeb edition revamp the interest for the show.

April 30, 2009 02:20:51 GMT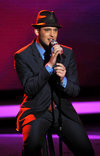 It was a surprising line up of the bottom three this week in "". Many have predicted that either Matt Giraud or will be the least voted but they only got one right. Matt was in the bottom three along with and surprisingly, fan and judges favorite, .

announced that there were 47 million votes cast on the Rat Pack night. Then later he started dividing the top 5 into two groups. Matt was grouped with Kris and Adam on right side of the stage while Allison and stood on the left side. The host then announced that Matt's group belonged to the bottom three.

April 29, 2009 09:24:18 GMT
"The Biggest Loser: Couples 2" has revealed its final four with the departure of Filipe. The 26-year-old Lube technician was voted off by majority when he fell behind the yellow line. "I never felt so devastated. I know for a fact that they are going to come for me," Filipe said when Mike and Helen voted him off.

Filipe lost 10 pounds aka 4.10% of his body mass index in this week's weigh in, and was slightly in front of Ron who lost 9 pounds aka 3.02%. Before the elimination, Filipe said in his defense that he may be a better contestant compared to Ron but he encouraged the others to save him because in order to be the best, one has to beat the best.

April 29, 2009 08:24:59 GMT

The second story arc of "Legend" in "" has been given a preview. In Los Angeles, Special Agent Callen goes undercover to try to catch a terrorist cell.

OSP psychologist Nate Getz discovers the startling truth about Gibbs and Special Agent Lara Macy's relationship. Meanwhile, with the appearance of Mossad agent Michael Rivkin, Tony is forced to question Ziva's loyalty to NCIS.

April 29, 2009 07:26:56 GMT

"" may remain in bubble but the people behind the series are more than ready to develop the third season. Creator Josh Schwartz talked to in an interview, revealing that they have in mind, a big story arc that involves also the chemistry of Chuck and Sarah should the show get renewed.

"The most immediate way it impacts them is they can only be together if he is not the asset," Schwartz explained the dynamic of Chuck and Sarah. "That's why they were able to move their relationship forward in the penultimate episode, because the Intersect was out of his head, and she was no longer going to need to protect him."

April 29, 2009 06:18:47 GMT

In the next "", Adrianna and Navid announce plans for their future to their friends but don't receive the reaction they were hoping for. To support their friends, Naomi, Annie and Silver throw Adrianna a bridal shower, while Dixon, Ethan and Liam surprise Navid with a bachelor party at a burlesque club.

Now that Naomi's big sister, Jen () is back in town, the two decide to live together and turn to their scandalous father to release Naomi's trust fund in order to support their wild spending habits. Ryan and Jen bump into each other at the Peach Pit and get wrapped up in a conversation of lies before deciding to have dinner together.

April 29, 2009 04:59:40 GMT

In a press release to announce their new shows and returning series, MTV has unveiled that "" will continue this fall but without its pivotal character. , who had previously uttered her willingness to be out of the picture, will not be back in the reality series, but will.

"Lauren has moved on, but Heidi, Audrina, Spencer, Brody, Stephanie, Lo and Justin Bobby will be back as the drama continues with fresh faces, new stories and shocking surprises," MTV wrote. "Spencer and Heidi will be newlyweds so the stakes are higher than ever before for the two to make things work."

April 29, 2009 04:14:30 GMT

and have been eliminated from "" on Tuesday, April 28, leaving five to compete in the show. The real life couple was in the bottom two along with Melissa Rycroft and Toni Dovolani who missed Monday's performance due to injury.

The axing of Chuck and Julianne was unexpected for they scored 9-9-8 which total to 26 out of 30 with their cha cha cha. Melissa and Tony, on the other hand, were judged based on the rehearsal footage of their Jive and scored 21 out of 30. But apparently the audience favor in the latter couple and vote them to be back next week.

April 29, 2009 03:44:41 GMT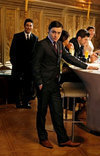 A scene from the upcoming "" episode is clipped for a sneak peek. It shows Nate and Chuck coming out of a car together and discussing their rivalry over Blair. Nate is pissed that Chuck is going her way again, while he had a shot the last time and blew it. This was all because, Nate wants Blair bad.

The episode is called "The Wrath of Con" and airs May 4. On another story, Blair pressures Georgina into making amends for her past bad behavior by helping her in a scheme. Lily hatches a secret plan to help Rufus with Dan's college tuition.

April 29, 2009 03:11:35 GMT

This week on "", the remaining five contestants will be singing songs made popular by The Rat Pack, a way-back-when group of entertainers that consists among others, , and Sammy Davis, Jr. Two important notes, actor slash singer would be the mentor and each contestant has two phone lines for voting.

To open the night, the show put first. He will be singing "The Way You Look Tonight", and Jamie was loving his voice. was also loving it, deeming it one of Kris' best performances. said he was a "dark horse" while took note on his transition from the boy next door to a gentleman. Simon Cowell however, thought it was a "little bit wet" and he can't win the competition.

April 28, 2009 08:47:01 GMT

In a "" episode directed by aka Nathan, Brooke is making a huge decision to adopt Sam when her mother Victoria (guest star ) suggests her to let Sam sees her family. Brooke and Haley throw Peyton a baby shower, while Sam grows closer to Victoria.

Lucas and Jamie bond while working on Peyton's car, and Nathan learns that NBA scouts will be at his next game. Meanwhile, Skills and Lauren (guest star Allison Munn) go on a date that goes all wrong.

April 28, 2009 08:00:57 GMT

FOX may have taken the previous two national addresses by Barack Obama for their primetime slot, but it won't have it the third time. The network has decided to hand over the President's 100th-day press conference to its sister cable networks, Fox News Channel and Fox Business Network.

The address was scheduled to be broadcast on Wednesday, April 29 at 8/7c. But FOX, according to some sources, thinks that it could hurt the rating of "" result show that begins 9/8c. Thus, "" will retain its schedule and Fox will give on-screen graphic on the updated coverage of the address during the show.

April 28, 2009 07:19:12 GMT

Before "J.O.N.A.S!" actually hits the screen this Saturday, May 2, Disney Channel gives a background information about the show. In "Know Your Jonas", the network introduces who Stella is and how Lucas Brothers are in school.

Stella, played by , is the boys' childhood friend who likes to design clothes for the band. Meanwhile, at school Nick, Joe and Kevin Lucas are just regular guys who sometimes receive the attention. Also informed are the place where the boys live in and their no.1 fan, Macy.

April 28, 2009 06:44:32 GMT

Kelly and Bethenny clearly won't be friends anytime soon, or later. Another round of fight between the two socialites will occur on "" tonight, April 28 when they both showed up for a charity meeting at Jill's place.

Also in the episode, Ramona divulges an embarrassing problem to her plastic surgeon, and looks to her for help. And when the Van Kempens bring their kids to Jill's store, Zarin Fabrics, the boys end up tearing the place apart.