October 30, 2009 02:32:52 GMT

Someone who can make Stefan smile has arrived at Mystic Falls, much to Elena's dismay. Next week on "", Arielle Kebble who claimed her fame through her starring role as Lindsay Forester on "Gilmore Girls", has put on fake fangs to become Stefan's oldest vampire friend.

On his birthday, Stefan is surprised by a visit from Lexi, one of his oldest friends. Still upset by the events at the Halloween haunted house, Elena does her best to stay away from Stefan, but Lexi gives her some unsolicited relationship advice.

October 29, 2009 09:08:30 GMT

Despite being crashed and burnt in an upcoming episode, Wisteria Lane will survive at least three more years. The creator of "", Marc Cherry, has agreed with ABC to a deal that will keep him as the executive producer and show runner of the dramedy for two more years. He was previously committed until 2011.

The show is currently airing its sixth season. With the new deal, it may extend up to season 9. However, it is not set in stone yet that "Desperate" will run until 2013 because the principal cast members of the show have not struck a deal.

October 29, 2009 08:22:04 GMT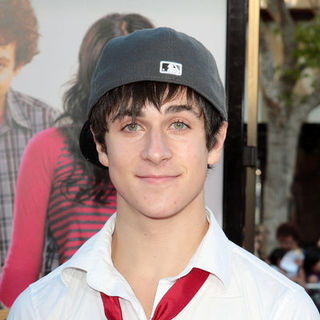 's directing debut will be premiered tomorrow on October 30 at 8/7c and the trailer has been released by the actor through his Twitter. In celebration of the Halloween fiesta, "Boo" presents a short webseries starring and Samantha Droke among others.

There is no synopsis yet released to the public but it is known to involve seven friends. According to Just Jared Jr., it is inspired by a true story in the lives of seven real friends. The trailer, which is quite short at 18 seconds, also did not give a clue on the storyline. Defending the trailer's duration, Henrie tweeted, "super short cause it's a trailer of a short".

October 29, 2009 07:19:06 GMT

"" die-hard fans' dream is coming together as NBC put down the order for more episodes in season 3. The Peacock has increased the number by six episodes from the initial 13 to 19. Now that it has been expanded, there is bigger chance that it will be put in January 2010 premiere.

The good news came with a bad one especially for the fans of new drama "". NBC will not extend the medical series beyond the 13 episodes order. The show indeed had been struggling with rating since its debut episode in September, being a not-so-stellar follow up to "" on Mondays.

October 29, 2009 06:48:52 GMT

It has just been confirmed at the Paley Center for Media that "" will be back for the third season in June 2010, the same time frame when season 2 debuted. During the panel held in Los Angeles on Wednesday, October 28, creator Alan Ball and other writers such as Raelle Tucker and Alexander Woo came out with a lot of spoilers for the new season.

First thing first, Ball answered the question about season 2's cliffhanger where Bill was abducted by an unknown person. Ball spilled that fans need not wait long because it will be revealed immediately in the first episode. Another juicy spoiler would be shirtless Eric. " appears without most of his clothes in the very first episode of season 3," Ball revealed.

October 29, 2009 06:04:45 GMT

"" will present a moving performance by next week in the episode called "The Last Thing I Said Was". The "" star had done a guest appearance as a courageous cancer patient whom Veronica takes cue from to confess to her husband Mike that she's been in a secret affair with Dr. Sands.

Meanwhile, Sonia gets relationship advice from an experienced patient and begins to question her arm's-length approach to dating, just as her cop-boyfriend Valentino goes missing. Chloe plans a reunion with a former boyfriend but her evening takes an unexpected turn when she learns some surprising news.

October 29, 2009 04:52:26 GMT

Last Sunday on "", 's new pill has increased his flow so much it is causing him to splatter, which leads to a misunderstanding about a miraculously weeping Jesus in Maureen and her mother's bathroom. Immediately after the air time, Catholic groups came out with disapproving statements.

These groups are deeming the episode as offensive and tasteless jab at their religion. The Catholic League president Bill Donohue said in a statement, "...That's what passes for creativity these days. Was Larry David always this crude? Would he think it comedic if someone urinated on a picture of his mother?" Donohue suggests David to quit the show while he's ahead.

October 29, 2009 04:08:36 GMT

makes her return to "" in the upcoming episode and some clips that show Hiro's second attempt to save her Charlie have been released. Sam warns Hiro that saving Charlie has the potential of altering the future, possibly in a destructive way. The question is, "Is she worth it?".

Through the first clip, it is found out that Sam has a motive to find Hiro, which is saving his traveling group from decreasing in number. When Hiro travels back three years into the past, Sam tags along and it complicates the situation. However, Hiro manages to prevent Charlie from being killed as seen in one of the clips where she finally gets to open the fruit can.

October 29, 2009 03:22:16 GMT

In promotion of its first record release, the cast of "" will go from store to store to meet fans of the show. Columbia Records and Twentieth Century Fox Television will release "Glee: The Music, Volume 1" on Tuesday, November 3 and the first 400 lucky fans who buy the album will get the chance to get the stars' signature.

Once a fan purchases a copy of the CD at one of the locations listed below, he or she will be given a wristband which allows him or her to get on line for the autograph signing. The cast members will only sign the "Glee" CD and allow one item per person. It is not yet confirmed whether all the stars will come out or only several of them.

October 29, 2009 02:30:18 GMT

The most bizarre headline popping up in the last few hours is that will do a reality show together with so that they would make up one large family. The report, however, has been slammed by both Gosselin's and Suleman's reps. They said any types of show is not in the works.

The source of the story is producer Bobby Goldstein who told In Touch Weekly, "I heard that Nadya has an insatiable desire to spend time with Jon and to put their families together." He added, "And I had the idea that this could be a very entertaining fiasco." Goldstein was one of the producers of The CW Plus' "Cheaters".

October 28, 2009 09:19:17 GMT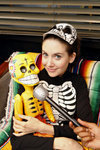 "" will not miss the Halloween celebration this week by presenting an episode where a party is thrown at the library. Two clips and behind the scene are released to unveil that Abed is not only dressed as Batman but also is imitating the hero's speaking voice. Senor Chang meanwhile, retains his passion in Spanish by dressing up as a matador with fake mustache.

Jeff has the hots for his statistics professor and is determined to take her out on a date. He finds the perfect opportunity to pursue her but it happens to interfere with a Day of the Dead party Annie is throwing for their Spanish class. Meanwhile, Pierce comes to terms with being old.

October 28, 2009 08:46:53 GMT

The double dose of crime-solving drama on CBS has unleashed the trailers for their November 3 episodes. On "" Gibbs' career is in jeopardy with the arrival of an old friend while on "" Callen and Hanna get "hell of a case".

In "Outlaws And In-Laws", a murder investigation prompts Gibbs and the team to play family counselor to his former mentor, Mike Franks, in the hopes of preventing a bloody international conflict. Muse Watson reprises his role as Franks and guest stars as First Defense COO Colonel Merton Bell.

October 28, 2009 08:06:52 GMT

Starting at 9/8c, it will be an hour of Halloween comedy on NBC this Thursday, October 29. "" and "" will lift the festivity as a theme for their respective episodes, "Koi Pond" and "Stone Mountain". As a preview, NBC has released clips where Darryl from "Office" arranges a haunted house event and Jack from "30 Rock" emphasizes how important the celebration is.

In "Koi", it's Halloween and the office plans a "Haunted House" for the children in the community. Creed dresses up as a vampire who sells blood, Andy as and Meredith as a Hobo. And at an important business meeting, Michael falls into a koi pond. Meanwhile, Pam and Andy go cold calling to drum up more sales.

October 28, 2009 07:21:12 GMT

There are literally four episodes left on TLC's card before the network should wrap up "". The reality show which has been running since 2007 will reach the end of the road on November 23 due to lack of footage.

Following their divorce, and have lived separately with Jon getting little screen time. While Kate intended to continue with the reality show, Jon refused to let his kids be filmed for fear that it would be detrimental to them. He halted the production and prohibited the crew from entering his property.

October 28, 2009 06:38:12 GMT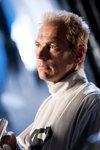 Jor-El, the man who has been mentioned throughout the nine seasons of "" will finally show his face on the November 6 episode titled "Kandor". The character previously voiced by Terence Stamp will be Julian Sands' starring vehicle.

Jor-El mysteriously arrives at the Kent farm searching for his son, Kal-El, but meets Chloe instead. Convinced the Blur is Jor-El, Zod enlists Tess' help in finding him to force him to reveal the secret to his powers. Clark realizes Jor-El is alive and on Earth and races to find him before Zod does.