November 11, 2009 06:35:27 GMT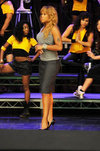 The first look of rapper guest starring in FOX's musical series "" is given in form of episode stills. Eve will play the role of Grace Hitches who is an instructor of a rival Glee club. Concerned that Sue is up to no good, Will pays a visit to Grace to see what information Sue may be leaking, which leads to the club getting a look at their hair-rising competition.

Along with the picture of Eve, there are pictures of "" season 4 contestants in yellow attire. Katee Shean, Kherington Payne, and Comfort Fedoke will be part of the competing Glee club members. It is not known yet whether they have speaking roles.

November 11, 2009 04:36:32 GMT

The CW is not wasting their success in nabbing one of the hottest artists this year, , as the guest star of "". After releasing a regular promo which was played at the end of this Monday's episode for "The Last Days of Disco Stick", the network drops the one which is focusing entirely on Lady GaGa and her "Bad Romance" performance.

In the episode, GaGa is invited because Blair wants to impress the elitist theater kids at NYU with her private concert. The singer previously said that she refused to only sing in the middle of the scene and "screw everything up" with a sudden, meaningless performance. She thus joined the writers and producers to reveal what kind of performance she wants.

November 11, 2009 04:08:52 GMT
One of the dancers of "" this season has been extracted from the competition to leave four people in the semifinals. Taking the fall in the eighth week would be and his partner . Carter stumbled when he was required to dance the Foxtrot. He only managed to score 23 out of 30, the lowest number outed on the Monday night performance.

It was between Carter and on the result night, but Osbourne had a slight win from the judge and apparently the audience. Saying goodbye to the competition, Carter said, "One thing that I will always remember from this competition is the lessons I've learned. I've grown some much with your compliments and your criticisms, so thank you. Thank you for helping me be able to grow on this show."

November 11, 2009 02:52:16 GMT

The vampires are feasting on the nominations list of 2010 People's Choice Awards. Announced Tuesday, November 10 at Beverly Hills' SLS Hotel, "" is among the shows gathering three nods. The CW's "" follows next with two.

The HBO show takes in almost all the categories possible for one show to achieve, only missing the spot in Favorite Drama Actor. Meanwhile, as a newcomer "The Vampire Diaries" attains the honor to battle it out with "True Blood", "", "" and "" in the category of Favorite Sci-Fi/Fantasy Show.

November 10, 2009 08:51:07 GMT
The first promotional photo released for the tenth episode of "" this season has revealed the possible daughter of Mark 'McSteamy' Sloan. is guest starring in the episode "Holidaze" which synopsis specifies that Mark and Lexie "must cope with the shocking arrival of a woman from his past."

E! Online came out with the report of Rambin's character being the long-lost daughter of Mark, but this story is not yet confirmed. The fact is, Rambin will be featured heavily on the November 19 episode, appearing in both "Grey's" and its spin-off "".

November 10, 2009 08:03:06 GMT

All new on "", House angles to form a dream team after his medical license is reinstated and he reclaims his role as Head of Diagnostic. Said as the biggest case faced by House yet, the mission is made difficult with Cameron and Chase's marriage being on the rock.

Meanwhile, Cuddy is reminded that the hospital is not conducive to healthy personal relationships. As for the medical case, House is back in time to treat Hank Hardwick (guest star Troy Garity), an adult film star admitted to Princeton Plainsboro for pulsating eye pain. "Teamwork" airs on Monday, November 16.

November 10, 2009 07:05:33 GMT

A vintage-looking woman is sought to fill in the role of Bill Compton's first wife on "". The HBO show will bring back the image of Bill's family before he was sent to the Civil War and turned as a vampire on his way back home by a vampire woman he was getting food from.

In the casting news for Caroline Compton, it is specified that the character lives in 1866 as a "lovely, very strong, brave, well-bred and well-spoken Southern woman". Said to be a "great scene", the role involves Caroline pulling a shotgun on the intruder into her house, clearly prepared to use it, till she realizes it's her husband Bill, whom she was sure had died in the War.

November 10, 2009 06:25:02 GMT
ABC has started swinging its ax and those unfortunate to get in its way are "" and "Let's Dance". While the former had a brief time enjoying some air time, the latter unfortunately never gets the chance to see the light of day. The reality dancing series hosted by was supposed to be premiered on November 23.

ABC has decided not to order anymore episodes of "Eastwick". However, the Alphabet still plans to air all the 13 episodes which had been in the first order. So far only 7 out of 13 have been on air but the show will take two weeks hiatus to give room for a live broadcast of Country Music Association Awards and a special interview with .

November 10, 2009 04:58:31 GMT

The threesome of "" this week is just the beginning. The November 16 episode will reveal more layers of the kinky activity done by Olivia, Dan and Vanessa. In the preview, Olivia says it out loud that she thinks Vanessa is deeply in love with her childhood friend, Dan.

The three-way sex story arc has somewhat created a controversy since its first hint was given via EW. Parents TV Council (PTC) has warned The CW that it will pay close attention to the episode and will charge the network with necessary fine should it trespass any broadcasting rules. Despite the warning, the network went on with the episode, showing Dan, Vanessa and Olivia doing the last thing on their Ultimate College Experience list which they haven't done. There is still no comment yet from PTC.

November 10, 2009 04:01:05 GMT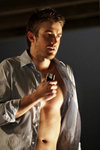 It's a domino effect on "" next week. Nathan reaches the breaking point with Clay, causing a rift between Haley and Quinn. In the preview, Nathan confronts Clay about the only two things that he wants Clay to do, making sure he plays with the Bob Cat and staying away from Quinn.

Meanwhile, Brooke comes clean with Julian about her worries regarding his growing connection to Alex (guest star ). Skills pursues a new career in L.A. and Millicent's drug problem worsens. "You are a Runner and I am My Father's Son" airs on Monday, November 16 on The CW.

November 10, 2009 03:17:52 GMT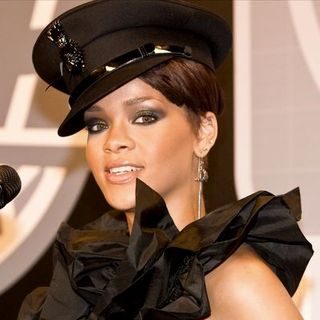 For the second time within a week, went public with her personal take of the altercation with . To MTV's "It's On with Alexa Chung", the singer shares that she did an interview with ABC's Diane Sawyer in "" because she wanted to keep people from doing the same mistake she did.

Rihanna thought that sitting down for a TV interview would "give insight to people who have been through" what she has. "[The fan response has been] insane, and for a little statistic there's the domestic violence hotline, and the calls have been up 59 percent. It's also helping save lives," Rihanna explained the after-effect.

November 10, 2009 02:42:35 GMT
Those who still crave for more "" after the Sunday, November 8 finale can enjoy the online features presented to keep people excited until the fourth season next year. Also for those who did not manage to catch the last episode of the third season may as well dwell into a video recap that sums it up in a brief.

Additionally, there are other featurettes such as production stills of the episode, behind the scene video of the finale, a trivia quiz of what happened in that last week, a Q & A session with , and a forum for the show's fans. Beside the features related to the show, there are also perks like 'Mad Men' Avatar maker, which 'Mad Men' are you quiz and 1960s cocktail guide. All the links can be found on .

November 09, 2009 09:25:18 GMT

Next week could be the beginning of the end of 's stint on "" as a preview for the episode has revealed that his character Luc is seen walking away. Sarah and Luc discover that they may not be as compatible as they had hoped.

Called "The Wine Festival", the episode was actually intended to be the last one featuring him before ABC decided to stretch Luc's story arc. Giving comment of next week's episode, Marini said to EW, "It's major. Everyone will be on a cliffhanger of no way, what just happened, no no no! It's pretty deep and I cannot wait for people to see it."

November 09, 2009 08:13:12 GMT

There would be a lot more of on Disney Channel. "J.O.N.A.S!" is renewed for a second season under the newly-appointed executive producers, Lester Lewis and Paul Hoen. The former was a showrunner on "" and the latter was director of nine Disney Channel movies.

"These guys are the superstars of their generation," Disney Channels Worldwide entertainment president Gary Marsh said about Jonas Brothers. "We had the opportunity to extend our relationship with them, which we did." According to THR, the band had been informed of the good news while they were in Italy for the European leg of their world tour.

November 09, 2009 07:32:34 GMT
Supermodel and Victoria's Secret Angel jumps from the runway to CBS sitcom "". The first look of her being a fashion store clerk named Brittney has been shared by the Eye. This would be Miller's role-playing debut on television.

When Gary lets Louise attend the popular girls party, he tries to keep it a secret from Allison. Meanwhile, Sasha contemplates having more than a working relationship with Gary. The episode is called "Gary Keeps a Secret" and it airs November 25 at 8.30 P.M. ET/PT.