September 30, 2009 02:26:18 GMT

This November, "" will change its name to "Kate Plus Eight" to keep up with the current situation in the Gosselin family. In a press release, TLC announced that under the new title, the show will focus more on as a single parent raising 8-year-old twins and 5-year-old sixtuplets.

"Given the recent changes in the family dynamics, it only makes sense for us to refresh and to recalibrate the program to keep pace with the family," President of TLC Eileen O'Neill said. "The family has evolved and we are attempting to evolve with it; We feel that Kate's journey resonates with our viewers."

September 29, 2009 09:25:33 GMT

One tough patient is coming to the Princeton Plainsboro hospital next week. In "" episode "The Tyrant", the team treats a controversial African politician who has fallen ill. He dares Cameron who is in charge of him to pull the trigger if she wants him dead.

The character played by James Earl Jones is a merciless dictator named President Dibala who is being subpoenaed for crimes against humanity in his country. The team faces a moral dilemma whether to save him or let him go.

September 29, 2009 08:26:01 GMT
Disney Channel is having confidence in "" that it extends the contract of third season for eight more episodes. The series starring , and , thus, goes from 78 episodes to a total of 86 episodes.

"The appeal of 'Wizards' is simple: It's our extraordinary cast," Gary Marsh, President Entertainment for Disney Channels Worldwide said in the press release. "This is undoubtedly one of the strongest comedic ensembles on television When you couple that with an incredibly gifted writing and producing team, the result is pure comedic magic."

September 29, 2009 07:51:51 GMT

Tracy makes a comeback and she wants her old job as adviser to the governor of New York back. Next week on "", the character who possesses the ability to freeze anything she touches, will realize that she needs to make more of an impact.

Last week, Noah has promised Tracy that she would get back her life if she helps him in stopping the killing. As a proof of his seriousness, Noah hired the Haitian to erase Danko's memory of her.

September 29, 2009 07:09:06 GMT
Head judge Len Goodman was absent in the second week of "" this season but the execs brought in Baz Luhrmann aka the director of musical hit movie "Moulin Rogue!". The substitution resulted in generous amount of 9s being drawn out from under the table. and each scored the triple 9 in their respective performances.

The first couple to take the stage on Monday, September 28 was and who did the Jive. Carrie immediately made a comment about Joanna's huge hair and her lack in footwork department. Bruno said they need to be exact with Jive and that Joanna lost rhythm sometime. Baz said they have to show more of the relationship because they got great chemistry. Score: 6-7-7, a total 20 out of 30.

September 29, 2009 04:08:26 GMT

Deemed as a "" blockbuster event, the show's next week episode called "Dan de Fleurette" proudly presents two huge guest stars. and are coming to Upper East Side as two movie stars who are entangled in the group's lives.

A famous movie actress, Olivia Burke is enrolling at NYU in hope to lead a somewhat normal college experience. She ends up being Vanessa's roommate and will eventually get to know Dan who has no clue about her true identity. Duff is taking this recurring role. Meanwhile, Olivia's co-star in her movie is named Ursula and she is played by Banks. Serena gets the temp job at being Ursula's publicist.

September 29, 2009 03:44:23 GMT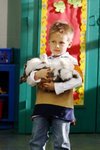 Nathan's scandal becomes public and worst of all, Jamie finds out about it. In the preview for "" episode "Believe Me, I'm Lying", Jamie asks Haley what's the meaning of "lovechild" which is written on the front cover of a tabloid bearing Nathan's picture with Renee.

Meanwhile, Brooke is gearing up her fashion show but it brings an unexpected responsibility for Millicent. Also, Haley convinces her sister Quinn to talk to her estranged husband David but she ends up being in the same car with Clayton. Mouth makes a decision that could threaten his career.

September 29, 2009 03:01:20 GMT

Fans of and can actually meet them in person and be a part of their TV movie "". A registration is opened for boys and girls aged 12 to 22 who are willing to participate as the audience in the performance scenes. The shooting will be held in Toronto over the course of six days starting October 1.

The scene is taking place at an undisclosed outdoor theater but it is emphasized that it won't be a real concert. Thus, fans will have to be quiet when they are needed to and cheer when asked. "There will be some performances, but they may be fragmented. You will be playing the part of an enthusiastic crowd," part of the information is read. Participants will not be paid but will be provided with warm meal.

September 29, 2009 02:29:23 GMT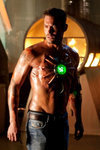 The extended scene on how John Corben discovers that he is no longer entirely human is given in the new clip for "" October 2 episode. The character played by wakes up in a set-up operating room with bandage over his hand and chest. First he discovers his left arm has gone bionic and next he finds out that the main source of power that keeps him alive is the green Kryptonite.

The episode called "Metallo" adapts the origin story when Daily Planet reporter John Corben is transformed into a man-machine with a Kryptonite heart. In the comics, elderly scientist Professor Vale uses his skill to keep John alive after he is struck by a truck and nearly dies.

September 28, 2009 09:14:36 GMT

A sneak peek to the next episode of "" is released by Showtime at the show's official site. In the episode called "Remains to Be Seen", the pressures of fatherhood threaten to bring Dexter's world crashing down. In his carelessness, Dexter realizes that he's misplaced crucial evidence, something that could expose his dark side to the world.

But his search will have to wait, as Miami Metro's two simultaneous murder cases continue to escalate. Their top priority is to solve 'The Vacation Murders', a series of robberies gone bad that threaten Miami's lucrative tourist industry. Lundy, however, remains convinced that the bigger problem is dealing with the Trinity Killer, who unbeknownst to them is already stalking his next victim.

September 28, 2009 08:32:17 GMT

Hank Moody continues to use his charm to escape from getting into trouble. Next week on "", the newly anointed, and decidedly reluctant, professor grapples with teaching an undergrad creative writing course.

A brutally honest assessment of a student's work lands Hank in hot water. In order to placate the Dean and maintain his position, Hank visits the student to make amends. Damage controlled, Hank ends up giving gorgeous and talented writing student Jackie a ride to her surprising place of employment. Meanwhile, Charlie overly concerns himself with roommate Marcy's dating life to disastrous results.

September 28, 2009 07:23:21 GMT

On the fourth season premiere of "", Kitty has to bear with the fact that she is sick but next week she will be faced with the toughest challenge yet; telling her family about it. In "Breaking the News", Kitty struggles with an untold secret that will bring the Walker family together like never before.

Robert worries about news of his recent heart attack leaking to the press and the fact that Kitty is sick is going to bring a tremendous change in their marriage. Meanwhile, Kevin and Scotty discuss the real possibility and challenge of surrogacy.

September 28, 2009 06:34:04 GMT

While executive producer prefers to remain mum about the cancellation of "", actor took it to his Twitter to express his disappointment toward the decision. To his fans, the 20-year-old even posted a link that accommodates signatures as a petition to keep the show alive.

"I want to say thanks to all who were fans of and supported The Beautiful Life," he wrote. "I had a wonderful experience with a talented crew & cast! I look forward to other challenging opportunities that lay ahead and that will help me to continue to grow as an artist. God bless & Gdnite."

September 28, 2009 05:11:04 GMT

Recent Primetime Emmy Awards winner "" kicked off its 15th season with two romantically related pairs being eliminated in the first episode. Eric and Lisa, the married yoga teachers, were unfortunately the first couple to be shown the exit. Following next at the end of the second race were Garrett and Jessica.

For the first time in the show's history, a couple was extracted from the pack before they even got the first plane tickets. The challenge that put Eric and Lisa out of the equation was to find among 1,000 license plates that has their first destination in Japan on. The other eleven teams managed to pass the challenge and headed to the airport to go to Tokyo while Eric and Lisa stayed behind at Los Angeles' River.

September 28, 2009 03:00:13 GMT

may be the icing on the cake during the season opener of "" but it was newbie Jenny Slate who stole the headlines after the Saturday, September 26 show. The comedienne who made her debut in the sketch called "Biker Chick Chat" dropped the most-forbidden four letters word on air.

Playing alongside regular , Slate was supposed to slip in words like "frickin' " and "friggin' " in every sentence she said. However, she said the real F-word on the sentence "You stood up for yourself, and I f**kin' love you for that." Slate made a face after realizing she had a slip of tongue, puffing her cheeks.