May 07, 2009 02:28:36 GMT
One more contestant in "" takes the fall. , the 16-year-old red hair has been eliminated from the competition after being put on the bottom two with . said that 64 million votes were cast the night before (May 5).

Choked up in tears when her montage was played, Allison then took the stage for one last time to sing her rendition of Janis Joplin's "Cry Baby". She hugged during the performance and the others afterward.

May 06, 2009 09:22:13 GMT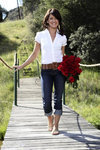 ABC has decided to make things a little more complicated in the new edition of "". Jillian Harris who is the only-female standing has to choose over 30 men instead of the usual 25 when the dating reality show hits the screen on May 18.

When 25 men arrive to meet Jillian for the first time, they will compete for the only 'first-impression rose'. In the press release, ABC notes that a guy attempts to woo her with his Latin charm while two others battle on the dance floor. Then the additional 5 men will crash in the party and get more quality time with the bachelorette.

May 06, 2009 08:15:28 GMT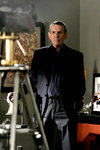 There is only one episode left for "" before it opens a new chapter with the second season. Next week on May 12, there will be a sudden and unexpected attack on someone with close ties to Fringe Division as well as the return of bioterrorist David Robert Jones.

Also in "There's More Than One of Everything", Walter disappears inexplicably but questions that have been looming throughout the season will be answered here as observations are made, and loyalties are tested. "" actor will make his debut in the series as William Bell.

May 06, 2009 07:16:45 GMT

"" has two episodes remaining and on Tuesday, May 12 there will be a performance of during the prom party which preview can be seen on the photo below. Also Adrianna will go into labor.

With sophomore prom night quickly approaching, Annie, Adrianna, Naomi, and Silver get glamored up for the event by a famous stylist. A dateless Annie agrees to attend the event with extremely nerdy classmate Charlie, who has a massive crush on her. However, when he realizes that she is only interested in being friends, Charlie turns his feelings for Annie into anger and takes evil action against her.

May 06, 2009 06:23:09 GMT
has always been on top of the game but after the Monday, May 4 performance, she was let go from "". Receiving only 52 out of 60 from the judges, Kim and her partner Derek Hough were bound to be in the bottom list along with Ty Murray and Chelsie Hightower. But audience apparently were rooting for the rodeo star.

"She's an amazing person, an amazing soul, an amazing spirit and an amazing dancer," Hough said of Kim. The star herself was high in spirit although eliminated. She said, "This is one of the greatest experiences I've ever experienced in my life. I think I brought different viewers."

May 06, 2009 04:48:08 GMT

"" was down to four people after the departure of Filipe last week. The remaining contestants, Ron, Mike, Tara and Helen, were sent home for a 30-day break from the campus. But they will be back for a final weigh in before viewers at home can vote who deserve to be in the final three on the live finale May 12.

There was a short montage of how the four contestants had gone through the regimes and lost a lot of pounds in week 17. Tara started off with 294 pounds, Helen was 257 pounds, Mike was 388 pounds while Ron was at staggering 430 pounds.

May 06, 2009 03:18:12 GMT
It's time to do some rock and roll on "". Mentored by ex-guitarist of , , each of the top 4 will sing a solo and a duet piece. A short recap of what happened on the result show last week where was put on the bottom three was played before the show began.

And viewers get the first taste of rock through Adam's rendition of 's "Whole Lotta Love". Slash advised him not to improvise too much and Adam did not. said he can definitely be a rock star and none will look at him as mere theater performer. called him a "rock God". Simon Cowell said the piece is one of his favorite performances throughout the season and it will be difficult to top that.

May 05, 2009 09:34:58 GMT

The time has come to wrap up the second season of "". On Tuesday, May 5, the season of high drama comes to a close with nothing short of an explosive and thoroughly entertaining finale.

When Bethenny gives LuAnn's housekeeper Rosie a cooking lesson. Rosie ends up teaching a love-lorn Bethenny a few tips about dating in return. Jill enlists Kelly to pick out a donation for her charity event at a high-end jewlery store where the eccentric owner gushes over Kelly. And when the charity event finally approaches, Jill and Ramona are livid to see that Bethenny is promoting her own brand at the event behind their backs.

May 05, 2009 08:09:33 GMT
Julian is suddenly hotter when Brooke brings as her date to Lucas and Peyton's wedding. In "Forever and Almost Always", Peyton and Lucas' wedding day has finally arrived and surprise guests attend.

Haley plays an unexpected role in the ceremony while Nathan hopes to be called up to the NBA. Skills keeps Jamie on a short leash, and Brooke does the same with Nick Lachey, who plays as himself. Lachey was initially meant to be a guest star in an episode but creator Mark Schwahn had expressed his interest in the character and thus made it a story arc that involves the love triangle of Brooke, Julian and Lachey.

May 05, 2009 07:39:38 GMT

Fans anxiously waiting for the immediate return of "" will have to swallow their hope. The third season has been set to bow in August instead of the usual mid-July starter, AMC has announced. No particular date is given though.

The delay is somewhat predictable for when the second season wrapped up in October last year, series creator Matthew Weiner had not been officially signed for another season until mid-January 2009. Variety reported that the drama only began production on Monday, May 4.

May 05, 2009 06:36:38 GMT

It was officially announced at the Monday, May 4 presentation that "" will not get a third season. NBC co-chairman Ben Silverman answered the direct question, saying "It will not be back". Also addressed was the reports that "" has been picked-up for another season. "Not by us," Marc Graboff, co-chairman of NBC Entertainment said regarding the confirmation. "(It was) obviously misreported."

Thus, "Medium" joins "" as bubble series while "" which was previously said to wait its fate next week, is now confirmed heading on another season. Graboff added that they will go ahead with or without the leads and . "The show is coming back. We hope they come back with it," he said.

May 05, 2009 04:52:06 GMT

"You will definitely be talking about this ending," FOX said on its promo for "" season finale. On May 11, House and the team are intrigued by Scott (guest star Ashton Holmes), a man whose left brain and right brain operate independently, leaving him with two distinct personalities and no control over some of his actions.

As the two sides of Scott's brain struggle for dominance, his warring personalities make it increasingly difficult for the team to figure out what is causing the unique problem. The team is forced to use some unusual methods to get him to cooperate with their necessary testing.

May 05, 2009 03:50:08 GMT

After having Melissa Rivers and sitting on her couch, invited Annie Duke to "" to dig out her side of story. The poker player was welcomed on Monday, May 4 with the same song that serenaded the Rivers, 's "Poker Face".

Annie, is part of the of "". Melissa was fired but blamed it all on her team mates Annie and Brande Roderick for excluding her in the project. Melissa called Annie "whore pit vipers" while Joan, in defense of her daughter, said that the money they will give to the charity is bloody. Annie told Ellen that she is extracting the 'whore pit vipers' from her vocabulary and defended her status as poker player.

May 05, 2009 02:42:19 GMT

It was way back when Lily van der Woodsen was known as her maiden name Rhodes. Next week on "", it's a backdoor pilot for the show's spin-off which is tentatively titled "Valley Girls". There will be a lot of flash backs to the '80s where Lily was just a 17-year-old living in Los Angeles after being kicked out of boarding school.

In the May 11 episode, young Lily tries to reconnect with her parents, Rick (Andrew McCarthy) and Cece (), and sister, Carol (). She will later leave the comfort of living a luxurious life to crash in with her sister in downtown L.A. leads the cast as Lily Rhodes.

May 04, 2009 09:41:24 GMT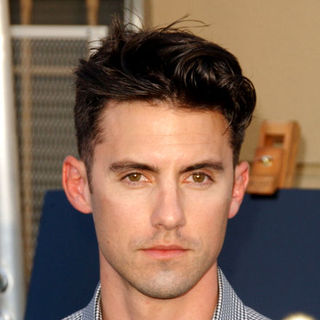 Coming from the passionate mind of is a new webseries "Ultradome" that will see famous fictional icons fighting against each other. The "" star is co-producing the series for laugh purpose, through his DiVide Pictures in partnership with Agility Studios.

"My whole life has been spent engaged with friends in intellectual debate ... like whether Captain Kirk is tougher than Spock or if Middle Earth is a more difficult place to live than Tatooine," Ventimiglia explained the concept. "With 'Ultradome,' we can bring these debates to the public and settle them in the most logical way possible: through armed combat."