March 02, 2010 06:18:06 GMT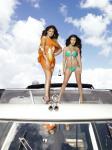 "Kourtney and Khloe Take Miami" will be back for a second season. The renewal came somehow expected since "" scored a rating record for E! recently with the fourth season's finale that absorbed 4.8 million viewers.

The network has ordered 10 episodes to the spin-off which focuses on two Kardashian sisters, and in their quest to pursue career in Miami. In last year alone, these two made big changes in their life such as giving birth to a baby and marrying a guy she dated only for a few months.

March 02, 2010 04:49:37 GMT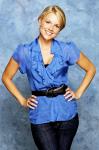 With Vienna Girardi coming out as the winner of Jake Pavelka's heart, ABC announced that they have tapped third runner-up Ali Fedotowsky to be the next "". The 25-year-old advertising account manager from Williamstown, MA will get to choose whom she wants to spend the rest of her life with when the show returns in May.

The announcement was made during the "" finale on Monday, March 1. "I'm so excited!" Ali told host Chris Harrison. "I am so thrilled and honored and grateful. I just can't believe it." Chris said that Ali has been fans' favorite all along the 14th season and she responded, "I feel so blessed."

March 02, 2010 04:19:15 GMT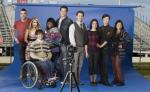 "" cast are going on tour the second time around, not only to promote the movie but also to answer the demand. The popular FOX show is taking concert stages this spring in several cities such as Los Angeles and New York City. The jaunt is kicked off May 16 in Phoenix, Arizona.

"Glee Live! In Concert!" is a four-city engagement that will present some of the show's musical numbers such as "Somebody to Love", "Don't Stop Believing", "Sweet Caroline" and "Jump". Tickets for the Arizona concert will be sold for public starting Friday, March 12 at 10 A.M. while the tickets for the rest of the shows will be sold the next day at 9 A.M. For American Express cardholders, there is an exclusive pre-sale on March 5.

March 02, 2010 03:39:47 GMT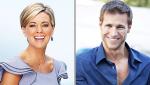 The tenth season of "" announced its cast during the commercial breaks of "" finale on Monday, March 1. As previously reported, is in, along with NFL star . These two were the first to be revealed by host Tom Bergeron and ET correspondent Melissa Rycroft.

As Jake Pavelka made his decision of who he was going to marry, Tom unveiled the next eight names who will grace the dance floor this summer. Announced in respective order are Aiden Turner who starred in daytime drama "", who starred in "", who reprised her role on "" and Buzz Aldrin who is the first man to walk the moon although Neil Armstrong stepped on the moon first.

March 02, 2010 03:00:30 GMT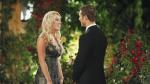 "" has reached its finale and it was time for Jake Pavelka to land a decision. The Monday, March 1 episode was opened with Jake stating he was so in love with both of the women, Tenley Molzahn and Vienna Girardi. He described them both "perfect" and complimented each's strongest suit.

To help him decide which girl he should pick, Jake brought each of them to meet his family. Jake said to her mom that Tenley and Vienna are two very different persons, adding that the latter did not make any friends while in the show. "Is she the girl that everybody hated? Because sometimes there's something to that!" his mom said.

March 01, 2010 09:23:10 GMT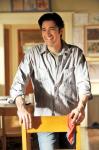 Picking up where this week's episode left off, "" March 14 episode will still focus on the Sarah-Luc complication. Luc has 4 weeks until his visa expires and at the end of last episode, Sarah has agreed to marry him. Problem is now not only between the couple but also includes Kitty.

Kitty's newfound fame creates havoc for Luc and Sarah, as Luc faces possible deportation. Turns out, Luc is a former pornstar whom Kevin finds out about online. "Luc and Sarah are getting back together but they are going to go through a lot of hurdles," explained. "He's going to bring a lot of complications in the Walker family because of his background. It's at times funny, at times exciting and at times, very sad."

March 01, 2010 08:40:00 GMT
In the middle of his messy personal life, keeps his career intact by making a guest voice appearance on "". The actor, who was accused of strangling his wife on Christmas vacation, is animated on the cartoon wearing his signature "" shirt.

Not only Sheen, the particular episode also features and again, . The latter had appeared twice in the show, first in 2005's "Peter's Got Woods" and the second in 2008's "Back to the Woods". Like Sheen, Wood and Woods fill out the voices of their respective characters.

March 01, 2010 07:51:11 GMT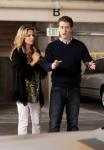 's Will Schuester is not exactly the man he is, according to who plays his wife Terri. The actress spilled that the supposed protagonist has his flaw after all, and it will show when "" returns on April 13.

"It's all switching up, Terri was supposed to be so awful," Gilsig revealed to Perez Hilton. "But Terri was driven by love, and it turns out that Will is a whore. Lets just say Terri was right." There was a rumor circulating that Will is going to kiss 's character who reportedly is the coach of rival club, the Vocal Adrenaline.

March 01, 2010 06:55:58 GMT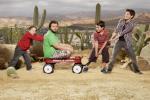 FOX has shared a 30-second promo of its new series "" that gives the background story of the whole comedy. Three young brothers find a dad-to-hire in a local sporting good store after meeting Ron Snuffkin who coincidentally needs money to pay his debts. Ron is in for a surprise when discovering how messy the boys' life is, literally.

The series premieres on March 14 at 8.30/7.30c. When the Gunderson boys Brandon, Gary and Robby hire Ron to pretend to be their father after their real father goes to prison, they find out that there's more to their "fake" dad than meets the eye. Ron has to enroll them in school, convince Robby's teacher to keep him in her class, sweet-talk the principal, locate mint-condition toy soldiers at his grandmother's house and avoid a thug who wants his money.

March 01, 2010 06:28:51 GMT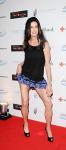 won't stop at having a reality show surrounding her modeling career. The self-proclaimed the world's number 1 supermodel is brewing a new reality show which sees her as a cougar feeding on young men to serve the purpose of her romantic life.

The project is made as a dating kind of show where "boy toys" will compete for her attention by "waiting on her hand and foot", TMZ reported. The 55-year-old is teaming up with Wikked Entertainment in getting the work done but she has not had any network to air it yet.

March 01, 2010 04:29:06 GMT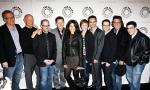 On Saturday, February 27, "" took the baton from "" that kicked off this year's Paley Festival on Friday. Several in attendance to support the sold-out panel were the show's producers, Damon Lindelof and Carlton Cuse as well as cast such as , , Zuleikha Robinson and Nester Carbonell.

Several spoilers came out during the panel that night, but first the team opened the discussion with a glimpse of the upcoming episode, "Sundown". Miles meets Sayid inside the temple and Sayid says he's leaving because he has been banished. Miles then tells him the truth, "They tried to save your life. You were a dead man for two hours." There's also a scene of Claire telling Dogen that "he" wants him out of the temple.

March 01, 2010 02:45:05 GMT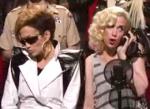 Although her new album will not be released until summer and she has no imminent movie to be promoted, delivered a grande performance on "". In one sketch, she spoofed "We Are the World" remake which was recorded for Haiti recently, dressed as complete with the cropped wig and hipster sunglasses.

Lopez mocked Rihanna's signature singing adding "eh" at the end of every phrase. "There comes a time, eh!, when we heed a certain call, eh!" she sang the opening verse. She was accompanied by as , as and a number of other comedians dressed as , , and , among others.

February 27, 2010 07:25:30 GMT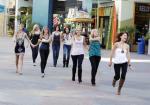 The new candidate of "" will be announced on "" special, "After the Final Rose" this Monday, March 1. A rep from ABC has confirmed that the bachelorette will also visit "" right after that.

If ABC were to follow its last two patterns, then the new bachelorette will be one of the women whom this season's bachelor dumped. Two names which have surfaced as potential bachelorette are Ali Fedotowsky and Gia Allemand. They have personally revealed their willingness to join the show. Gia said after her exit, "Yeah, I would definitely consider it. It's such an amazing experience. I would love to find love and see how it is on the other end." Meanwhile, Ali said, "It would be so exciting and wonderful."

February 27, 2010 06:47:02 GMT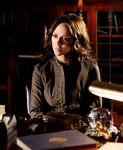 When it returns next week, "" will reach a milestone. To mark the 100th episode, goes behind the lens to direct her co-stars as well as guest star Bruce Davison who reprises his role of Josh Bedford.

A ghost who knows of a hidden munitions dump with unexploded bombs confides in Melinda that one of those bombs is missing and in the wrong hands, warning that someone will lose their life. According to some reports, the one who dies will be a major character. Written by John Gray, "Implosion" airs on March 5.

February 27, 2010 06:03:55 GMT
The perks of being the cast of an excelling series is to be able to travel to beautiful places like Maui. The entire cast of "" will go to the Hawaii state soon to shoot an episode for the May sweep. "We're going to show them on a family vacation," said Executive Producer/ Writer Steve Levitan.

The episode however will be shot partly in an airport as they set off for the big trip. "Initially, we were just going to do [the airport episode]," Levitan revealed. "And then as we were shooting it we decided that [viewers] would be somewhat disappointed if we didn't follow through on the [actual] trip. So now the entire family is going to Hawaii."