November 20, 2009 06:28:49 GMT

When "" returns next year, it will pay homage to -starring movie "Girl, Interrupted". The episode which is called "Sam, Interrupted" will see Sam being strapped to a bed inside what could be said a psych ward. From the casting sides, it is said that strange happenings are afoot in the place.

"Sam, Interrupted" is airing on January 14. The show takes a two-month break and will return with the second half of the season including the 100th episode. EW said that the monumental episode will be particularly huge for aka Dean.

November 20, 2009 04:35:57 GMT
Irina Shabeyeva, a 27-year-old designer, has won "" season 6. The finale airing on Thursday, November 19 finally revealed the winner who has actually been crowned since February this year. The show was in the middle of the broadcasting right battle between Bravo TV and Lifetime late last year.

Irina won over Carol Hannah and Althea after her final designs that opt a warrior woman concept impressed the judges. Michael Kors said while the concept was not exactly original, the result turned up admirable. added that she would want to own Irina's collection.

November 20, 2009 03:57:44 GMT

After staying on the shadow for sometime, "" finally steps out with a premiere date for its sixth and final season. Aiming big, ABC presents an all-night event on February 2 with a recap special that will air an hour before it.

The recap will be kicked off at 8/7c and two-hour premiere will follow at 9/8c. The show will then move to its regular slot on Tuesday nights at 9/8c beginning the following week on February 9. ABC is still determining a partner for "Lost" on Tuesdays and rumor has it fellow sci-fi series "" will be put in the 10/9c slot.

November 20, 2009 03:09:57 GMT

Good news comes in three for "" fans. Beside the announcement that the show will return earlier than the initial schedule, NBC has also unleashed a sneak peek and a poster to the third season. These triple treats add to the excitement that the show has been expanded from 13 to 19 episodes.

"Chuck" which was almost canceled after the second season will return on Sunday, January 10 instead of March like the Peacock has planned previously. Even better, fans will be given two back-to-back episodes on the premiere. After that "Chuck" will be moved to its regular slot on Mondays at 8/7c starting right on January 11. In other words, it would be a two-night and three-hour premiere in January. However, "Chuck" will be pre-empted for the Olympics on February 15 and 22.

November 20, 2009 02:31:26 GMT

The sun will finally set on "" after 20 years influencing the world of television. On Thursday, November 19 afternoon, President of Harpo, Inc. Tim Bennett released an open letter that announced in advance about 's decision to end the Emmy-winning talk show.

Bennett said that Oprah had informed her staff about the decision on Thursday and will announce it publicly live from Chicago on Friday. "As we all know, Oprah's personal comments about this on tomorrow's live show will mark an historic television moment that we will all be talking about for years to come," Bennett wrote.

November 19, 2009 09:07:51 GMT
The serial killer is still on killing spree but Mac and his team are on his tail. In the third episode of "" about the pursuit of Compass Killer, Mac and his team uncover the dark lair of the murderous madman. But as they race to save his fourth victim, the sunrise presents one final surprise that no one ever expected.

"Manhattanhenge" airs on Wednesday, November 25. gets inside the shoes of Compass Killer and stays on the show for three episodes which are not consecutive. He first appeared in the third episode of this season, leaving an antique compass that points to a certain direction near his victims to give clue to the investigators about the next one.

November 19, 2009 08:09:51 GMT

"" gets into the Thanksgiving mood next week and some sneak peeks of the family dinner are released by NBC. H.R.G. hosts an untraditional Thanksgiving dinner. Elsewhere, the Petrelli family gets a surprise guest at their table.

In two of the clips, the Petrellis are getting ready for the Thanksgiving dinner and Claire's mom shows up with her new boyfriend. In another clip, the viewers are taken back to how Sandra met Doug, and H.R.G. met Lauren. The others show what everyone in the Bennet Thanksgiving are thankful for and Claire telling everybody that she wants to drop out of college.

November 19, 2009 07:21:54 GMT

This Sunday, November 22, not only will be on "" but also "" actor . The actor and the band will be animated in the episode called "My Morning Straitjacket" and the first look of them as cartoon characters has been released.

Unlike My Morning Jacket who appear as themselves, Galifianakis will be voicing a guest character named Norman. According to Entertainment Weekly, Norman is a superfan of My Morning Jacket who will be performing in a festival. The band reportedly would bring their hits such as "I'm Amazed", "Steam Engine", and "Remnants".

November 19, 2009 06:23:32 GMT
The Emmys will be given out earlier next year with NBC putting the awards show for August instead of the traditional September. The 62nd Primetime Emmy Awards will be aired on August 29, just in time to dodge competition with other broadcast networks and NBC's Sunday Night Football franchise.

The move to earlier date will also allow a "head start on creative discussions". Paul Telegdy, Executive Vice President, Alternative Programming, NBC and Universal Media Studios elaborated, "NBC is excited to host television's biggest night with the Primetime Emmy Awards. Scheduling and announcing the telecast for August 29 this early in the awards cycle will give the Television Academy and NBC a head start on creative discussions."

November 19, 2009 04:50:13 GMT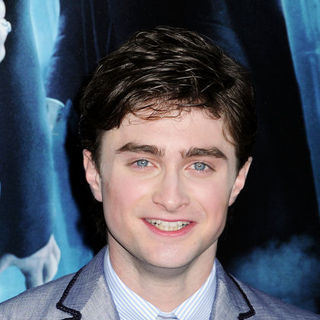 That would lend his voice on "" next year has been confirmed by FOX. The British actor who is famous for his portrayal of Harry Potter will woo Lisa and spoof "" for the annual Halloween episode, "Treehouse of Horror XXI".

Radcliffe's role is Edmund, a kid vampire whose dad is none other than Dracula. He and Lisa fall in love with each other but their fathers are against the relationship and will try to break them up. The episode will air in either late October or early November like in the previous years.

November 19, 2009 04:20:47 GMT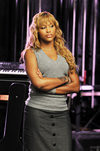 It will be one hair-rising event of "" next week when McKinley High gets into competition with the other Glee Clubs. Concerned that Sue is up to no good, Will pays a visit to an instructor of a competing Glee Club to see what information Sue may be leaking, which leads to the club getting a look at their hair-rising competition.

The episode airing November 25 is guest starring as the instructor of the rival club. Among the members of her team are the fourth season contestants of "", Katee Shean, Kherington Payne, and Comfort Fedoke.

November 19, 2009 03:21:31 GMT

Nicole Fox has won "" cycle 13 and thus becomes the first petite model to have claimed the title. Nicole is entitled to a Seventeen magazine cover shoot and six-page spread, a spot at Wilhelmina Models and a $100,000 contract with CoverGirl cosmetics.

Nicole beat Laura Kirkpatrick on the finale after completing her CoverGirl commercial smoothly and conquering the final runway. Laura stumbled a bit on the challenge because of her dyslexia. And when Nigel Barker asked her to think something emotional, Laura could not deliver it to the camera. However, Nicole wasn't exactly an obvious winner from the beginning. Jay Manuel disliked the way she read her CoverGirl commercial because she sounded like a snob.

November 19, 2009 02:44:30 GMT

"" gets the privilege of being the only talk show to have all three principal cast of "" on the same seat. , and have taped an appearance on 's talk show last week and the segment will be aired on Friday, November 20.

During the interview, Robert couldn't stop laughing and Taylor explained to Jimmy his bulking up regime. The host asked Taylor about the transformation from "" to "New Moon" and the actor said that the hardest part was actually not the work out but the eating. As he had said a couple of times, he had to "put something" in his mouth every two hours in order to gain mass.

November 18, 2009 03:31:00 GMT

and were the first two celebrities announced advancing to the finals of "". The former topped the leader board on Monday, November 16 performance night with 87 out of 90 points. She scored a perfect 30 for their Salsa, 29 for Cha Cha Cha and 28 for Waltz. Osmond, being the one with strong fan base, grabbed 27 for Jitterbug, 26 for Samba, and 21 for Tango.

It was between and when the hosts were about to announce the third couple in the finale. Krupa earned 81 points on Monday and fell at the second place. Osbourne meanwhile, received 78 points and sat at the third place. Although she scored higher, Krupa did not get the same vote of confidence from the audience and was thus eliminated. "It's been such an amazing experience... I've grown as a person," Joanna said.

November 18, 2009 02:44:51 GMT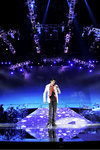 's "" lands on MTV's hand. The documentary about the King of Pop's last rehearsals before he passed away in June will be aired on the music channel in 2011.

The deal with Sony Pictures Releasing that distributes the film includes broadcasting rights to other domestic channels under MTV Networks such as VH1, VH1 Classic and Palladia. BET which is owned by the same company that owns MTV, Viacom, is also included in the deal which will last about six years.