August 04, 2009 02:56:26 GMT

is definitely back on track to film "". The CW has just released a proof, posting a picture of her filming a scene with . Her character is a troubled model named Sonja who is struggling to survive in the constantly moving fashion world. MacPherson, meanwhile, is an owner of a top agency model.

The production of "TBL" was kicked off on Friday, July 31. Mischa, who was hospitalized for unknown reason, was already in Manhattan days prior to film her part. Her co-star said, "We had our first read-through (Wednesday) and we're all so very excited to have her back. She's such a great girl."

August 04, 2009 02:25:20 GMT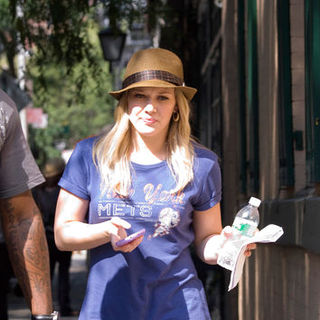 "" has begun rolling the camera for the scene involving . The guest star has been spotted arriving at the filming location in Greenwich Village, New York on Monday, August 3. Duff, wearing brown fedora, stopped by the coffee stall before heading to the set.

Also spotted on the location were and . The latter in particular will share a lot of scenes with Duff because she will be his new love interest. The catch is, Duff's Olivia Burke is a movie star in disguise as college student because she wants to experience an ordinary life. Badgley's Dan catches her eyes and they hook up with Dan having no clue about Olivia's true identity.

August 03, 2009 09:17:07 GMT

A short but right-at-the-spot promo of "" was aired on Showtime. It shows Dexter and his gleeful baby during feeding time with red food, which almost resembles blood, spilling all over the place. The tagline "Not his usual mess" bears the right pun for Dexter's job as a serial killer.

"Dexter" is premiering September 27 before another season premiere of "". This time Dexter is dealing with fatherhood, which forces him to go to the drugstore even if he is in the middle of a killing mission. He takes residency in the suburbans with Rita and her kids, leading a seemingly normal life.

August 03, 2009 08:08:29 GMT

There is a fresh promo of "" that does a mash up between the romance and the action within the series. Kicked off with all the things that come along meeting someone ("desire", "heartbreak", "redemption"), the footage continues with more serious tones such as "fear" and "rage". But eventually, it all comes down to "love".

"The Vampire Diaries" is one of the new series that The CW will bring up this Fall. It has been heavily promoted and paired with "" in place of "". The pilot, which has been screened during the opening night of San Diego Comic Con, will go on screen September 10.

August 03, 2009 07:25:09 GMT

During the Television Critics Association tour, PBS' executive vice president announced that "Sesame Street" will pick on "". On the panel held Saturday, August 1, Miranda Barry announced that "Sesame" will parody the AMC drama for the muppet show's 40th anniversary.

"You may have seen our parody called 'Desperate Houseplants'," Barry explained on how they would translate the drug, sex and booze-filled show to a program for children. "It was about a houseplant not getting its needs met by the gardener. So it always works on two levels."

August 03, 2009 06:50:09 GMT

Entering the month of August, Disney Channel refuses to slow down with its premieres. Through its new month promo, the network is previewing the new episodes of its prime series such as "" and "".

There will be a special airing of "Hannah" called "Oh Brother-a-thon" that focuses on none other than Miley's brother, Jackson. "Wizards" will also offer the remaining two episodes of a four-part saga, "Wizards Vs. Vampires" which will run through August 14. All the programs will cumulate to the weekend premiere of "" on August 28.

August 03, 2009 04:57:47 GMT

Finally, the war of vampires and the people behind Fellowship of the Sun will occur in the brand new episode of "" next week. Sookie's captivity takes an unexpected turn when Eric arrives at the behest of his master's orders.

In Bon Temps, Sam finds himself in deep trouble after making a gruesome discovery at Merlotte's. Sent home by Bill, Jessica and Hoyt learn that when it comes to sex, every time is the first time. Tara and Eggs get physical after partaking in a "Hunter souffle" prepared by Maryann. After Jason pays off his debt to the vampires, Godric looks to enlighten his more single-minded followers.

August 03, 2009 02:51:08 GMT

"" successfully nabbed two prizes at the Television Critics Association Awards and became the show with most kudos. The CBS comedy, which misses an Emmy nomination for Best Comedy Series this year, took the top honor in comedy program as well as a nod for its leading star, .

Although "Big Bang" brought home two, it was "" that received the coveted prize. The SyFy series was named Program of the Year after airing its last season this midseason. "Battlestar" is the only show winning for SyFy.

August 01, 2009 06:23:50 GMT
Showtime has begun with the promotions of its Fall series, "" and "". Posters of the two shows are released, a cute but creepy image of Dexter and his son for "Dexter" and a sexy shot of college girls' legs for "Californication".

This would be the second poster for "Dexter" following the of the baby with a drool bib saying "My Dad Is Killer". The posters represent Dexter's new life as a father, living in the suburban with Rita and her kids. During Comic Con in San Diego, won't rule out the possibility of the baby inheriting his 'killer' trait. "The baby has yet to exhibit any signs," Hall said. "It's possibly there, lurking."

August 01, 2009 04:41:02 GMT

Eric is mocking the mortals guarding the Fellowship of the Sun in the new clip of "". The vampire together with Isabel will try to penetrate the church in order to rescue Sookie who is imprisoned with Hugo at the Light of Day camp, and investigate whether those anti-vampire people have Godric.

Called "Release Me", the episode will air Sunday, August 2. Sookie uses her telepathic powers to reach out to Bill, who's being detained at the hotel by an adamantly obsessive Lorena. After crossing a church line, a fearful Jason tries to severe his ties with the Fellowship of the Sun, but gets plenty of resistance from Steve and his lackey, Gabe.

August 01, 2009 04:08:50 GMT

"" is shaping up well with the announcement that the original voice cast are all returning to their seats. The five actors, , Maurice LaMarche, Tress MacNeille, John DiMaggio and Billy West, have sealed the deal on late Friday, July 31 after previously stumbled in a salary agreement.

"We are thrilled to have our incredible cast back," creators Matt Groening and David X. Cohen said in a statement. "The call has already gone out to the animators to put the mouths back on the characters." The actors are scheduled to work in 26 episodes which will air in mid-2010.

August 01, 2009 03:17:44 GMT

"" is getting ready to enter the third season and as promotional efforts, behind the scenes featurettes have started to air. Both E! and People have gone to the filming location in New York City and covered some shootings that involve Blair and Georgina, as well as Serena and Blair.

On E!'s footage, spilled on what trouble lies ahead of Blair in the college year. She said, "I think Blair just has a lot of problems with everybody. She definitely doesn't fit in with the NYU crowd." , in addition, revealed that he was told to "get healthy" because he was starting to get skinny like Gollum in "Lord of the Ring".

August 01, 2009 02:35:28 GMT

There will be sort of a crossover between "" and its spin-off "" when both take over the Tuesdays night this Fall. , who portrays the goth agent Abby Sciuto, will guest star in the second episode of "Los Angeles".

Executive producer Shane Brennan announced Friday, July 31 during TV Critics Association tour that Abby will have a "fun little cameo" in the new series, helping the unit in solving a case. Previously, Agents G. Callen () and Sam Hanna () have made appearances on the original "NCIS" for two episodes, as means of introduction.

July 31, 2009 08:24:27 GMT

has released two promos of his latest reality show on E!, "Kourtney and Khloe Take Miami". The brand new show, which is featuring none other than and , will follow the two as they take over Miami to set up a branch of their DASH boutique.

Both Kourtney and Khloe leave Los Angeles behind and take a chance on a new city with a notoriously hot social scene. In addition to her duties at the store, Khloe asserts her independence more than ever, embarking on a new career in radio when her late night talk show "Khloe After Dark" takes over the airwaves on Miami's Y100. While they enjoy the hot days, balmy nights and private yachts, they are all business when it comes to making the second DASH boutique as successful as the first.

July 31, 2009 07:48:03 GMT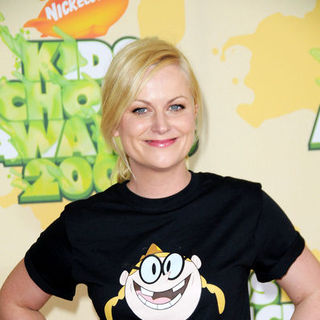 is giving a favor to the show that catapulted her to stardom. The Emmy nominee is going to guest star in two episodes of "" the Weekend Update segment on Thursday, September 17 and 24. Poehler therefore will reunite with her "SNL" partner who is still behind the anchor desk after she left the end of last year.

This move is also intended to be a good lead-in to promote Poehler's NBC show "". The half-hour comedy has been renewed for a second season and will premiere on September 17 at 8.30/7.30c. In the show, she is starring as Leslie Knope, a mid-level bureaucrat working in Pawnee, Indiana's Parks and Recreation Department.