February 15, 2010 04:12:34 GMT

Nickelodeon has unveiled its selection of Kids' Choice Awards nominees for the year 2010. In the TV category, the channel's very own "" is taking a nod in the Favorite TV show and another in Favorite TV Actress for .

Although "iCarly" is up for two, it is "" that nabs the biggest number of nominations with three. Beside going under Favorite TV Show, the show also has the chance of winning Favorite TV Actor through twin stars, and .

February 15, 2010 03:35:04 GMT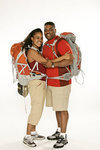 "" officially raised its flag of the 16th season on Sunday, February 14. The 11 teams began the race by taking a public transportation to the Los Angeles International airport. The first three teams to arrive got the privilege of taking the first flight which is one hour apart off the second one. Monique and Shawne, Jeff and Jordan and Dana and Adrian were early. Unfortunately the first flight was delayed and they all ended up on the same second flight.

They visited Santiago, Chile as the first stop. Taking a bus, teams had to travel 60 miles to the first clue box. Monique and Shawne, Jeff and Jordan, Brente and Caite, and Adrian and Dana were the first batch to depart followed by Carol and Brandy five minutes later and then the rest of the team.

February 13, 2010 07:14:37 GMT

As previously reported, Rachel Uchitel who claimed her fame from being ' mistress number 1, is tapped as a correspondent of Extra TV. Her first job in the gossip channel is to interview current "" man, Jake Pavelka and press on him about the imminent finale.

The interview took place in a dance studio where Rachel and Jake showed some salsa move. Asked whether Ali who left the show last week on her own will, may be back, Jake said, "It's possible", adding she was going to get a rose that night had she not leave. Rachel then asked him whether he's engaged. To this, Jake went cryptic, saying "I can't answer that".

February 13, 2010 06:18:15 GMT

did not pass the chance to take a picture with . Through his Twitter, NPH made public the first photo of J.Lo on the set of "". He wrote, "Jennifer Lopez was really great - hot, cool, and funny. And well prepared! She gave me a few pointers."

J.Lo is set to play a no-nonsense self-help author, Anita Appleby, who teaches women how to retrain men through the power of denial. Robin will consult her about her problem with NPH's Barney's womanizing ways. Anita then makes it her mission to "break" him.

February 13, 2010 04:38:50 GMT

The official promo pictures of on "" have been released. Unlike the one released by on his which shows the singer as a flight attendant, these bunch of new ones mostly show her scenes with 's Ted.

The episode is called "Hooked" and it will air on March 1. When the gang tries to convince Ted that he is being strung along by Tiffany, they reflect about relationships where each of them has been in the same situation.

February 13, 2010 03:11:24 GMT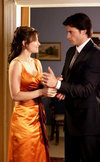 Unlike its fellow CW series "" and "", "" will not take a break during the Winter Olympics due to its late midseason premiere. The superhero-in-the-making show will return with a Valentine's day episode called "Persuasion" on February 19.

It is Valentine's Day and while Clark is out on a date with Lois, he unknowingly becomes infected by gemstone kryptonite, which has magical wish-fulfilling properties. Clark mentions to Lois that he wishes they had a more traditional relationship, so Lois quits the Daily Planet, moves in with Clark and starts planning their wedding.

February 13, 2010 02:41:45 GMT

More heavy-weight stars are going to weigh down on American couples' marriage. , and and several more are joining "", a new show by NBC produced by which will get a sneak peek on Sunday, February 28 and an official premiere on Thursday, March 4.

The network has confirmed Madonna's participation but has not revealed the date she would appear on. Meanwhile, Gervais has told the media about his involvement, saying "I got a call on my mobile, 'Hi it's Jerry Seinfeld here'. Unbelievable. He's doing a new comedy show about marriage guidance and he wants me to be involved. I'm filming it next month in New York. That was a big enough thrill."

February 12, 2010 08:55:29 GMT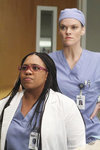 "" will take a different route next week with a series of flashbacks to the time when the doctors of Seattle Grace decided to be life savers. In his new role as Chief, Derek restores the hospital lecture series, and Richard, Bailey and Callie present to the group pivotal surgical cases from their pasts.

Bailey reflects on her first days as a shy resident, Callie looks back on a polio case, and Richard recalls a case in which he and Ellis worked on a patient diagnosed with GRID, a virus later called AIDS. "The Time Warp" will air on Thursday, February 18.

February 12, 2010 07:33:38 GMT

It was not who will come to Wisteria Lane but two supermodels. It has just been reported that and are tapped for guest appearances on "". The casting news has been confirmed by an ABC rep to E! Online.

The rep however, didn't disclose the roles. But sources said the "" host and former judge of "" would play as themselves. They will bump into Gaby, who is a former model, in New York City while she was out and about with Angie.

February 12, 2010 06:53:04 GMT

How intense "" season 3 will be and how hilarious it is at the same time are shown in two new clips released by NBC. The promos mostly highlight on the performances of , and Rod Blagojevich. The first two are in the same team called Tenacity while the politician is in team Rock Solid.

Coming March 14, the show will put battle of the sexes, splitting the men and women into two teams. In an appearance on Howard Stern's show last year, Sharon said that they would be selling burgers down in New York and Cyndi claimed she was the project manager.

February 12, 2010 06:24:57 GMT

It was one for the Villains in the new season of "" when Jessica "Sugar" Kiper was voted out by 9 of her teammates. The former contestant of Gabon edition had to give up her second chance at winning the show when the Heroes chose her over Amanda Kimmel to leave first.

In "Slay Everyone, Trust No One", Sugar did not contribute well to the team during the Reward Challenge. It was a head to head race across various lanes marked in the sand. They had to dig a bag in the sand, run to the finish mat and repeat it three times. Sugar struggled through this and even got her bikini top ripped off.

February 12, 2010 04:55:15 GMT

In the next "", the passion, the romance, the mystery, the heat, the love and the danger return on March 25. The vampire series will take a five-week break in order to give the Winter Olympic its primetime slot and come back with the episode "A Few Good Men".

Meanwhile, Exec Producer Julie Plec offers to give some spoilers while the show is in hiatus. "MAJOR SPOILERS about to happen. Go twitter free if you don't want to know," she wrote on Thursday, February 11 night on her .

February 12, 2010 03:33:31 GMT

CBS has shared the first look into the new season of "". Host Phil Keoghan addressed the 11 teams that will travel the world starting from Los Angeles, U.S. In the first task, they will be sent to Santiago, Chile but they must take a public transportation to the airport, something which Carol and Brandy thought to be difficult.

Premiering on Sunday, February 14, the 16th season includes former "" cast Jordan Lloyd and Jeff Schroeder, 2007 Miss South Carolina Teen USA Caite Upton, and Cleveland Indians third-base coach Steve Smith. Jody Kelly, at the age of 71, is the oldest contestant in the show's history. She is competing with her granddaughter Shannon.

February 11, 2010 09:24:49 GMT

The pictures of models strutting their way in and out the 14th cycle of "" have been unveiled. and the team chose something different in the promotional shots this time, picking a throwback to the '80s when leotards and aerobic tops were popular.

The identity of the 13 contestants have also been revealed. The line-up ranges from 18-year-old to 26-year-old, with the oldest being retail manager Krista. It includes also a full time mom named Naduah from San Diego and Ren, from Grand Prairie, Texas who states "living" as her job.

February 11, 2010 08:47:46 GMT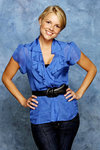 ABC has released a sneak peek to the part of "" where Ali Fedotowsky gives Jake Pavelka a call. The contestant who backed out of the show this week when her boss demanded her to return immediately, calls to tell him that she is having a second thought about leaving him for her job.

This clip supports Chris Harrison's hint that the recent episode was not the last time Ali is seen in. "You haven't seen the last of Ali and Jake and their situation is not over. Obviously you could tell when she left, on both sides, they're not done. I'm really proud of the way they handle what's to come," he said.