April 07, 2010 07:40:40 GMT

Adrianna and Navid share a friendly conversation which doesn't go over well with their significant others, Gia and Lila. In the April 13 episode of "", an argument between Gia and Adrianna results in Adrianna walking in on Gia and her ex-girlfriend.

There would be more kissing between and in this episode. Asked by The Stir whether it was awkward touching lips with her co-star, Lowndes said, "We just laughed a lot about it, so it wasn't uncomfortable. She's one of the most grounded people I've met in the industry. You would never know that she's got these celebrity parents because she's such a real person, so down-to-Earth and very professional. I had a blast working with her."

April 07, 2010 07:15:59 GMT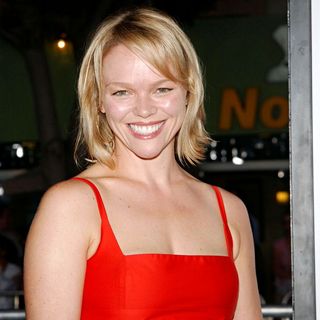 In its late casting call, the execs behind "" were looking for an actress who could fill the role as a new waitress in Merlotte's. They have now found Lauren Bowles fit to tackle the character named Holly.

Bowles has enrolled in a lot of guest starring roles in series such as "" and "". In the latter, she co-starred with half-sister . She also had feature film appearances in "" and "".

April 07, 2010 04:49:23 GMT

Hugo "Hurley" Reyes takes the center stage on "" next week in the April 13 episode called "Everybody Loves Hugo". However, the preview shows that the character is not actually getting any love from anyone for he is haunted by the reappearance of Michael Dawson.

Michael told Hurley that people are going to die and he would be the one to blame. In the official synopsis, "Hurley agonizes over what the group should do next, and Locke is curious about the new arrival to his camp." In the preview, Hurley says he knows what to do and asks Jack to trust him.

April 07, 2010 04:24:22 GMT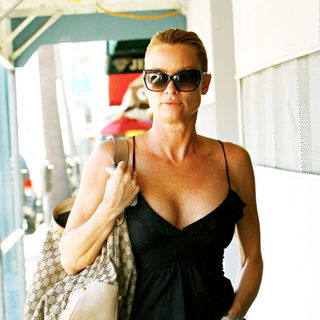 A representative for former "" star has defended the actress' decision to sue the show's creator amid allegations of assault and wrongful termination, insisting she felt "compelled" to stand up for her rights. The actress, who played Edie Britt on the hit show, claims Marc Cherry slapped her during an argument about a script he had written and then fired her when she complained to producers.

In the legal papers, obtained by TMZ, Sheridan alleges Cherry "forcefully hit her with his hand across her face and head". She is suing for more than $20 million for assault and battery, gender violence and wrongful termination.

April 07, 2010 03:39:39 GMT

The top 9 contestants of "" belted out songs from - songbook. McCartney sent his well-wishes to the contestants through a video before Aaron Kelly opened the show with "The Long and Winding Road". said it indeed felt like a long and winding road. encouraged him to change his usual performance while called it "very old-fashioned, and very boring."

Another youngster was put up as early performer. Katie Stevens broke out with a somber rendition of "Let It Be". The audience roared and so did the judges. "That was your best performance ever," praised. "That was ridiculous." Kara said, "You make the song your own. You're blossoming." Simon pointed out the improvement, saying "It felt, to me, that you were singing it about somebody rather than being robotic. And that's a big difference."

April 07, 2010 02:53:00 GMT

has let fans of "" to take a peek at their appearance on her show. Cast from and to creator Ryan Murphy have taped both performance on Oprah's stage as well as an interview on Oprah's famous couch on Saturday, April 3. The episode will air on Wednesday, April 7.

According to the press release, the cast of "Glee" take it to " stage for a fun-filled hour of behind-the-scenes secrets, revealing interviews, unseen backstage moments and a show-stopping performance. Plus, the cast will surprise their biggest fans. Cast members in attendance include , and .

April 07, 2010 02:29:59 GMT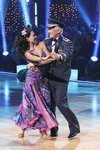 After two weeks straight of bad performances, retired astronaut Buzz Aldrin was sent home on "". He scored a low 13 out of 30 for Waltz on Monday, April 5 night because the judges thought he didn't do much of dancing while his partner Ashly Costa did all the work.

"I did this show for the fighter pilots, the military, the older geezers like me," said the first man who walked on the moon when finding out his fate. "I thank everyone who voted for me." He received a standing ovation and said further, "This has been an experience I will never want to forget."

April 06, 2010 09:50:45 GMT

The next task in "" is to create a commercial for Right Guard. A preview from the episode which will air on April 11 has been shared in several clips compiled into one player below. NBA legends Clyde Drexler and Scottie Pippen make guest star appearances.

In this episode both teams must write, produce, and direct one 30-second and one 10-second commercial for Right Guard Total Defense 5. Additionally, they are given Drexler and Pippen to star in their commercials. The men quickly lock onto a creative idea, but when one celebrity tries to change it he puts the project in jeopardy. Meanwhile, the women are hindered by several teammates who aren't pulling their weight.

April 06, 2010 09:34:23 GMT
Incarcerated is set to become a star of a documentary which was filmed as the rapper was counting down to jail. The "Lollipop" hitmaker's pal, DJ Scoob Doo, was on hand to capture the star's final days of freedom on camera as March sentencing date for a weapons possession charge loomed.

He began his year-long stint in maximum-security New York prison Rikers Island in March but fans won't be without Wayne for long - the DJ is in talks with a number of U.S. cable networks to release the home video footage as a behind-the-scenes TV documentary named "Road to Rikers".

April 06, 2010 09:03:54 GMT

In the next "", Chuck offers to throw a wedding for a very pregnant Dorota. The maid insists that she and Vanya have a traditional wedding before her parents arrive from Poland and find their daughter pregnant and without a husband.

Dorota asks Blair and Chuck to be part of the ceremony and walk her down the aisle. Serena tells Nate she is having breakfast with the Humphreys when in reality she's secretly meeting up with Carter Baizen. Rufus discovers that Lily has been lying to him about her whereabouts.

April 06, 2010 08:32:19 GMT

ABC has spoken about the lawsuit filed by against the network and "" creator Marc Cherry. In its statement to ET, the Alphabet said they have not seen the actual complaint but have recalled similar claims made by the actress last year.

Sheridan said in the lawsuit that Cherry was "behaving in an extremely abusive and aggressive manner" while on the set of the series. She pointed out one incident in 2008 where Cherry pulled her aside and struck her in the head as well as the face after she questioned something about the script. When Sheridan decided to report it to ABC execs, they did nothing significant to address the situation and Cherry later wrote off her character.

April 06, 2010 06:18:37 GMT

After a "game-changing" episode this week, "" will be back with a more laid back episode on April 26. Called "Chuck Versus the Honeymooner", it follows Chuck and Sarah who ride on the same train as the Basque terrorist Juan Diaz Arnaldo.

"Most of Episode 14 is set on a train which is really neat. I'm a huge fan of 'The Lady Vanishes'," creator Chris Fedak told Chicago Tribune. "Or any movies set on a train in truth. That was a lot of fun to make and it's one of my favorite episodes of the season."

April 06, 2010 04:56:07 GMT

"" shares what happens before Caroline is stuck in a storm and Stefan gets kidnapped. In one of the newly-released clips, Caroline talks to Matt about his mom whom he hopes will be back to stay. She leaves the place shortly after. Later her car breaks down in the storm and she makes a horrific discovery that shocks everyone in town.

The other clip is on Elena confronting Damon who makes a pact with the vampires to give out the names of the town council. Stefan assures Elena that he would be fine. Later on, Stefan is chained to the ceiling whilst tortured. Damon and Elena have to convince Alaric to help them save Stefan.

April 06, 2010 04:31:18 GMT

How werewolf Alcide from Charlaine Harris' novels looks like in flesh and blood has been teased in a new still released for "" season 3 promo. plays the character who shares a mutual interest with the series' heroine, Sookie.

"There is definitely some [sexual] energy between the two of them," said executive producer Alan Ball to EW. "It's not like either one of them is looking for romance, but they're thrown into several intense situations [and] it's hard not to bond on a deeper level."

April 06, 2010 03:43:50 GMT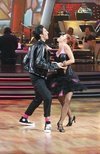 "" began the third week on season 10 with ten couples dancing either Quickstep, Paso Doble or Waltz. A storyline was slipped in each dance. Surprisingly, and her partner who earned 10s last week, were not the highest scorer this time. Olympic medalist and his partner Anna Trebunskaya were.

Evan, who suffered from two broken toes during rehearsal, delivered a splendid Quickstep performance for the judges. He and Anna played husband and wife who were upset with one another because they were running late. They used the music from "Chicago" and made it theaterical. Len Goodman said it cheered him up while Bruno Tonioli warned Evan to watch his feet and posture. Carrie Ann Inaba said it was "fantastic". The score was 9-8-9, a total of 26/30.