News
>
Movie News
September 13, 2006 09:54:59 GMT
Another movie project has been secured under Warner Bros. Pictures' wings. The Hollywood Reporter reported that the giant film has satisfyingly optioned the rights to create a remake of Ted Kotcheff's 1978 feature of "Who Is Killing the Great Chefs of Europe?" which was starred by Robert Morley and Jacqueline Bisset.

Shortened the title to "", Warner has already picked up "" star to assume Morley's role. Meanwhile, the story will revolve around an obese editor of a food magazine who intends to kill the cooks who have created his favorite dishes in his effort to lose weight. The list includes a striking dessert chef whose ex-husband, played by Platt, is trying to win her back.

News
>
Movie News
September 13, 2006 09:18:01 GMT
The seat is finally taken by Jeremiah S. Chechik. The Canadian Filmmaker has been picked up to helm dark coming-of-age comedy project of "The Pornographer's Poem", a new production from House of Films Inc..

Being so, Checik then will round up the likes of , Makenna Ruddy, Mark Day, and Judy Nanney under his direction while developing the picture based on Karen Walton's script. Though so, there is no word yet on the production schedule.

News
>
Celebrity Gossip
September 13, 2006 09:05:26 GMT
What is it about that's so hot? Her being secretly married to boyfriend Harry Morton.

The actress and pop music singer is said to have been spotted wearing a new diamond ring, which her mother Dina Lohan claimed as just a "very sweet gift" from Morton.

News
>
Celebrity Gossip
September 13, 2006 06:21:44 GMT
frontman Jay Kay was arrested in London overnight for assaulting a photographer outside a nightclub. The 36-year-old man assumed the paparazzi were waiting for him outside Kabaret's Prophecy in Soho.

Thus, the reportedly drunken Jay slapped one photographer and punched another, before verbally abusing police. And since security were unable to remove Jay from the crime scene, police were summoned, and the singer was cuffed and escorted to Saville Row station for questioning.

News
>
Movie News
September 13, 2006 05:47:49 GMT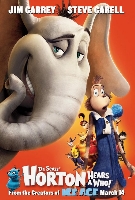 This no doubt will make a great collaboration, really. Two terrific funnymen, and , have given their agreement to team up in doing voice acting on "Horton Hears a Who", the new CG animated project coming from 20th Century Fox Animation.

Marking his first in bringing a CGI animated character to life, Carrey will voice the title character while Carell filling the voice of the mayor of Who-ville, a distinguished figure of a very small size who is too small to be seen by Horton's eyes.

News
>
Movie News
September 13, 2006 04:50:29 GMT
Returning to fantasy genre, "Lord of the Rings" trilogy helmer Peter Jackson is set to make "", a film adaptation of Naomi Novik's historical fantasy series of the same title following his successful attempt to pick up the rights to the saga, The Hollywood Reporter has reported.

Described as "a reimagining of the epic events of the Napoleonic Wars with an air force- an air force of dragons, manned by crews of aviators", "Temeraire" takes focus on a British naval officer named Capt. Will Laurence who gives up his naval career to become captain of a dragon he names Temeraire. So far, Novik has released three novels of the series, namely "His Majesty's Dragon" or known as "Temeraire" in U.K, "Throne of Jade", and "Black Powder War."

News
>
Celebrity Gossip
September 13, 2006 04:50:05 GMT
has been spotted and pictured in Malibu, California this weekend, picking up a takeaway meal alongside .

This then prompted rumors on he's been dating the former singer. However, there has yet any statement released by both parties concerning the rumors.

News
>
Music News
September 13, 2006 04:21:55 GMT
A confirmation has been released by that he has been booked for a special one-off show at the Royal Albert Hall for October 16 later this year.

Besides performing for a three-act concert, the rock and roll singer will also showcasing material from all three "" albums. The final installment of the trilogy, tentatively titled "", is set for an October 23rd release date.

News
>
Movie News
September 13, 2006 03:42:34 GMT
The flow of film adaptations seems to go on more heavily nowadays. Trailing behind those who have revealed their plan to make such features, prolific producer Gerald R. Molen has come up with a new one entitled "" based on Gary W. Moore's recently published nonfiction book of the same title.

Set to begin the principal photography of the movie, of which full title is "Playing With the Enemy: A Baseball Prodigy, a World at War, and a Field of Broken Dreams", by February 2007, Molen will develop the project through his WhiteLight Entertainment production company with David Ranes and Moore's son Toby Moore penning the screenplay.

News
>
Celebrity Gossip
September 13, 2006 03:25:57 GMT
Fortunoff, the 84-year-old New York-based retailer of jewelry, furniture, and other discount goods, has signed supermodel and humanitarian, , as their new fresh face.

Petra, known for her beauty as well as her compassion and charitable endeavors, will serve as the face of Fortunoff's regional advertising campaign and their Fall and Holiday Jewelry catalogs, reaching over two million consumers nationwide.

News
>
Movie News
September 13, 2006 03:11:35 GMT
is getting busy. The Malaysian-born actress has been attached to star in two big screen projects of "" for Film Four and "" for Fox and Canal Plus, Variety has learned.

In the former one, Yeoh will share scenes with and Michelle Krusiec under direction of "The Warrior" helmer Asif Kapadia while the latter will see her playing opposite with Mathieu Kassovitz taking double job as director and screenwriter. Here the beauty is set to portray a nun who takes care of a young girl who might have been injected with a deadly virus.

News
>
Celebrity Gossip
September 13, 2006 02:50:56 GMT
is invading the game world.

The R&B superstar and fashion icon is teaming up with Starwave Mobile and Sony BMG music to announce the development and publishing of a mobile game centered on her.

News
>
Celebrity Gossip
September 13, 2006 02:11:56 GMT
Hot news. gave birth to a baby boy. Report on that matter was rampant when it was first made public by the National Enquirer and US Weekly.

The pop superstar was reported to deliver her second son early Tuesday morning September 12th just before 2 a.m. in a Los Angeles area hospital. The newly born is said to weigh in at 6-pound, 11-ounce. MTV.com, moreover, also reported the birth citing a source close to the family who refused to reveal the infant's sex.

News
>
Movie News
September 12, 2006 09:53:47 GMT
Lining up to bring more highlights to the movie, , , and have given nods to join the cast of "", a directorial film debut of "Mad About You" star .

Firth will play a man whom Hunt's character meets through one of her students while Broderick is billed as her husband and Middler as her birth mother. The movie itself is a drama based on Elinor Lipman's novel of the same title and is being financed by The Blue Rider fund and the bank ICB. The script initially was adapted by Alice Arlen, but later was re-written by Hunt and Vic Levin with Hunt making the final polish. Production of the picture is currently taking place in Brooklyn.

News
>
Movie News
September 12, 2006 09:11:34 GMT
A surprising remark has been made by concerning his involvement in the high-anticipated movie "Star Trek XI." The actor, who has played Data in numerous "Star Trek" installments, has decided to not take part in the project, announcing it as the franchise celebrated its 40th anniversary last Friday, September 8.

"I don't think I should play Data anymore. I think I'm too old to play him anymore to be honest, " so he said. "I think it would look stupid putting that make-up on me at this point. There certain characters that I think work in a youthful way and I think I really skated along the edge in the last couple movies as it was."