News
>
Music News
April 09, 2007 04:38:31 GMT
After the big bang of debut album "" (2004), went through sophomore album syndrome for 2005's "". With the third titled "", she hopes to bring the 'Redneck Woman' sensation back.

The country singer took 2 years preparation to release the third album which is due May 15 via Columbia. With the help of Mark Wright and John Rich, she produces this record mostly by herself. "I've always wanted full ownership," she said. "I've been like that from the beginning." She then added that all of the songs are self-written except for two.

News
>
Celebrity Gossip
April 09, 2007 04:27:10 GMT
Numbers of celebrities rally to join the upcoming "Idol Gives Back." It is a two-night special held to raise awareness and funds for organizations that provide relief programs to help children and young people in extreme poverty in America and Africa.

The likes of , , , , , , and , are all scheduled to appear on the charity, a two-night special airing Tuesday, April 24th (8:00-9:00 PM ET/PT) and Wednesday, April 25th (8:00-10:00 PM ET live/PT tape-delayed) on Fox.

News
>
Movie News
April 09, 2007 04:06:39 GMT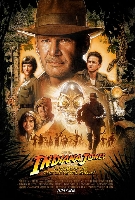 Opening a layer on what "Fourth Installment of the Indiana Jones Adventures" is going to be, executive producer George Lucas has confirmed to USA Today that the upcoming picture will be as action-packed as expected despite the fact that star is in his sixties now.

Seems pretty confident that Ford won't have any trouble keeping up, the man pointed out that the actor will "play his age in this movie with what's appropriate", hinting that it all lies in how the action is executed.

News
>
Music News
April 09, 2007 03:59:43 GMT
may be Def Jam's hottest artist in the past years, but his work was nowhere in sight after 2001's "". Releasing "" on March 27, 2007, the rapper has his explanation why it took 6 years to make this piece.

"Since I dropped my last album, the game done flipped and evolved. …I wasn't willing to sacrifice all my years of banging out hard and providing that underground s*** just to get into the new groove," he said in an interview. Still staying under Def Jam's flag, he also encountered an internal problem. "My label was going through a shift, and there was no one behind the steering wheel that I was really comfortable with to let my project go," he added.

News
>
Celebrity Gossip
April 09, 2007 03:55:48 GMT
is lending her celebrity status to raise awareness to women's cancer issues and helps raise money for research. The singer-actress is joining Revlon spokesperson and NBC's "Today" co-host Meredith Vieira to host this year's Entertainment Industry Foundation's Revlon Run/Walk for Women event.

The celebration, which is the 10th, is scheduled to take place in the Big Apple on May 5th later this year.

News
>
Movie News
April 09, 2007 03:52:29 GMT
Easter holiday this year appears to not only mark the joy of Christian people in celebrating the resurrection of Jesus Christ, but also witness the triumph of "" in holding its No. 1 position for the second time on the weekend domestic box office for April 6-8.

Still proves strong in the competition, the figure-skating farce delightfully pulls a cool $22.5 million and so, once again forces Disney's family-friendly fare "" to remain on its second-place seat as the CG-animated flick only makes its way to collect $16.7 million this time.

News
>
Celebrity Gossip
April 09, 2007 03:28:12 GMT
Having their reality series, "Adventures In HollyHood," premiered on MTV Thursday night April 5th, in the meantime also is making their rounds and their latest stop is at PlayBoy.com.

The Academy Award-winning rap group hit Playboy's Santa Monica studio recently, getting behind the cameras for an after-hours photo session as celebrity guest photographers. Group members, DJ Paul and , get behind the camera with the model, Playboy cyber girl Jennifer Korbin.

News
>
Music News
April 09, 2007 03:19:17 GMT
Seeing the good prospects has achieved in the early of their reunion, is reportedly interested to make the band comes full circle. Williams see that it is inevitable that he will complete the line-up in near future.

On April 7 the singer's mother Jan Williams said that she believed her son would re-join the group. Jan told local newspaper Stoke Sentinel, "On the question of him doing something with them, I feel that will happen," she declared. "It would be something he wanted to do."

News
>
Celebrity Gossip
April 09, 2007 02:54:07 GMT
A recording artist and music producer, is invading the world of soft drink, agreed to design a new version of the Pepsi can as part of a new promotion by the soft drink company.

The rapper-songwriter along with fellow music stars, and , have created three new designs that will be in market in the coming months. The three cans will feature a website address that will take fans to exclusive footage of the artists and will offer information on their new projects.

News
>
Celebrity Gossip
April 09, 2007 02:28:16 GMT
is close to sign a new deal. The rapper who boycotted champagne label Louis Roederer Cristal because the brand distanced itself from its hip-hop clientele, is close to forging a partnership with rival brand Ace Of Spade, also known as Armand de Brignac.

The drink reportedly has already made appearance in the rapper's video for his hit song "Show Me What You Got." The deal has yet official, but Armand de Brignac president/CEO Brett Berish is already speaking about Jay-Z's involvement, saying "Jay-Z has always demonstrated the highest standards and finest taste, and we're honored to see Armand make an appearance in Show Me What You Got. Armand's unmatched taste and package are a perfect fit for the video."

News
>
Celebrity Gossip
April 09, 2007 01:58:45 GMT
is one among the many other recording artists lend their support, sponsoring a national online celebrity charitable auction, which will support various homeless, HIV/AIDS and abuse organizations.

The rapper is joining the likes of , , , Dr. Phil, , and among others, all of whom are the participants in the auction.

News
>
Movie News
April 07, 2007 08:14:15 GMT
Fulfilling horror fans' curiosity on "", Dimension Films has ultimately brought online a teaser trailer for the flick on the web.

Available exclusively at , the trailer can be seen in either Windows Media or Quicktime format. It actually was screened before in theaters on April 6, 2007 in front of "."

News
>
Celebrity Gossip
April 07, 2007 07:43:07 GMT
We are sad to report that and split.

On that report, a source does confirm the hip hop couple has called it quits with Nelly has reportedly already begun dating other female.

News
>
Movie News
April 07, 2007 07:34:05 GMT
Showing her full dedication in acting field, is going to do an extreme step few top actresses would dare: shed her hair for a film role.

"I'm going to shave my head bald. I can't believe it," she told reporters late on Wednesday, April 4, 2007.

News
>
Celebrity Gossip
April 07, 2007 07:08:59 GMT
finally laid the persistent rumors to rest and has confirmed that she and former boyfriend and bad boy Jason Wahler never made sex tape.

In a statement posted on her , the actress wrote, "Jason and I would like to make it clear that we did not make a tape with us having sex."