News
>
Celebrity Gossip
October 17, 2005 02:40:06 GMT
They really are world's music legend. Though nowadays there are many new music groups come to the surface, still rules the game. The rock band has becoming hot issue from the first time they reached their music breakthrough 'till today.

Their amazing attainment in music industry has created such distinct story in this world. Their existence means a lot to media, which because of them have been able to create stories to be sold. Thus, as an appreciation The Beatles is chosen The Icon of the Century in a poll made by Variety to mark its 100th anniversary.

News
>
Celebrity Gossip
October 17, 2005 02:14:58 GMT
While girls at her age are busy with their school tasks, has something else to do. This of course more important than her college classes that she has to reluctantly take a leave of absence from New York University. The teen actress apparently does not drop out, "she has simply taken an approved leave of absence to devote more of her time and energy to her business," her representative Michael Pagnotta said.

Mary-Kate is said to focus on the entertainment company she runs with her twin sister, , who will remain at New York University's Gallatin School, where they are sophomores studying a liberal arts curriculum. Pagnotta explained further "She and her sister run a global business and it demands quite a bit of their time." Mary-Kate would in November return to New York to accept a fashion award.

News
>
Celebrity Gossip
October 15, 2005 06:48:51 GMT
Blonde beauty has and could easily get everything she wants, but not with best friend. She's lost one and it's sad to say that since then her life messed up. It is yet too late to put things back in order. Thus, the socialite realized the meaning of a best friend in her life.

Just like people say "we'll never know what we've got till it's gone," so does Paris. In a sudden though she knows exactly what she needs and so decided to reconcile with ex-friend for she won't lose her for the second time.

News
>
Celebrity Gossip
October 15, 2005 06:33:13 GMT
What's new from following her legal divorce? The Hollywood babe is reported to get even more serious with "The Beak Up" co-star . Recent report mentioned both of them were spotted together kissing and cuddling during a party.

Here the complete story. Aniston is said to go to Chicago to show her support to Vince, who is currently playing in his "Wild West Comedy Show" tour. There, at a party after the show, Vince "grabbed Aniston around the waist, pulled her to his side and told a few friends, 'She's the best!' while rubbing her back. He later gave her a kiss on the temple, and the two proceeded to make out." So People wrote in its recent issue.

News
>
Music News
October 15, 2005 06:18:27 GMT
Singer teams up with co-wrote the lyrics for the song to benefit America's hurricane relief efforts. Titled "Any Other Day" the single includes the lines: "I see the airplane. I hear the engine on the boat. But you all can't see me waving the flag. Somebody please wave the flag."

Jones says "My heart is filled with tears for the victims and all those who have lost loved ones in Hurricane Katrina and Rita. No one can challenge mother nature. All we can do now is band together the best we can as one family and help everyone get back on their feet."

News
>
Celebrity Gossip
October 15, 2005 04:42:19 GMT
Don't offer or ask her to drink Coca Cola coz she would certainly refuse it. Give her Pepsi and she'll drink it. is a different individual now. She has everything different from what she used to be, one the most apparent is her taste for soft drink. The singer has said NO to Coca Cola and YES to Pepsi.

What this is all about? It's about her commercial performance. Aguilera has changed her mind. Instead of teaming up with Coca Cola, for which she claims she's its drinker for life in its Latin America commercial, the pop star has signed up to appear in an advertising campaign for soft drink giant Pepsi.

News
>
Celebrity Gossip
October 15, 2005 04:18:34 GMT
and is a match couple. They work in the same field and able to partnering well. They're just a great husband and wife. It's so perfect and nothing more to say about them.

Not only on screen, but off screen the two are doing great. As the famous Spanish actor is set to receive his Hollywood star, wife Griffith will present it for him on the Hollywood Walk Of Fame on October 18th. Besides, she will also be the event's guest speaker. What a couple.

News
>
Celebrity Gossip
October 15, 2005 04:00:45 GMT
The soon-parenting couple, and , is said to quit their career and focus more on their soon to be born child. They are reportedly planning to quit Hollywood and raise their child on a sprawling estate in New York's upscale Westchester County.

A source said Ben and Jenn have been touring a 60 acre, $28 million (GBP15.5 million) estate called Linden Farm in Cross River, which boasts an eight-bedroom main house with a pool, a library and even a waterfall. This is suspected to be the house they would spend their family hour.

News
>
Music News
October 15, 2005 03:40:26 GMT
The action man is softened. He's revealing a part of him that has nothing to do with violence. Best known for his unique style of fighting in many action flicks, still has a heart anyway.

The movie star reportedly is recording his first album ever, something that is very incompatible with what he's done so far. He says "Blues is my real passion, and I've always wanted to do a blues record. I've had very close relationships with a lot of the great legends, many of whom I got to play with."

News
>
Celebrity Gossip
October 15, 2005 03:21:57 GMT
The agreement is reached and the deal is inked. Okay is the word that marks the beginning of 's 'life story.' The British guitarist and composer finally decided to write an autobiography and sell it to Random House publisher for $6.4 million. Inside, he will reveal all, beginning from every aspect of his personal and musical odyssey to addressing everything that is known and much that is not.

In writing the as yet untitled autobiography, Clapton will collaborate with Christopher Simon Sykes, his close friend since 1967. The book later on will be published in spring 2007, by Century in the UK and Doubleday in the US, and as an audiobook, to coincide with the release by Warner Brothers of a complete retrospective boxed set of his recordings, but also with a major world tour.

News
>
Celebrity Gossip
October 15, 2005 03:05:31 GMT
It's him, yes it's . The English actor has been chosen as the next 007 agent James Bond. He's been chosen to replace and successfully beat off competition from , and unknown actor to be the first blond Bond.

Concerning his choosing Craig commented "It's something else. I'm speechless. I've just got to step up to the plate and deal with it. I had a confidence about it but then that's because of the people around me who made me feel good about it. I knew positively on Monday. I was in Baltimore when I took the call. My first reaction was I needed a drink."

News
>
Celebrity Gossip
October 15, 2005 02:43:06 GMT
Don't know what is happening with her that things seem to go wrong. She breaks her engagement with her fiance, that's the beginning of her "bad luck." Then, Fox cancels her reality show. Just now reportedly is caught up in paparazzi fight outside Los Angeles hotspot Mood on Wednesday night.

She was there with friend Bijou Phillips, leaving the club after partying with , and when her bodyguard attacked a photographer causing a fight in the street. It is reported that the unnamed bodyguard offended one photographer who got too close to him and pushed him to the ground, yelling, "Don't ever touch me."

News
>
Movie News
October 14, 2005 09:51:00 GMT
Do Warner Bros. Pictures want to kill him? No, of course not. The movie studio just wants Fernley Phillips to write the adaptation of "You Want Me to Kill Him?" The drama thriller is based on Judy Bachrach's article "U Want Me 2 Kill Him?," published in the February edition of Vanity Fair.

"You Want Me to Kill Him?" is a true-life tale that chronicles a strange Internet relationship between a 14-year-old loner and a 16-year-old in which the younger boy wound up being stabbed twice and nearly killed by the older boy. In hand to produce the film is Bryan Singer.

News
>
Movie News
October 14, 2005 09:36:39 GMT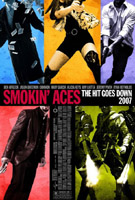 One more action comedy flick that Universal Pictures offers to moviegoers. It's titled "." The story centers on an FBI agent hunts for a Las Vegas stand up comedian who has decided to squeal on the mob but, before he heads off for protective custody, decides to go to the casinos at Lake Tahoe for one last good time, drawing a crowd of assassins.

Has been attached to star in is . The actress is set to portray the FBI director who tries to keep the cocky entertainer around long enough to testify. She will join other like , , and .

News
>
Movie News
October 14, 2005 09:20:10 GMT
has more than one new project to finish. The actor has inked a deal with Universal Pictures to write his own comic vehicle, which is untitled and based on his original idea. Moreover, both parties also reported to have bought "" of Mark Gunn and Brian Gunn.

Carell himself alongside Mary Parent and Scott Stuber will produce either project. As of "Juvenile" it is categorized as a drama comedy, in which Carell is set to play the most Caucasian man in America, who's sent to juvenile prison for a petty crime he committed as a kid. Then suddenly this suburban drip is surrounded by 11-year-old bad-asses.