News
>
Celebrity Gossip
April 27, 2006 09:11:22 GMT
Just married, guitarist Joe Don Rooney and fiancee, Playboy's 2005 Playmate of the Year, Tiffany Fallon.

The couple tied the knot on Sunday April 23rd, 2006 in San Jose del Cabo, Mexico.

News
>
Celebrity Gossip
April 27, 2006 08:57:40 GMT
Chanel has tapped as the new face of its Coco Mademoiselle fragrance, succeeding whose contract expired last October. Hence, Keira will begin appearing in print and TV ads for the fragrance in 2007.

"Keira's elegance, beauty and modernity are but a few of the qualities that parallel the iconic faces featured in legendary Chanel fragrance campaigns," the brand's artistic director, Jacques Helleu, said about Keira's choosing.

News
>
Music News
April 27, 2006 07:58:46 GMT
Wanna know who's on the top spot of US pop album chart for this week? It's again. The country trio reigns the album chart for the third straight week with their latest set "Me & My Gang" sold another 143,000 copies for the week ended Sunday April 23rd, 2006.

Meanwhile, the hits compilation "NOW That's What I Call Music" is at No. 2 with another 143,000 copies. Securing the 3rd position on the Billboard 200 is Walt Disney Records' soundtrack to the Disney Channel musical "High School Musical" which scores an additional 116,000 copies in its 15th week.

News
>
Movie News
April 27, 2006 07:34:31 GMT
is in final talks to topline the upcoming "Seven Day Itch", a loosely inspired remake of the 1972 film written by Neil Simon and directed by Elaine May.

And if the actor later on agrees to star in, he will once again team up with Bobby Farrelly and Peter Farrelly who both are set to direct. Meanwhile, give hand at producing are Bradley Thomas and Ted Field.

News
>
Movie News
April 27, 2006 07:06:40 GMT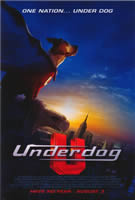 Listen to the "" and you'll find out whose voice is that. It's of who is lending his voice to the title character of the adventure comedy flick.

A live-action classic 1960s cartoon, "Underdog" followed the adventures of a humble dog named Shoeshine Boy who became the superheroic Underdog, who spoke in rhyme.

News
>
Music News
April 27, 2006 06:04:42 GMT
Based on the data provided to the trade publication Pollstar by concert promoters and venue managers, there are no significant changes on the Top 20 Concert Tours rank. Here are the recap of the Top 10 which include the so-called modern circus "Cirque De Soleil" at No. 1 with $1,401,283 total box office gross.

At No. 2 is still which tours score around $1,263,894, ahead of at No. 3 with total gross of $1,144,03. In the meantime the 4th position is still dominated by garnering for about $930,632, followed after by at No. 5 scoring $839,650 and and Paul Rodgers whose collaboration earn them $591,755.

News
>
Celebrity Gossip
April 27, 2006 05:01:11 GMT
"It's a lot more difficult for kids" to stick to a healthy diet, so said of what he thinks of. Thus, as an attempt to fight childhood obesity the rapper has launched a nationwide cooking contest to help high school kids control obesity by improving their eating habits.

The contest sponsored by Glaceau, the company behind 50's vitamin drink called Formula 50, will award $100,000 in college scholarship to the student chef who creates the most "nutrient-rich" cafeteria lunch recipe.

News
>
Movie News
April 27, 2006 04:38:53 GMT
The idea to make the movie biopic about star Michael Hutchence, who committed suicide in 1997, has been opposed by the star's family. Though, the project keeps going on with Hutchence's brother, Rhett Hutchence is said to be heavily involved.

Rhett is working on the biopic alongside British filmmaker and former INXS promo video director Nick Egan. Actors considered to star in among others are who is being lined up to play Michael Hutchence. Meanwhile, the likes of , , , and are being considered for the roles of Paula Yates and Bob Geldof.

News
>
Celebrity Gossip
April 27, 2006 04:19:40 GMT
From singing to writing, nothing is impossible for . The rapper is writing a novel, so reports said.

It is said that Snoop has commenced work on a series of books, which reflect his own rise from tough beginnings on the streets of America to music fame and fortune.

News
>
Celebrity Gossip
April 27, 2006 04:07:22 GMT
The "" is about to give up his single life. is reported to have proposed to longtime girlfriend Jennifer Meyer and sealed their knot with a Tiffany engagement ring.

Jennifer and Tobey have been dating since 2003 and share a home in Los Angeles. Jennifer is a jewelry designer and the daughter of Universal Studios head Ron Meyer.

News
>
Music News
April 27, 2006 03:47:38 GMT
Fans of rock bands and could soon enjoy their being on the stage together as the two music acts are about to play together at a Hollywood benefit concert next month honoring Metallica singer James Hetfield who has battled addiction to drug.

As part of the gig, Hetfield and Metallica bassist Robert Trujillo will share the stage at Music Box at Henry Fonda on May 12 alongside Alice in Chains guitarist Jerry Cantrell and drummer Sean Kinney. The concert/dinner is a fund-raiser for the MusiCares MAP Fund, which provides members of the music community access to addiction recovery treatment regardless of their financial situation.

News
>
Celebrity Gossip
April 27, 2006 03:10:42 GMT
Tuesday April 25th, 2006 was 's bad day. The actress has on that day suffered an eye injury when a light bulb exploded on the set of ABC's "Desperate Housewives".

"Glass lodged in my right eye and proceeded to scratch my cornea," Hatcher told People magazine. "I was taken to a wonderful eye doctor, and now am wearing a most glamorous eye patch over the right half of my face. I like to look at the positive and the good news is, the cornea is the fastest healing tissue in the body."

News
>
Celebrity Gossip
April 27, 2006 02:40:00 GMT
Television writer Jack Bunick filed a suit April 11th in New York against 's Nuyorican Productions, CBS Corp. and Viacom Inc, claiming all of the parties has stolen his idea to be used for the nowadays-popular TV series "South Beach".

Bunick's lawsuit claims "South Beach," a TV series executive-produced by Lopez that debuted Jan. 11 on UPN, mirrors a script he wrote in 1999 for a pilot episode of a show which would have been called "South Beach Miami."

News
>
Celebrity Gossip
April 27, 2006 02:24:59 GMT
Unlike many other females of her age, ' life has just begun at her 40. The actress, known as the "Most Downloaded Woman" on the Internet, has at last agreed to pose nude for Playboy. What is so special is that she does it at her 40.

"Thank goodness for 'Desperate Housewives.' You're not dead just because you are married and have children," the actress and model said while revealing her feeling that posing nude at her age is empowering.

News
>
Music News
April 26, 2006 09:46:53 GMT
Chuck Leavell, keyboardist for music act , apparently aware of what his community needs. The man realizes the importance of knowledge for his country's future generation and thus bringing into life his realization.

Leavell will on Wednesday April 26th, 2006 read to second graders at DeLisle/Pass Christian Elementary School as part of a nationwide book relief effort for students affected by Hurricanes Katrina and Rita. He will read the book "The Tree Farmer," which he wrote alongside Nicholas Cravotta.