News
>
Movie News
March 14, 2007 07:35:51 GMT
Set to repeat the stunning onscreen collaboration between him and as seen before in "Monster's Ball", has signed on to once again play opposite the Oscar-winning actress in Lionsgate's dramatic feature "."

An adaptation of Nate Blakeslee's non-fiction book "Tulia: Race, Cocaine, and Corruption in a Small Texas Town", the picture finds Berry as an attorney who attempts to expose a corrupt and racially motivated rash of drug convictions in the rural town. What role Thornton is assigned to portray, however, has not yet been revealed.

News
>
Celebrity Gossip
March 14, 2007 07:15:54 GMT
Her big winning in various award events, including Academy Awards, Golden Globes, and BAFTA among others, makes it possible for to be the next . Taking into account her "instant" success, the Dreamgirl is the one among names suggested for the role of the soul singer in a musical production based on her life.

Confirmed to Access Hollywood that she has already been approached by several studios who want to take her autobiography and put it on the big screen, Aretha is yet sure if Hudson is the one taking on her role, saying "Well, I don't know. I'm not sure. The producers want to know how I feel about it, about her playing myself. What I'd like to see is three different people playing myself."

News
>
Music News
March 14, 2007 07:02:55 GMT
Little did know that while she wrote the song "True Colors" in 1986, many souls were going to be saved by it. Reviving the song in the True Colors tour, Lauper states that her sole intention is to promote gay rights.

Inspired by the letters that she received from fans, Lauper who is a long time supporter of gay rights, found out that her song made people hopeful. "A lot of people were saying that when it came out (in 1986) they were teenagers and they were coming out," she said. "They were disowned by their family and their friends and their jobs got all messed up and they were totally alone, and suicidal, and then they heard `True Colors' and it made them feel hopeful."

News
>
Celebrity Gossip
March 14, 2007 06:49:48 GMT
is developing a new non-fiction pilot for US TV network A&E, titled "Good in the Hood."

Described as being "in the vein of the fictional film 'American History X,'" the reality series is aimed at inspiring criminals to turn their lives around.

News
>
Movie News
March 14, 2007 06:41:36 GMT
In the middle of its success to top the weekend box office in its debut, "" gloriously turns out to set an opening weekend record for an IMAX Hollywood simultaneous release as it got screened in 62 domestic IMAX theaters.

IMAX Corporation and Warner Bros. Pictures announced on March 13, 2007 that the epic feature satisfyingly gathered $3.6 million in total so far, pulling an amazing amount of $58,000 per screen average to make a new record for a Hollywood IMAX title

News
>
Celebrity Gossip
March 14, 2007 06:15:28 GMT
won't stop making headlines. Following her dropping out of contract re-negotiations on the successful medical drama "Grey's Anatomy", the actress has just secured a new role which is to be the new face of the first new women's fragrance from sportswear company Nautica.

"I am thrilled to work with Coty and Nautica on this new fragrance campaign," Heigl said in a statement adding, "Partnering with these two highly successful companies makes this a very exciting and rewarding experience for me." Coty Inc. announced the signing of the agreement Tuesday March 13th.

News
>
Music News
March 14, 2007 05:19:11 GMT
With names such as , , and listed as the previous recipients of CMT's Johnny Cash Visionary Award, country singer and actor is honored to receive it this year. Announced by the cable station on March 12, 2007, Kris will collect it on the actual event on April 16 in Nashville.

Tapped to hand the award is Cash' daughter, Rosanne Cash. She feels that Kris is the perfect choice for this year since her father and him are closer than brothers. "I love Kris fiercely, not just because he and my father are cut from the same spiritual cloth, and because he is the living artistic link to my dad, but because he is my ideal as a songwriter and a human being," Rosanne said in an email.

News
>
Movie News
March 14, 2007 05:02:20 GMT
Looks like the major cast lineup of "" is finally completed.

NarniaWeb.com, a comprehensive fan site dedicated to the series, has claimed that filmmakers of the flick has at last given the major role of King Miraz, usurper to the throne of Telmar and occupier of Narnia, to acclaimed Italian actor Sergio Castellitto, who most recently lent his voice to the French version of Luc Besson's "."

News
>
Celebrity Gossip
March 14, 2007 04:55:16 GMT
Top designer Giles Deacon credited her as the ideal choice to launch his creations because she is "gorgeous and intelligent" and so has been chosen the new face for UK fashion label New Look.

Concerning that role, the 32-year-old actress will front the new Gold Collection for the clothes shop besides also be featured on posters modeling signature pieces from the range.

News
>
Music News
March 14, 2007 04:29:55 GMT
Fans can see the other side of in her next video "4 in the Morning". Made in concept of rage and frustration, the video will focus on the lyrics, and not so much in the styling. "It's just really more about the emotion of the song. It's going to be one of those videos that everything happens on-set, really," said her.

Working again with Sophie Muller who collaborated with her in "Wind It Up", both agreed to make it a 'bed scene' where Stefani will be pacing here and there, singing to the camera and taking on arguments with lover which will send off anger and tears all over the place.

News
>
Celebrity Gossip
March 14, 2007 04:23:33 GMT
Following in the footstep of many other notable celebrities, is the next to have her own beauty products. The beautiful actress is set to launch her own perfume.

With an application made to register trademark for a range of cosmetics in her name, not only Catherine is ready to launch her signature fragrance, but also deodorants, suncare products and haircare lotions.

News
>
Movie News
March 14, 2007 03:58:46 GMT
Attending this year's ShoWest in Las Vegas to promote "", director Brad Bird has opened up interesting tidbit saying that veteran actor is joining the voice cast of the animated flick as a food critic named Anton Ego.

The eighth animated feature film from Disney/Pixar, the movie presents the story of a rat named Remy whose passion for cooking leads him into a hilarious and exciting race that turns the culinary world of Paris upside down. Other cast members include , , Brian Dennehy, and Janeane Garofalo with "" helmer Brad Bird directing for a June 29, 2007 release in the U.S.

News
>
Celebrity Gossip
March 14, 2007 03:54:12 GMT
Acting is everything for him, but as for now on his focus is just his ailing daughter. Becoming a father, is taking full responsibility to his family and that's why he decided to put the brake on his acting career until daughter Lily Rose is well again.

The actor had been working on the drama thriller "" in Britain before seven-year-old Lily was admitted to a London hospital two weeks ago. The unfortunate, sadly, has caused the production of the film put on hold until Lily makes a full recovery.

News
>
Music News
March 14, 2007 03:52:05 GMT
After made recognized for his glam rock image through his first commercial and widely acceptable album "" (1972), came up the next year all darker and bleak with album "". Many did not accept this album due to the issues brought in the tracks such as drug addiction, suicide, prostitution and domestic abuse. Thus, this album was considered a failure, but Reed thought otherwise.

Reed considered that those issues were not suitable and in line with the songs that were in demand at that time. Keeping this low for more than 30 years, Reed finally thinks this is the right time to re-introduce "Berlin".

News
>
Movie News
March 14, 2007 03:29:28 GMT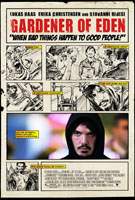 Took shape in 2002 in the wake of the World Trade Center attack to "enable the international film community and the general public to experience the power of film by redefining the film festival experience", the Tribeca Film Festival finally revealed the long list of films participating as it celebrates its sixth anniversary this year, set to take place in New York City on April 25-May 6.

In total, the event will present 159 feature films and 85 shorts that include 75 world premieres, 4 international premieres, 32 North American premieres, 18 U.S. premieres, and 20 New York City premieres with eighteen movies and sixteen documentaries competing in World Narrative and World Documentary Feature Film Competitions, respectively.