News
>
Movie News
March 28, 2007 08:31:54 GMT
Gliding quite smoothly to her next directing vehicle, New Zealand-born filmmaker Niki Caro is on duty to helm as well as write for a dramatic feature entitled "", which will be produced under Warner Bros. Pictures banner.

An adaptation of Ken Dornstein's memoir of the same name, the picture concerns the story of the author's older brother David, who died with other 269 passengers in the 1988 Pan Am Flight 103 airline terrorist bombing over Lockerbie, Scotland. It will also follow Dornstein as he learns more about David and comes to terms with the tragedy after discovering hundreds of thousands of words his writer brother left behind.

News
>
Movie News
March 28, 2007 08:02:05 GMT
Collecting the votes from its readers, Britain's biggest selling film magazine Empire has finally listed out the honorees of its Empire Awards of which ceremony was held in London for the twelfth time.

Based on the votes, collected from over 50,000 people, the magazine proudly gave the top prize of Best Film to latest installment of 007 series "", in the meantime also named stars and the Best Actor and Best Female Newcomer, respectively.

News
>
Celebrity Gossip
March 28, 2007 07:33:04 GMT
This is it. After eight seasons on MTV, 's prank show, "Punk'd," comes to an end.

MTV said Monday March 26th the upcoming season, which is the 8th, will be the last for the show from co-creator/executive producers Ashton and Jason Goldberg.

News
>
Movie News
March 28, 2007 07:17:52 GMT
Stellar names keep flowing down for "" despite its burgeoning list of cast lineup. Following recent inclusions of and , Exodus Film Group has smoothly had and onboard to lend their voices to its CG-animated feature.

Cusack reportedly will replace to voice the titular character, a hunch-backed assistant to a mad scientist named Dr. Glickenstein. Meanwhile Hayes is billed to fill the voice of Brian the Brain, a brain in a jar who is one of Igor's sidekicks and inventions.

News
>
Celebrity Gossip
March 28, 2007 07:10:34 GMT
Long time that we haven't seen her on screen, is about to make a return to the scene, signing deal to star in ABC's comedy pilot "See Jayne Run."

Will have the actress plays the main role, "See Jayne Run" follows the story of an accomplished alpha female working in the male-dominated world of investment banking who struggles to balance career and motherhood.

News
>
Movie News
March 28, 2007 06:37:20 GMT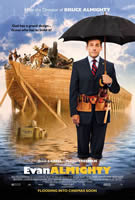 Slated to give a sneak peek of its anticipated comedy "", Universal Pictures has delightfully revealed that the trailer for the picture will make its debut on small screen this Thursday, March 29, 2007.

The clip will come up on NBC during the marathon of the network's hit series "The Office" called "Night at the Office" event. Multiple episodes of the show have been scheduled to air over the course of the evening's prime time on 8 pm - 11 pm Eastern/Pacific or 7 pm - 10 pm Central.

News
>
Celebrity Gossip
March 28, 2007 06:26:06 GMT
It will be his first ever that will co-host ESPY Awards. The NBA star and late-night talk-show host have both been billed to co-host ESPN's 15th annual ESPY Awards, coming on July 11th later this year.

The ESPY (Excellence in Sports Performance Yearly) Awards is an annual televised event created by American broadcaster ESPN, which recognizes outstanding individual and team achievements and memorable performances in the world of sports during the previous year.

News
>
Movie News
March 28, 2007 06:06:17 GMT
After recent good news saying Rogue Pictures has taken distribution rights to "", now comes a gloomy tidbit that no doubt will bring surprise to or probably raise various reactions from the fans of Konami's "Castlevania" videogame series, from which the flick is adapted.

According to DeadCentral.com, director Paul W.S. Anderson has shockingly decided to quit the flick without clear reasons and has shifted his attention to work on his other project of "Deathrace 3000" instead. It is very surprising indeed since the action filmmaker was previously noticed to be very enthusiastic about developing the movie, having planned to film it in the Transylvanian region of Romania by fall or winter.

News
>
Music News
March 28, 2007 06:03:42 GMT
In a happy mood, Noel Gallagher jammed at Teenage Cancer Trust at Royal Albert Hall, London on March 26. The charity-based event saw him going personal with audience by interacting and joking with them. Apparently, the event was also dedicated to his pregnant Scottish girlfriend, Sara MacDonald.

He opened the show by singing "(It's Good) To Be Free" and just before delivering the third piece "Slide Away" he announced that the song was dedicated to "My lovely Mrs. Sara"

News
>
Celebrity Gossip
March 28, 2007 05:03:10 GMT
A home, boys and girls, what else? What is it that and partner do not have? They do have all, but that wouldn't be perfect without a marriage. The high-profile couple thus planning to get hitched and it would be an Easter Caribbean wedding, it has been reported.

Pitt and Jolie are said to have fallen in love with the Dominican Republic during a recent holiday and have allegedly decided it is the perfect place for them to tie the knot. "While they were in the Dominican Republic, Brad bought a huge plot of land and helped design a fabulous house," a source told Britain's OK! magazine. "It's there they intend to become Mr and Mrs Pitt."

News
>
Music News
March 28, 2007 04:52:43 GMT
Members of rock band apparently put health concern as the utmost priority. After vocalist Win Butler is diagnosed with a sinus and bronchial infection, they immediately cancel the rest of European dates to give Win some recovery time.

"I just had to make the very sad decision to cancel the rest of the European tour... Last night in Stockholm I finally pushed my voice and body farther then they are able to go," said Win upon the band's latest show.

News
>
Celebrity Gossip
March 28, 2007 04:28:37 GMT
The heat is getting hotter between them. Her being absent while the recording artist partied with new pals and last week at Los Angeles hang outs Le Deux and Teddy's, has fueled speculation they already split. Is it true that and call it quit?

Sources claim the couple ended their longtime romance last month and remain "good friends" though. "They split in February. It's very amicable," an unnamed source close to Blunt tells People magazine.

News
>
Music News
March 28, 2007 04:17:19 GMT
apparently is addicted to promoting his "" album. Just when he was about to finish the North American jaunt, he is preparing for a number of new dates across the States.

The new trek will begin in his hometown Tennessee on August 6. The show that will take place at FedExForum will feature again who has been his tour mate all this long.

News
>
Celebrity Gossip
March 28, 2007 03:57:16 GMT
They are really in love and just couldn't stand being apart. That's what and her new boyfriend Johnny Borrell feeling. And to cope with such feeling, the actress is said to have moved in with the frontman.

Kirsten reportedly flew to London, moving in into Borrell's North London home just weeks after the pair met for the first time.

News
>
Music News
March 28, 2007 03:46:24 GMT
Apparently had a party the night before her supposed London's Shepherds Bush Empire gigs. She cancelled the two shows because she had broken her front tooth in a drunken fall.

"I broke my big tooth. I had a massive gap in the front of my mouth," she said in a statement. She also stated that a dental surgery has fixed her injury. Therefore, she will be ready for the make up dates on May 28-29.