News
>
Music News
October 04, 2005 05:50:30 GMT
already complete with their new line up J.D. Fortune. Next the music group will perform their first major concert. They will, on October 17, join reunited modern rock act Gang of Four and rock group Dredg, performing at the opening of a new Virgin Megastore in Hollywood.

In the meantime, INXS also is working on its first album with Fortune, titled "Switch" which is due November 29 via Epic. The original INXS lineup, meanwhile, will be paid homage with the 20-track concert album previously unreleased in America, dubbed "INXS: Live at the Barker Hangar." The show will be available exclusively for download at all digital retail outlets, with four, including iTunes and Yahoo!, offering additional bonus material, beginning October 4.

News
>
Music News
October 04, 2005 05:00:00 GMT
Trey Anastasio has split from former band since summer 2004. Now the time has come for him to release "Shine," his first album ever that is reportedly due Nov. 1 as a DualDisc via Columbia.

The album consists of 12-track audio side produced by Brendan O'Brien, and DVD side that will sport live footage of the album's "Air," "Shine," "Come As Melody," and the as yet unreleased "Dark and Down," to be released August 13 at Colorado's Red Rocks Amphitheatre.

News
>
Movie News
October 04, 2005 04:37:59 GMT
Singing is something new for actors and . Though, both movie stars will do their best, singing for the soundtrack to the biopic "," which is due in store November 15, three days before the movie opens in theaters.

Phoenix and Witherspoon, besides their duet on "It Ain't Me Babe" and "Jackson," have also recorded some of Cash songs separately. Phoenix recoded the like of "Ring of Fire," "I Walk the Line" and "Folsom Prison Blues," while Witherspoon performs solo renditions of "Wildwood Flower" and "Juke Box Blues."

News
>
Celebrity Gossip
October 04, 2005 04:03:26 GMT
Media publication, especially the bad ones, could bring either positive and/or negative effects to the person who's becoming the subject of it. Yet, it depends on how the subject perceives the publication and the action he/she does after.

As for iconic singer , she would like to be positive thinking about lies media publication. The smart babe makes use of the wrong publication to write her autobiography that is, of course, aimed to set the record straight once and for all. What a smart idea of her.

News
>
Celebrity Gossip
October 04, 2005 03:49:59 GMT
After a careful investigation, Los Angeles Superior Court Judge Linda Lefkowitz finds the evidence against Peter Stansfield is "sufficient, clear and convincing." So the judge quickly granted a request Monday by for a three-year restraining order against the 29 years old alleged stalker, preventing him from contacting Pam or her family.

Last week Anderson filed a lawsuit, accusing Stansfield of "harassing" and "stalking" behavior that was directed at her and her children. Now, as she's won the case, she may feel save.

News
>
Movie News
October 04, 2005 03:22:06 GMT
Grossed $100.4 million at the domestic box office and won Oscars are the obvious evidences that "" is a very success movie. Following the success of the project, the production company behind, the Ruddy Morgan Organization, is going back to the ring with a new one, which is a development of late author F.X. Toole's "."

The film, which is the last work of the author, revolves the story of a trainer who finds redemption by helping a young boxer after he's devastated by the death of his last living relative. Will serve as producer on the film is Ruddy Morgan principal Al Ruddy. Elsewhere, Harper Collins will publish the book next year.

News
>
Movie News
October 04, 2005 02:58:05 GMT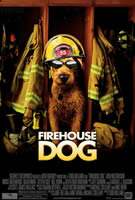 If you are waiting for something that tense your whole body "" is a good reference. The action drama movie centers on Rexxx, Hollywood's most in-demand canine star. After getting lost, the divalike dog is adopted by a down-on-its-luck firehouse. Rexxx teams with a 12-year-old boy (Hutcherson) to turn the scrappy firehouse into the city's finest.

"Firehouse Dog" is that of Regency Enterprises that already boarded by Josh Hutcherson and is being directed by Todd Holland from a Claire-Dee Lim screenplay. Bree Turner has just signed on to star in as Liz Knowles, a commercial producer who works with Rexxx before he goes missing. Other casts include , Dash Mihok and Steven Culp.

News
>
Celebrity Gossip
October 04, 2005 02:41:38 GMT
Former member, , has denied rumors she's been secretly married to longtime boyfriend, . The singer, widely popular for her sexy image, quashes the marriage rumor in Vanity Fair magazine, claiming she and the rapper aren't even engaged.

She firmly says "No" when being asked if she was hitched, and insisting "I'm not" when asked whether she's engaged.

News
>
Celebrity Gossip
October 04, 2005 02:24:08 GMT
Actor is a big fan of "Superman." And he maybe is wanting his newly born baby boy to be like his superhero that he named him after the strongest man ever. Kal-el Coppola Cage, that's the baby's name, which is obvious to everyone that it is the name Superman was given when he was born on Krypton.

Well, let's hope he would be so. The Oscar-winning actor's wife, Alice Kim Cage, gave birth Monday in New York City and "They are healthy and happy and it's quite lovely." A publicist for Cage, Annett Wolf, said in a statement while won't reveal further details. Kal-el is the first child for Alice and is the second for Cage who has had one from previous relationship.

News
>
Movie News
October 04, 2005 02:09:37 GMT
Prepare your popcorn and soft drink while watching the forthcoming family film "." Enjoy the story, which tells about a young boy in a contemporary Irish village who begins to grow wings and then starts to fly.

The film, based on an unpublished story written by late actor John Mills widow Mary Hayley Bell, is set for production in Ireland and the U.K. in the spring. Has been hired to direct the "Boy" for Gold Circle Films is Luis Mandoki with Malia Scotch Marmo rewriting the script, which was co-written by Bell's grandson Crispian Mills and Michael Geary.

News
>
Celebrity Gossip
October 03, 2005 06:24:30 GMT
Working on a movie gives actor many advantages. He gets many, like money, experience, friends, and most of all girlfriend. It seems that becoming an actor is exceptionally beneficial for Wood.

The actor, who currently filming "," met new pal Eugene Hutz who played the role of Gogol Bordello on the set. In knowing that he's looking for love, Hutz then introduced him to Pam Racine, one of his bandmates. A friend of them reveals "Eugene introduced them and they secretly started dating and now they seem to be inseparable."

News
>
Celebrity Gossip
October 03, 2005 06:09:51 GMT
Hollywood movie star has been left just like that by former girlfriend of seven years . And it really hurts him inside. Yet it doesn't mean that he becomes traumatic and unwilling to start a new relationship. Instead the man has had a new sweetheart. It's Australian singer/actress , a former member of Popstars Australia group Bardot.

A friend of him says "Jason was shocked when Kelly walked out and didn't even have the decency to tell him. But he's not so sore now the offers are rolling in and he's seeing Sophie. They get on really well and, although it's early days, everyone has noticed how happy he is." Wish you nothing, but an everlasting love.

News
>
Celebrity Gossip
October 03, 2005 04:49:18 GMT
British singer-songwriter , who has just split from long-term girlfriend Camilla Bowler, ends his journey to find a new love as he has found one in band-member Jessica Sutta. Per News of the World, Blunt dating Sutta, whom he became friendly with during a tour of Berlin, where she was promoting her group's single "Don't Cha."

A source says "It's early days, they've only just met, but James thinks Jessica is wonderful. They hit it off immediately but the logistics are difficult as he's based in Britain and she's in the States most of the time. But while Jessica was over here promoting her single, they saw a lot of one another. And even though she's returned home, they hope to continue their relationship. But they know it will be hard. James is really smitten with Jessica. He's hoping it's the real thing and he has barely stopped talking about her since they met."

News
>
Music News
October 03, 2005 04:31:16 GMT
Karen Carpenter of the 1970s vocal and instrumental duo The Carpenters died from anorexia in 1983. Now, that she's completed writing songs for her, Keren's brother and singing partner in The Carpenters, Richard Carpenter, approached Jo O'Meara of to record the songs he specially wrote for her beloved sister.

Speaking about that, Jo stated "Richard has said that vocally I am the closest to Karen he has heard since her death. He has asked me to record some of the songs he had written for her. Karen has always been my all-time favorite singer."

News
>
Celebrity Gossip
October 03, 2005 03:49:33 GMT
Finally, she reveals the reason behind the break up. Socialite said on Saturday she ended her five-month engagement to Paris Latsis because she's "not ready for marriage," thus won't get married too soon coz she didn't want it to end in divorce. That sounds make sense.

Paris says "I feel I'm just not ready for marriage. I have seen the breakups between people who love each other and rush into getting married too quickly. I do not want to make that mistake." Despite their break up, Paris admitted to still love Latsis anyway and that they will continue to work together on business endeavors and have "movies together in the works."