News
>
Music News
November 10, 2005 04:22:25 GMT
Despite the fact that Hurricane Katrina has left much detriment, still we can taste its positive impacts. When many people were suffered by the disaster, many other stood shoulder to shoulder to help the victims. See how many notable musicians and or movie stars do donations and charity works to raise help.

That is also what actress is trying to do. The beauty has co-written a song to raise funds for victims of Hurricane Katrina. Dubbed "Come Together Now," the single will be released November 29th in the U.S. It features veterans, like , , and more than a dozen other. Proceeds will benefit Habitat for Humanity and Angels' Place.

News
>
Celebrity Gossip
November 10, 2005 04:01:50 GMT
Troubled actress again involves with the law. Yet this time she just happens to be a witness. The hotel heiress has been subpoenaed as a witness in a criminal case done by Darnell Riley who was arrested on January 22, 2004, for allegedly breaking into the home of Joe Francis, creator of the "boob flashing" video series Girls Gone Wild and trying to kidnap him.

Riley actually was pleaded not guilty, until one of his associates told Paris of his involvement in the crime. "That was the basis for the probable cause to locate my client's photo, which coincidentally Joe Francis identified," Los Angeles district attorney's spokeswoman Jane Robison said. A preliminary hearing is scheduled for November 21. It is yet mentioned if Paris would be called to testify.

News
>
Movie News
November 09, 2005 09:46:36 GMT
Walt Becker and Ryan Reynolds are among those get "Schooled." Yet, you won't meet them at the real school coz it's the title of their upcoming project. It is a comedy flick picked up by Touchstone Pictures which story is described as a high school movie told from the point of the teachers, who have their own friendships, love lives and cliques.

While waiting for the cast, Becker is co-writing the script with David Gallagher and both will direct as well. In the meantime, Tapestry's Peter Abrams, Robert Levy and Andrew Panay as well as Reynolds and his Dark Trick producing partner Jonathon Komack Martin will all produce the movie.

News
>
Movie News
November 09, 2005 09:28:34 GMT
The English actress won't be unwilling to "Stand by for Love." In fact, anyone needs love. Don't you? does too.

She's been tapped to star in the drama romance to be directed by Simon Wells. is set to star opposite her.

News
>
Celebrity Gossip
November 09, 2005 09:06:50 GMT
Fell joy. Of course she will. Pop diva wins the case. U.S. District Judge John D. Tinder in Indianapolis on October 31st dismissed the lawsuit by Steve Wallace, an Indiana songwriter who claims he wrote Spears' hit record "Sometimes." The reason behind is clear, the singer was able to show it wasn't copied. Thus, no money would change hands.

Wallace sued Spears, her album promoter, Sony/BMG Music Publishing Inc., and recording and publishing companies affiliated with her, claiming he wrote "Sometimes" in 1990 but did not formally copyright the song until 2003 - four years after Spears copyrighted her track. Commenting on the judge decision, David R. Baum, an attorney for Spears and her co-defendants said "I cannot emphasize enough this was not a settlement but a dismissal."

News
>
Music News
November 09, 2005 08:48:24 GMT
Give the rock icon a kiss coz they deserve that anyway. The group will on December 13th release a double-disc concert DVD, "Rock the Nation Live!," via Image Entertainment. To make it special and distinct from their other previous projects, the new set will contain abundance of special features and rare songs, like "Kiss Powervision/Select-A-Kiss."

"Rock the Nation Live!," taped in summer 2004 in Washington, D.C., and Virginia Beach, features core members Paul Stanley and flanked by guitarist Tommy Thayer and drummer Eric Singer. "We were playing a lot of songs that Kiss hadn't played in years, or haven't played at all," Thayer told Billboard.com.

News
>
Music News
November 09, 2005 08:33:37 GMT
Hey you who live in London better prepare yourself to welcome invasion. The music group, who recently planned to end the year of 2005 with a December 31 show at New York's Madison Square Garden, has just announced a March 18-19 stand at London's Shepherd's Bush Empire.

A spokesperson for the reunited Southern rockers says the theater shows are one-offs and not part of a longer tour. In related news, The Black Crowes also is reported working on a DVD shot during a five-night run at San Francisco's Fillmore in August, which release date remains undisclosed.

News
>
Music News
November 09, 2005 08:02:57 GMT
has a great idea. The king of pop plans something extraordinary. A new record with his three children; eight-year-old son Prince Michael, his seven-year-old daughter Paris and his three-year-old son Prince Michael II.

As reported in New York Post, Jacko even has brought the three of them to a London recording studio, although Prince Michael II is not yet old enough to sing. It is yet revealed the theme of the recording set nor do other details in relation with that.

News
>
Movie News
November 09, 2005 07:39:18 GMT
Back then to "," the film we have mentioned the day before. It is reported that will star in opposite . The film that also stars and will have Andy Davis to helm.

"The Guardian" tells the relationship between a rebellious Coast Guard enlistee (Kutcher) and a legendary rescue swimmer (Costner). Ward, in addition, will play the wife of Costner's character who is grappling with their troubled marriage.

News
>
Music News
November 09, 2005 07:17:02 GMT
Music duo will on November 14 release their new EP titled "Walking With a Ghost" via iTunes and December 6 via Apple's iTunes Music Store. The EP is a five-track set that will include a cover of Tegan & Sara's "Walking With a Ghost as well as live versions of "Same Boy You've Always Known," "As Ugly As I Seem," "The Denial Twist," and "Screwdriver."

Elsewhere, The White Stripes also is planning to sell a live download of "The Denial Twist" from every show on its current U.K. tour via the Web site (http://www.xlrecordings.com/denialtwist/) for XL Recordings, its U.K. label. At each show, fans can pick a blank CD to burn the tracks as well as artwork specific to the performance.

News
>
Celebrity Gossip
November 09, 2005 06:53:43 GMT
It's false. All rumors romantically link to aren't true. The actor has recently rubbished all those reports, stating he has never talked to the former Playboy beauty.

Split up with his long-term TV presenter girlfriend over a year ago, Statham admits that he is now a happily single. He says "I've never even said hello to Pam. The closest I've got to her was being in the same room at a Vanity Fair party."

News
>
Movie News
November 09, 2005 06:25:41 GMT
Chesapeake Films is about to out two new film projects. The first one is "," which is an adaptation of the Stephen King's novel of the same title that George Romero will helm.

"From a Buick 8" is a thriller tells the story of a state trooper who is killed on the side of the road. The man's colleagues try to help his son cope, but when the boy discovers his father's dark secret in the barracks' back shed, things start to stir not only in the shed but in the hearts and minds of the veteran troopers who surround him.

News
>
Celebrity Gossip
November 09, 2005 05:56:15 GMT
Hot News: and are getting married. But wait, don't think they're remarried. They do plan to get married, but not to each other. Rather, they will marry their new lover. Brad with sexy actress , while Jenn with actor .

Fortunately, their wedding date is almost at the same time. December 1st, 2005 is the date when Brad will marry Mrs. Smith. The date that is in the middle of the week seemingly just perfect to hold a wedding party for the couple is desperate to get married without any fuss. Only close friends and family invited to the party.

News
>
Movie News
November 09, 2005 04:43:26 GMT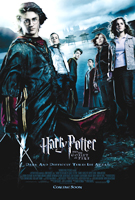 Harry Potter spoke the spell and he did it very well. Many people were under the spell, and there they were at the Odeon Leicester Square November 6, 2005 in London, United Kingdom attending the world premiere of "."

Thousands of people were there, including those of notable celebrities like , supermodel and actress , all of whom are Potter fans.

News
>
Movie News
November 09, 2005 04:18:25 GMT
They seemingly will enjoy the night. Or maybe not. What do you think? Well just see their action in the upcoming thriller "Poker Night," which worldwide rights has been acquired by Icon Entertainment International. There and will act together.

Per Variety, the story of "Poker Night" centers on a rookie detective (Christensen) who wakes to find himself strapped to a chair in a dim and filthy basement. The cop's faceless abductor is a vicious serial killer who is mercilessly torturing his captive both physically and mentally.