News
>
Movie News
February 13, 2006 02:14:31 GMT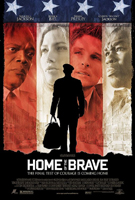 There are more stars at the "" as the likes of , and are joining and Brian Presley in the drama flick directed by Irwin Winkler.

Tells about Iraqi wartime, the film is worked on from a screenplay by Mark Friedman. The story centers on three soldiers who are returning home after a lengthy tour in Iraq and find that re-entering "normal" life after the continued trauma of battle is not an easy task.

News
>
Celebrity Gossip
February 11, 2006 06:50:31 GMT
Actress has left many male fans heartbroken as she confirmed to have found a new love with a breakdancer, following her split from cinematographer husband Robert Brinkmann in May last year.

His name is Mike "Murda" Carrasco, a 23-year-old professional breakdancer who is part of Knucklehead Zoo, a Las Vegas-based troupe. The twosome has been dating for almost six months after meeting at a breakdancing event.

News
>
Celebrity Gossip
February 11, 2006 06:38:35 GMT
The two-sided lyric sheet of 's "A Day In the Life" which became the centerpiece of the album "Sgt. Pepper's Lonely Hearts Club Band," is up for auction.

The sheet is part of an auction of memorabilia at Bonhams and Butterfields and is predicted to fetch more than $2M.

News
>
Movie News
February 11, 2006 06:15:25 GMT
, the actor played the role of Sirius Black in the previous Harry Potter films, seemingly won't star in the film's forthcoming projects. It is reported that he has been mysteriously axed from the wizard franchise.

Despite the fact that "" has begun filming, Oldman has yet to be signed for the third term.

News
>
Celebrity Gossip
February 11, 2006 05:57:57 GMT
The rumor on the street is that is romancing ex-wife 's best friend and assistant CaCee Cobb. Further reports mentioned the twosome was spotted getting cozy at Los Angeles' Level 3 nightclub last week.

An onlooker said "Nick had his arms wrapped around her, and he was kissing her all over the side of her face and neck. Her arms were around him, too. We were watching in total disbelief. We kept waiting for them to rip each other's clothes off."

News
>
Movie News
February 11, 2006 04:41:11 GMT
"," the movie spin-off of the popular TV show of the same name is on board. reportedly is set to make a cameo appearance in the forthcoming action drama flick. The actress is about to be lined up by .

Other "Baywatch" cast mates, including , , and , are all expected to star in as well.

News
>
Celebrity Gossip
February 11, 2006 04:22:19 GMT
Oscar winning actress has on Tuesday Feb 7, 2006, gone public with her new beau, model Gabriel Aubry. The in-love couple showed up at a Versace party held that day.

Berry and Aubry first met on the sets of a Versace advertisement shoot in December. She began dating him quietly since then.

News
>
Celebrity Gossip
February 11, 2006 03:49:04 GMT
In somewhat a confirmation to recent reports mentioned and are engaged, the actress' spokesperson Kelly Bush stated that the recent February 2 story "Zach and Mandy to Wed?" was false.

The reports published by In Touch Weekly mentioned that friends of the couple had reported the two were scheduling an April wedding, and that Braff had presented Moore with an engagement ring. That's for everybody to know.

News
>
Celebrity Gossip
February 11, 2006 03:37:25 GMT
Previously linked with , teen star reportedly has found another man. The actress is said to have quietly dating rocker for a month.

A source said to American magazine In Touch "She's spending all her free time with him. She has been staying at his Greenwich Village (New York) apartment almost every night. She thinks musicians are sexy and she's a fan of his music."

News
>
Celebrity Gossip
February 11, 2006 03:26:36 GMT
"The Daily Show" host and wife Tracy happily welcomed their second child Saturday Feb 4th, 2006. The baby girl named Maggie Rose Stewart was born in a New York hospital.

The couple, married since 2000, already has a 19-month-old son, Nathan Thomas. Stewart's spokesman Matt Labov tells People magazine, "Maggie Rose Stewart was born on Saturday afternoon in Manhattan and she was six pounds, nine ounces."

News
>
Celebrity Gossip
February 11, 2006 03:10:13 GMT
Hollywood multitalented performer has sparked rumors that she and husband are expecting baby girl. The pop diva has recently had posh Petit Tresor, an exclusive baby store in Los Angeles shut for 45 minutes so she could shop uninterrupted.

"She came with some woman, maybe a relative or an assistant, entered through the back, and bought thousands of dollars worth of things for a baby girl." So an undisclosed source said.

News
>
Music News
February 10, 2006 09:27:41 GMT
Recounts what they did in 1995, is heading for a European tour despite the fact that they previously planned "nothing but writing and recording" in 2006. In fact, they take time out to make the rounds on the European summer festival circuit.

Opening the tour, they will first perform at Germany's Rock am Ring and Rock im Park festivals on June 3rd and 4th, then heading for Arnhem, Holland, on June 8th, and England's Download Festival on June 10th and 11th. Moreover, the band reportedly also has three shows scheduled for March in South Africa.

News
>
Celebrity Gossip
February 10, 2006 09:07:51 GMT
The latest issue released by People magazine reported that actress is engaged to British actor John Light.

It is claimed that to propose, Light even got down on his knee and recited Shakespeare to Campbell. Though, the happy couple has set no wedding date yet.

News
>
Celebrity Gossip
February 10, 2006 08:48:27 GMT
XM Satellite Radio Holdings Inc. has on Thursday Feb 9th said to have signed a three-year deal with for the sake of introducing a new channel on the top U.S. subscription radio service. Worth $55 million, the deal sending shares up as much as 10 percent.

"Oprah And Friends," that's how the new channel called, is scheduled to launch in September later this year and will include a weekly show hosted by Oprah, as well as programs featuring other personalities from her popular nationally syndicated TV talk show.

News
>
Celebrity Gossip
February 10, 2006 08:27:42 GMT
Pop superstar finally speaks out. Previously defends her driving with baby son Sean Preston on lap and blaming paparazzi for the incident which is in fact a violation to California law, the singer comes with a brand new understanding.

She says "I made a mistake and so it is what it is, I guess." The incident yes caused the L.A. County Department of Children and Family Services dispatched a sheriff to the singer's Malibu residence, "to obtain her contact information," but officials said no charges were being pursued against her.