News
>
Movie News
April 10, 2007 07:01:41 GMT
Still looking for appropriate actress to play the lead female in his project of "", director Joe Carnahan has revealed in an interview held by Cinematical that he would like to see take the role of Glenda Bledsoe in the movie.

"I'm a huge Charlize fan," he told the site. "I would love her for that. I was taunting her at an Oscar party that I was gonna come chasin' her, so I really like Charlize. But there are so many wonderful, amazing actresses that could blow that thing out of the water, that you never want to limit yourself ... but she would be, like, an early favorite."

News
>
Music News
April 10, 2007 06:56:09 GMT
Tired of the piracy acted upon their latest album "", made the tracks available in the band's website. This act is triggered by the two recent leaks of the album within a week.

On April 1, a low quality recording of the album went out on a number of peer-to-peer networks. Three days later, a better quality, presumably the promotional disc surfaced in other sites. Trent Reznor finally took action by commissioning Chicago's Q101 to circulate the entire tracks on the radio station.

News
>
Music News
April 10, 2007 06:15:16 GMT
Tony Hadley has added the odds to the probability of Spandau Ballet's comeback. He has unveiled his interest to get all the members back together for a reunion. "The next window of opportunity that I see would be our 30th anniversary, in about four years' time," he said.

Before coming to the revival, Hadley has some things to be settled first, especially the unpleasant departure of the band. "There'll have to be an awful lot of things remedied because things did get personal and it went a bit too far," he explained. The band dissolved under a bitter rivalry between 2 sides in late 1980s. Hadley, Steve Norman and John Keeble brought Gary Kemp to High Court in subject of songwriting royalties.

News
>
Celebrity Gossip
April 10, 2007 05:56:23 GMT
Singing is what she's been doing so far, and now is jumping on the comic book bandwagon. The Canadian pop singer will have her figure recreated as an animated heroine in Del Rey Manga's new comic book titled "Avril Lavigne's Make 5 Wishes."

Avril's animated character in the two-book series is a teen called Hana, who is struggling to come to terms with her troubled life and avoid the temptations of a demon she met on the Internet.

News
>
Movie News
April 10, 2007 05:40:39 GMT
No doubt will provide great support in the development of Latin American cinema, and Metro-Goldwyn-Mayer Inc. have announced on Monday, April 8, 2007 that they have reached deals to establish a film company specializing in Latino pictures appealing to wider and mainstream audiences.

Called Ventanazul, the company will take its base at MGM and be a partnership between the studio and Hayek, who landed an Oscar nomination 2003 for best actress category through "Frida." It is dedicated to make or pick up independent Latin-themed movies to distribute two up to four of them a year for broad, box office appeal.

News
>
Music News
April 10, 2007 05:27:49 GMT
Concrete Blonde's Johnette Napolitano is in preparation for another solo album titled "Scarred". The album will be released May 29 through Hybrid Records.

In her fourth solo project, Johnette works with ' contributor Danny Lohner and Rachel Stamp's producer Will Crewdson. In the album, she will cover 's "The Scientist" and Velvet Underground's "All Tomorrow's Parties".

News
>
Music News
April 10, 2007 05:00:08 GMT
Jazz band Soulive is switching label again. This time, they are signed to Stax Records that will release the group's ninth album "No Place Like Soul" on July 31.

Known for a constant change of label the band will probably seek a new direction like it did under Concord Records in 2005. The probability is higher with the addition of new vocalist Toussaint.

News
>
Celebrity Gossip
April 10, 2007 04:57:31 GMT
Rocker and fellow bandmate Richie Sambora going plastic.

The two recording artists are the latest musicians to join McFarlane Toys' line of action figures, which will hit US stores in August and sold for $US10 to $12.

News
>
Movie News
April 10, 2007 04:46:57 GMT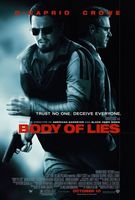 Slated to be one of the busiest actors in the game judging from the upcoming acting stints he has to carry out, turns out to still eager to add one more work into the list.

Variety reports that the striking actor is currently engaged in early talks to topline "", a Warner Bros. Pictures' big screen adaptation of David Ignatius' new novel of the same name. Previously titled "Penetration", the project has already had Donald De Line produced via De Line Pictures with Michael Costigan executive producing.

News
>
Celebrity Gossip
April 10, 2007 04:34:43 GMT
Hot off his stint on ABC's "Dancing With the Stars," has been tapped for a new project, co-starring R&B singer for the CW comedy pilot "Eight Days a Week."

The project, revolves around four twentysomethings who work under the top movers and shakers in New York, will see Lopez plays one of the bosses, an impeccably dressed wunderkind with a cell phone attached to his ear. Milian, meanwhile, will play one of the assistants, a beautiful, young woman who left behind a law career to start over as a receptionist/gofer at an art gallery.

News
>
Music News
April 10, 2007 04:26:42 GMT
After making a blast in 2006 Eurovision Song Contest, Finland's rock band will bring the same success to North America and Asia. In support of full-length version of 2006's "", the band will tour in Japan for 4 dates and in East Rutherford, US for 2 dates.

Japan's leg begins April 9 in Tokyo and ends April 13 in Nagoya. The band will then fly to New Jersey for The Bamboozle Fest on May 5-6. will join them in the May 5th show while joins in the next. After that, Lordi will headline 2007 Ozzfest that starts July 12 in Seattle, WA and wraps up on August 30 in West Palm Beach, FL.

News
>
Movie News
April 10, 2007 03:59:14 GMT
Looks like good relationship still lies between David Goyer and Warner Bros. Pictures regardless of the former's shocking decision to take departure from the company's superhero project "."

According to WizardUniverse.com, the Michigan-born filmmaker has successfully sold an idea focusing on the more villainous side of the DC universe with story being built around DC Comics' superhero the Green Arrow.

News
>
Celebrity Gossip
April 10, 2007 03:46:35 GMT
Famous and owns lots of money, does know how to spend her wealth wisely. The Canadian famous pop singer and husband Deryck Whibley of have purchased a US$9.5-million mansion in L.A, it has been reported.

The husband-and-wife of nine months have bought a Tuscan-style home in Bel-Air with three story, eight bedrooms, and 10-1/2 bathrooms. The new mansion, moreover, also has an elevator, sauna and garage space for 10 cars.

News
>
Music News
April 10, 2007 03:39:20 GMT
is back in business after his recovery from flu. He will be fit enough to appear in a number of shows scheduled for him this week.

His publicist said he is regaining his health and will be back performing this Thursday in Tucson, Arizona and two Las Vegas nights. "His doctor did feel he should rest for three or four days, so we took that advice, and he's done so, and he'll be back on his regular schedule," a spokeswoman told Reuters. "It was just a bit of the flu, like we all get. A couple of days rest, and he's fine and raring to go."

News
>
Music News
April 10, 2007 03:16:08 GMT
It looks like the reunion of will not come full circle. Former member James Iha has confirmed his absence from the reunion.

Revealing that he has no interest in re-tying the knot with the newly reunited band, Iha said that he is too busy with his own schedule. "I'm writing for a solo record, which I'm going to record this year, and working on my indie label Scratchie Records," he said.