News
>
Celebrity Gossip
February 09, 2007 07:55:12 GMT
has just had his appendix removed. The R&B singer was admitted to Jackson Memorial Hospital in Miami on Sunday Feb 4th and underwent surgery shortly thereafter.

Attorney Terence Gillespie said Thursday Feb 8th that Kelly was in good condition and was expected to be released from the hospital later in the day.

News
>
Movie News
February 09, 2007 07:30:19 GMT
A surprising info has come out from the mouth of Rupert Murdoch, chairman and chief executive of News Corporation. According to Financial Times, the man has revealed that is set to reprise his role as the titular Kazakh journalist in a sequel to "."

Saying that the follow-up will be set up once again at News Corp.'s 20th Century Fox, Murdoch also indicated that Cohen will do the project after he finishes filming "", a flick about his fashion victim alter ego from "Da Ali G Show."

News
>
Celebrity Gossip
February 09, 2007 07:07:16 GMT
Paul Bloch, the publicist for , announced Thursday Feb 8th the actor-director and his wife, Christine Baumgartner, are expecting their first child.

"They're very excited, very happy about the pregnancy," so Paul confirmed. No details on when the baby is due being made public.

News
>
Movie News
February 09, 2007 06:47:58 GMT
Taking a little time amidst the preparation to begin production on "" next month, Barry Levinson is embarking on negotiations with Universal Pictures for another directing stint in "", Production Weekly has reported.

An adaptation of Larry McMurtry's 19th century American West novel, the picture concerns a headstrong woman who drags her family on a rickety wagon from Boone's Lick, Missouri, to the Wyoming fort where her husband lives. and are both attached to star in as the woman and her husband's brother, respectively.

News
>
Music News
February 09, 2007 06:35:27 GMT
Rock legend will hit the road soon in the near future. The band announced Thursday Feb 8th at a lunchtime press conference in London, during which they performed a four-song acoustic set, they are going to embark on a 28-city European tour.

The Who, consisting of two surviving original members Pete Townshend and Roger Daltrey, will kick off their tour in Lisbon, Portugal on May 8 and end in Helsinki, Finland on July 9. They said they planned to continue touring around the world after Europe.

News
>
Movie News
February 09, 2007 06:09:30 GMT
No doubt deeply satisfied with the phenomenal success of its made-for-television feature "High School Musical", Disney finally is set to give a big screen treatment to the hit project for sure.

Walt Disney Motion Pictures Group's president of production Oren Aviv announced yesterday, February 8, that the company will develop an all-new musical adventure movie under the title of "Haunted High School Musical" for a 2008 release.

News
>
Music News
February 09, 2007 05:17:43 GMT
It's been 11 years and now the country music star is back. is back on track. The singer will mark her comeback to the music scene with a performance at the 2007 CMA Music festival in June later this year.

Joining McEntire will be such top country acts, as , , and . As of this year, the CMA Music festival will be held in Nashville, Tennessee on June 7-10. Proceeds will benefit the Keep the Music Playing campaign to promote music education in local schools.

News
>
Movie News
February 09, 2007 04:52:53 GMT
It appears that the joy is short-lived.

In contrast to a delightful report from Variety few days ago stating that Ang Lee is on board to helm "A Little Game Without Consequence", an assistant to the Oscar-winning filmmaker has said otherwise to Taiwan media. Claiming the report is not true, the person strongly pointed out that Lee hasn't even been offered the position.

News
>
Music News
February 09, 2007 04:40:17 GMT
His high rising singing career brings more and more interesting offers. Early in this year, the singer has already secured at least two big projects, first is the 's AIDS Foundation Academy Awards celebration and the second is the 49th annual Grammy Awards.

Blunt, who was a former military man, has been billed to perform at John's 15th annual Oscar bash, which will take place Feb. 25 at the Pacific Design Center. The event will be co-hosted by John himself with the companion of David Furnish and is co-sponsored by Audi, Chopard and VH1.

News
>
Music News
February 09, 2007 04:19:11 GMT
Reformed rockers announced via MySpace bulletin details on their forthcoming LP.

The highly anticipated album, titled "", is scheduled for a July 7, 2007 release date. The set is the band's first album in seven years while becoming the follow up to their 2000 set, "".

News
>
Movie News
February 09, 2007 04:03:24 GMT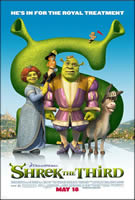 Coming closer to the launch of its highly anticipated flick "" in theaters, DreamWorks Animation has delightfully made a follow-up to the previously released teaser trailer of the movie.

The company has smoothly placed a new trailer of the animated feature online at Moviefone after debuting it during the airing of the sixth season of "American Idol" on Wednesday night, February 7. Those who missed it on TV now can take a look on http://movies.aol.com/movie/shrek-the-third/21802/main.

News
>
Music News
February 09, 2007 03:49:33 GMT
Nancy Sinatra, the daughter of music legend , is giving hand at new job, radio DJ. The singer, who is famous during the 60s, has been tapped to host a regular weekly show on the Sirius Satellite Radio Inc station.

The show, dedicated to the music of Frank, is dubbed Siriusly Sinatra. The 24-hour, seven-day-a-week, commercial-free channel, will air recordings spanning the entire spectrum of Frank's career as well as other artists from the big band, swing and traditional pop genres, Sirius announced.

News
>
Movie News
February 09, 2007 03:33:25 GMT
It's just about time before wee see music mogul create another phenomenon in film industry if looking on the promising pact he has formed with New Line Cinema.

Yes, the Aftermath Entertainment founder has successfully been signed by the giant film company for a multiyear feature producing deal via his newly minted Crucial Films production company. The guy is no stranger to the studio as he previously appeared in its "Set It Off" and participated in the "" soundtrack.

News
>
Music News
February 09, 2007 03:17:26 GMT
The year 2007 brings so much more as the band, who will be reuniting to perform at the 49th Grammy Awards on Sunday Feb 11th, is set to announce details of their reunion world tour and will moreover mark their 30th anniversary with special treatment, a private rehearsal, for their fanatics.

"The Police Rehearsal" is set to take place Monday Feb 12th at the legendary Whisky A Go Go on the Sunset Strip. In a posting on Wednesday Feb 7th, frontman announced that in order to enter the drawing for a spot, fans must be "legacy members" of Sting's official Web site, Sting.com. After that there will be 20 fans selected to attend the event.

News
>
Celebrity Gossip
February 09, 2007 02:37:04 GMT
This is not a joke. , the one many people know as a US model and reality TV star, died Thursday afternoon Feb 7th after collapsing at a hotel.

The former Playboy Playmate was found unconscious at 1:39 p.m. ET in a room at the Seminole Hard Rock Hotel in Hollywood, north of Miami and was soon thereafter rushed by ambulance shortly after 2 p.m. to nearby Memorial Regional Hospital, where she died. She was 39.