News
>
Celebrity Gossip
June 05, 2008 07:16:22 GMT

, the outspoken British/Sri Lankan rapper is giving back to the community with the paycheck that she earned for performing. The star will make use of her $100,000 salary that she earned as the guest singer of MTV Movie Awards after-party on Sunday, June 1 to build schools in Liberia.

"They're giving me $100,000. Not bad, eh? I'm going to use it to build schools in Liberia," M.I.A. who climbed on a photo booth told the crowd. "It costs $52,000 to build a school for 1,000." After two civil wars that ended in 1996 and 2003 respectively, Liberia has been in a state of flux that cost many lives and crushed the country's economy.

News
>
Music News
June 05, 2008 06:54:45 GMT
The long awaited music video for ' "I Decided" has just got its official world premiere via BET on June 4, 2008 at 8:30 P.M. ET. The clip was directed by Melina, who previously has worked with other famous musicians such as , and .

The new video is very unique as it captured the evolution of the pop culture starting from the '60s to the future. On the clip Solange was seen singing in different types of setting, starting from an American Bandstand, then went on to the Civil Rights Movement, to New Wave era and finally ended on a Cosmic Journey future.

News
>
Movie News
June 05, 2008 06:31:58 GMT

Universal Pictures have given football fans and movie-lovers a chance to catch a sneak peek into the biopic drama "" through the release of the movie's first trailer. Through this video footage, viewers can learn more about the background of the story and the reason why Ernie Davis becomes such a hero.

Highlighting the rise to stardom of Ernie Davis, at the era of civil rights movement, the trailer opens by showing an old tape of a football game accompanied with historical description about the greatest college football's running back of 1956, Jim Brown. As the narrator explained further, it becomes apparent that the opening is made to show the greatness of Davis in the football field. The trailer then continues by showing the racism that is still a part of the daily life in the country as well as the great game the main character is delivering.

News
>
Celebrity Gossip
June 05, 2008 06:30:04 GMT
turned heads not only when she arrived at the annual Glamour Women of the Year Awards on Tuesday, June 3 but also on her departure. The London event witnessed the pop singer coming in bright pink hair and elegant soft pink dress but going out too drunk to even walk on her own. Allen has since addressed the incident and apologized for the behavior.

The "Smile" singer insisted that she felt "awful" about the embarrassing situation and suggested that other kids should not do the same. In her MySpace blog Allen wrote, "Last time I wrote here, I was defending my honor and dignity, explaining my innocence and also outrage at the press for insinuating my behavior (sunbathing topless while on holiday) was embarrassing." She then added, "This time I'm putting my hands up, I got very drunk last night, too drunk. It's not cool getting that drunk, I feel awful..."

News
>
Movie News
June 05, 2008 05:08:02 GMT

Back in early April, the controversial drama thriller "" has undergone schedule changes with the moving back of its release date. Since then, any reports from the movie starring was unheard of. But, recently there is a new report bursting out. It suggested that the flick is going back to resume its production to do several re-shooting of major scenes.

First to come out with the news was Variety editor-in-chief Peter Bart. He wrote in his that Cruise will fly to North Africa to film three vital scenes of the tidbit. The article containing possible spoiler read, "Cruise will be shooting three scenes in North Africa within the next three weeks. In one, his character, Col. Claus Von Stauffenberg, is badly injured but survives, a key moment in the film's first act."

News
>
Music News
June 05, 2008 04:59:56 GMT

Controversial Russian pop duo have just officially premiered their new music video on June 4 via their official YouTube channel. The new clip was made for the singers' second single "220" from their upcoming album "", set to drop later this year.

Unlike the earlier video for their first single "White Robe", which has a serious storyline, the new clip is being kept simple as it only sees the duo singing accompanied by their band in a stage, with Yulia Volkova singing most of the tunes. It is also a very colorful video as it gets brighter and brighter at the end.

News
>
Celebrity Gossip
June 05, 2008 04:35:14 GMT
Daddy factor apparently has something to do with the breakup of and American quarterback . A report on US Weekly insinuated that the singer's father slash manager Joe has been interfering with their love life that ended in their split last month. However, Joe was quick to deny the allegation.

In attempt to push out the truth, Joe told the publication, "It's unfair to criticize me for what every manager does for his or her clients. And in this business, where people can quickly turn on you, who better than a parent to be working for his children?" Joe has been managing Jessica and her younger sister, 's careers for years. He added, "A parent will always be there for his kids and never give up on them. I work hard seven days a week for my girls because I love them. Why in the world would I ever want to do anything that would hurt my children?"

News
>
Movie News
June 05, 2008 04:19:17 GMT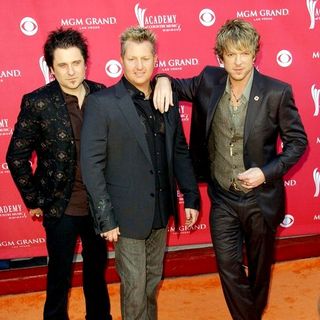 As if the making of "" is not enough to excite many young fans of , the comedy musical film will be having a special appearance from a Grammy Award-winning country group. On Wednesday, June 4, it has been confirmed that "Take Me There" hitmaker are going to take a part in the teenage flick.

On the matter, a spokeswoman for the group's Lyric Street Records announced that the band composed of Gary LeVox, Jay DeMarcus and Joe Don Rooney will appear as well as perform in the Walt Disney Pictures' movie. Additionally, Flatts' Nashville-based record label is a part of the Disney Music Group through which Cyrus and her father also record their albums. Other than those information, further details about the "Bless the Broken Road" singers' appearance aren't put out.

News
>
Music News
June 05, 2008 04:06:49 GMT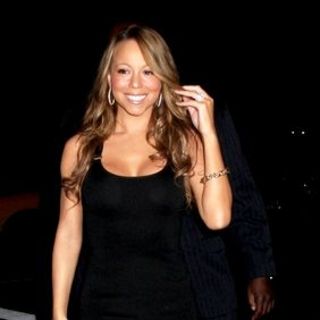 After previously stating that she will pick "Love Story" as her third single, new reports claimed that has now changed it and picked another song instead. According to MariahDaily.com, the pop diva has now chosen "I'll Be Lovin' U Long Time" as the third song from her "".

Mariah announced that decision at a press conference for her new album's promotion at The Peninsula Tokyo, Japan on June 2. Moreover, not only deciding her third single, the pop singer also revealed about the music video for it. In an interview with the Chinese media at the press conference, the singer said that the clip for "I'll Be Lovin' U Long Time" will be shot in Hawaii.

News
>
Celebrity Gossip
June 05, 2008 03:54:44 GMT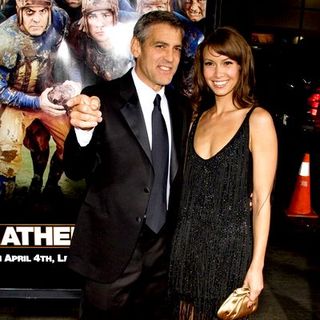 The mystery behind -Sarah Larson split may have just been unearthed. E! News reported that a source told them that Larson is just one of those girlfriends who use his celebrity status to advance her own career. This put off the circulating rumors that Clooney has found someone else for him.

Clooney, who is famous for his no-settle-down status reportedly broke off the romance last month because he was getting worried that Larson was giving too much information of their relationship to the public. "George is very protective of his private life," the source told E! "He started feeling like she had spoken too much about the relationship. She wanted the fame."

News
>
Movie News
June 05, 2008 03:49:47 GMT

It seems that Hollywood still couldn't get enough of Arthur Conan Doyle's iconic detective Sherlock Holmes. Though there are over 200 movies had been made based on this well-known fictional character, another feature film adaptation of Holmes is about to be developed.

To make the newest Holmes movie, Warner Bros. Pictures has attained acclaimed British filmmaker Guy Ritchie to tackle the project. The husband of music legend has been set to direct the flick taking the place of Neil Marshall who was earlier attached to direct. Other than directing the film, Ritchie is also tapped to rewrite and polish the script from Michael Johnson.

News
>
Music News
June 05, 2008 03:26:34 GMT
Preparing the release of her new album "", has now started to shoot the clip for her first single "7 Things". The upcoming music video was directed by renown Hollywood director Brett Ratner and was shot in L.A. starting from May 30.

From the pictures of the video shoot that have been released on June 2, it can be seen that the new clip will set Miley rocking and singing the tunes with her band. Moreover, from one of the photos the teen pop star was also seen smashing a guitar, but not a real one as it turns out to be a Wii Guitar Hero controller. The complete pictures from the set can be viewed on .

News
>
Celebrity Gossip
June 05, 2008 03:25:25 GMT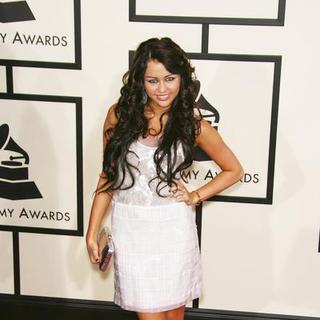 Having her supposed-private photos leaked to the net has been like a weekly routine for lately. After several scandalous pictures of her sexy poses, a couple more emerge this week, showing her kissing a boy on the cheek and hugging him.

The 15-year-old star apparently took her own pictures with the boy whom she posed with intimately. Gossip blog PerezHilton managed to acquire a photo where Miley is seen and later on another one which is less intimate. The features her hugging with him to pose for the camera.

News
>
Movie News
June 05, 2008 03:00:04 GMT
Though the fate of actors strike is still marked with a big question mark, the possibility of its occurrence is enough to scare off many Hollywood filmmakers in gearing up the production of their movies in this waiting period. To avoid any problem resulting from the strike, most filmmakers decided to push back their films' production date until after the June 30 expiration date of the SAG contract and that is exactly what happens with "".

Recently, news coming from the drama movie starring Hollywood beauty suggested that the production of the tidbit has come to a hold. On Saturday, May 31, the production company behind the flick has confirmed the postponing of the filming that was scheduled to be taken in Ireland sometime in June amid fears of the impending strike, especially with Johansson being one of the SAG members. On the delaying, Element Pictures' spokesperson explained, "With strike action involving the Screen Actors Guild looming we are waiting to see what happens. We are hoping that things get resolved in the next few weeks."

News
>
Celebrity Gossip
June 05, 2008 02:44:23 GMT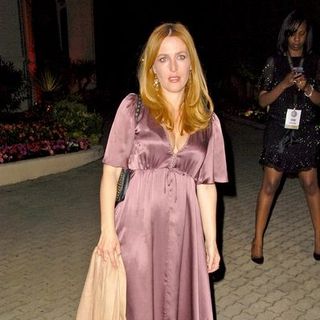 had it all planned in time. The actress who rose to prominence with her acting skill as agent Scully in "The X-Files" series is now pregnant with her third child, just months away after wrapping up the big screen version of the TV series.

A representative for Anderson confirmed the good news to E! although missed out on detailing the due date. This would be the second pregnancy for Anderson with businessman boyfriend Mark Griffiths. The couple have had one son named Oscar who was born on November 1, 2006. In addition, Anderson has a 13-year-old daughter named Piper from her first marriage to Clyde Klotz, "The X-File"s series assistant art director.