News
>
Music News
February 14, 2007 09:18:06 GMT
The Grammys brought good luck for Houston native Robyn Troup as she was chosen the winner of the "My Grammy Moment" contest, thus made it possible for her to take the stage alongside pop star .

, one of the "", crowned Robyn the winner, with the most votes from online and text-message voting, during the live broadcast Sunday night Feb 11th. Then rushed onstage to perform with Timberlake, the duo covered the ' hit "Ain't No Sunshine" and Timberlake's hit "My Love."

News
>
Movie News
February 14, 2007 08:56:22 GMT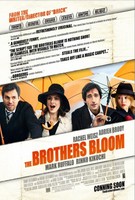 Completing the main cast in "", has reached agreement to take starring part in the flick as the older brother in a veteran conman team who becomes the center of the film's story.

Playing the younger one is while and will portray a mysterious millionaire and the brothers' secretive accomplice, respectively. Production starts on March 19 this year around twelve countries in Asia and Europe with Rian Johnson directing as well as penning the script.

News
>
Celebrity Gossip
February 14, 2007 08:30:47 GMT
This just in. was spotted kissing Burberry model, Isaac Ferry.

Sienna was spotted with Isaac, the son of music legend , at a post-BAFTA's party at Boujis in London. "Sienna was really hot for new man. They were holding hands and he was whispering in her ear. There was a lot of chemistry between them," a source told the Mirror.

News
>
Movie News
February 14, 2007 08:08:18 GMT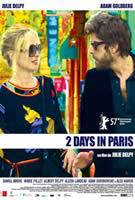 Encountering the same experience as "" did, rom-com flick "" has also been picked up to be distributed in North America region. The Hollywood Reporter revealed that Samuel Goldwyn Films and Netflix's Red Envelope Entertainment have satisfyingly obtained the rights to bring it to theaters this summer.

Set over a 48-hour period in Paris, the movie concerns a neurotic couple whose two-year relationship is put in test when the girl takes along her boyfriend to her home in Paris, France where he has unexpected encounters with her ex-boyfriends and unfriendly parents.

News
>
Celebrity Gossip
February 14, 2007 07:55:50 GMT
One of the "" hit hard this time, very hard indeed. has been billed as the 2007 cover girl for the Sports Illustrated Swimsuit Edition.

The Swimsuit Edition shows Beyonce posed on a Florida beach in a yellow-and-pink bikini by House of Dereon and carrying in it the actress-singer's photos.

News
>
Movie News
February 14, 2007 07:27:05 GMT
The two striking hunks from "" are back, only they are brothers now.

Yes, and are both positive to highlight a biopic titled "" as boxer "Irish" Mickey Ward and his trainer brother Dick Eklund, respectively.

News
>
Music News
February 14, 2007 07:20:47 GMT
As of this year, the Bonnaroo Music Festival is scheduled to take place June 14-17 on a 700-acre farm in rural Manchester, Tenn., 60 miles south of Nashville. And among the 75 acts slated to perform at the music festival, there are the likes of , , and .

The complete lineup, to be announced Wednesday Feb 14th, includes planned performances by Widespread Panic, , , and . Also slated to perform among others are , The Hold Steady, and many more.

News
>
Celebrity Gossip
February 14, 2007 06:48:54 GMT
The Queen is keen to adopt. is the latest celebrity who is planning to adopt.

In an interview with Monday Feb 12th, the actress-singer said she would love to have about 18 babies. Biological or adopt? Being asked so, the star told DeGeneres "I want to have and adopt. I always have, ever since I was 18 I wanted a baby and I wanted to have and adopt because there are a lot of kids."

News
>
Movie News
February 14, 2007 06:35:53 GMT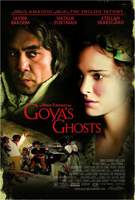 Soon "" will haunt every theater in North America. The Milos Forman-directed drama has already been poised to come out this summer under Samuel Goldwyn Films banner following the company's acquisition to the film's distribution rights.

"'Ghosts' is a love story and a violent political story and a wonderful woman's story about a fascinating period in history and the effect of the Inquisition's lives as seen through the eyes of Goya," Samuel Goldwyn Jr., CEO of Samuel Goldwyn Films, remarked. "I wish every film we had was as good as this."

News
>
Celebrity Gossip
February 14, 2007 06:16:27 GMT
Many thanks to the success of "" that , who previously known as one of the finalists on the third season of the FOX talent-search television series American Idol, could earn more success. Not only the success of the hit movie brings her an Academy Award nomination, but also it earns her prestigious offers, naming one is appearing on the cover of fashion magazine Vogue.

Hudson will appear on the cover of the magazine's annual Power Issue next month, thus becoming the first African-American singer and the third black woman to appear on the cover of the publication, following in the footsteps of and .

News
>
Celebrity Gossip
February 14, 2007 05:55:01 GMT
Already reaps success in music industry, is now eyeing acting career, claiming she's looking for another challenge.

The pop singer revealed backstage at the Grammy Awards Sunday Feb 11th, informed Reuters, she will be looking into moving into film and television. Moreover, she will be reading scripts while she is on the road promoting her latest album "."

News
>
Movie News
February 14, 2007 04:55:29 GMT
Ending the mystery on the release of the last film of , "Illegal Aliens", Edgewood Productions and MTI Home Video finally have picked up May as the right time to launch the movie on DVD, a representative for MTI announced yesterday, February 13.

According to the spokesman, both companies actually had settled on the date before Smith's untimely passing last week with MTI having submitted the film to retailers for sale this coming spring about a week and a half before the actress' death. Smith was even said to have plan to take part in a publicity campaign for the flick.

News
>
Celebrity Gossip
February 14, 2007 04:51:55 GMT
Bad news. The Hollywood Hills home of country music stars and was robbed over the weekend.

According to Los Angeles police the home was broken in between Friday afternoon Feb 9th and Monday Feb 12th when no one was home. A person arriving at the house Monday morning discovered the crime and called police, said police Sgt. Lee Sands.

News
>
Celebrity Gossip
February 14, 2007 04:24:26 GMT
The Hiltons are no stranger to controversy. This time on, trouble comes to . The hotel heiress is being sued by a Chicago development group for breach of contract over a hotel renovation project in her name.

In the lawsuit, filed Monday Feb 12th, Robert Falor Investments and Grand USA Hotel Supply & Restaurant alleged that Nicky hasn't kept up her end of an April 2006 agreement in which she promised to promote the redevelopment project known as Nicky O's Chicago, a Nicky Hilton Hotel.

News
>
Movie News
February 14, 2007 04:21:11 GMT
Partnering with Netflix, Inc.'s division Red Envelope Entertainment, has eagerly signed himself to executive produce a documentary exploring and celebrating the life and career of the legendary recording artist and concert performer, , Netflix itself has officially announced.

"The coming together of Tony Bennett and Clint Eastwood -- two enduring and iconic figures in the world of American entertainment -- is a cultural flashpoint," Netflix chief content officer Ted Sarandos commented. "Netflix spearheading this prestigious project showcases our abilities to bring unique content to our subscribers and, in this case, a global audience."