News
>
Celebrity Gossip
March 05, 2007 03:22:57 GMT
broke his nose. That was an unfortunate. The actor broke his nose while performing with his band, , as part of the "Taste of Chaos" tour, which also features bands including and .

Leto was performing in El Paso, Texas Thursday March 1st when he ran into the crowd and was rushed by fans. To make matters worse he also hurt his foot and suffered minor injuries to his face and body.

News
>
Movie News
March 05, 2007 03:05:02 GMT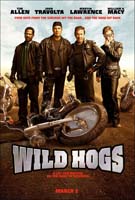 A piece of film containing great mix of star power and fine concept sure is one thing hard to be missed by moviegoers and that's what "" is experiencing now.

Featuring stellar cast of , , and as middle-aged buddies who head out on the highway looking for adventure, the road movie wonderfully results beyond expectation, selling $39.6 million worth of tickets in its debut to soar as the champ on weekend domestic box office ended March 4, 2007.

News
>
Music News
March 05, 2007 02:53:26 GMT
Within 2 years span after album "" release on June 6, 2005, is finally ready to release its fourth studio album which has not been named, yet been predicted to be out anytime in late 2007.

During his busy schedule of Latin American tour, frontman addresses on behalf of the band that this album has a different color compared to the band's previous albums. "I think for a long time people felt like we were a band in black-and-white, and now we feel like because we have this incredible job, now we can do whatever we like and try all kinds of new things," Martin said.

News
>
Celebrity Gossip
March 05, 2007 02:26:23 GMT
The rumors sparked are true. and her Indian businessman fiance Arun Nayar exchanged vows Friday March 2nd at Sudeley Castle in Winchcombe, 125 miles west of London, just one day earlier to the planned Saturday wedding. It is confirmed already by Gloucestershire County Council that the couple was secretly married with just a few family members and close friends for witnesses.

Hurley and Nayar then held a blessing and party at the castle the next evening with guests including , , , Patsy Kensit, Donatella Versace, and Hurley's ex, . The pair then will continue their celebrations in India later this week with a traditional Hindu ceremony followed by a 10-day honeymoon in the Seychelles.

News
>
Celebrity Gossip
March 05, 2007 02:04:02 GMT
The tiny actress was briefly hospitalized for dehydration. who's been dealing with weight issue has been hospitalized Friday March 2nd, treated for dehydration while working on the hit reality series "The Simple Life".

The socialite reportedly felt ill and was then examined by an on-set doctor before then was taken to a nearby hospital. It is said that she was given intravenous fluids for 15 minutes and then released.

News
>
Celebrity Gossip
March 03, 2007 08:05:06 GMT
No, she won't retire. She just wants to have time for herself. is taking break from acting to study art.

The 25-year-old actress, who has been working constantly since childhood, is willing to take a majority of this year off for herself before returning to acting later this summer, playing the role of murdered aid worker Marla Ruzicka in an as yet unnamed movie.

News
>
Music News
March 03, 2007 08:02:51 GMT
Following the increasing list of people inducting for the Performers category in the 2007 Rock and Roll Hall of Fame, , 's , 's Zack de la Rocha and ' are among some of the names jotted in.

The induction ceremony will go as Jay-Z inducts Grandmaster Flash & the Furious Five, Vedder inducts , Rocha inducts and then Richards for The Ronettes. Still, the ceremony is added with 's performance, which is included due to 's withdrawal from the guests list.

News
>
Celebrity Gossip
March 03, 2007 07:49:24 GMT
and Jason Lewis have provoked dating rumors after they were spotted on a date at the Chateau Marmont hotel in Los Angeles.

"They just began hanging out," so said a source to American publication US Weekly. No official statement released by either party.

News
>
Celebrity Gossip
March 03, 2007 07:01:36 GMT
While talk is heating up on their big day which was planned for Saturday March 3rd, the rumor making the rounds that and fiance, the Indian businessman Arun Nayar, have secretly tied the knot Friday, March 2nd.

Rumor has it that Hurley and Nayar wed in a civil service at Sudeley Castle, in Gloucestershire, western England, on Friday with just two witnesses in the room. And as of the Saturday's star-studded event, it will just be a blessing. Report on the secret wedding was made public by the Daily Mirror.

News
>
Movie News
March 03, 2007 06:43:32 GMT
Nowadays it's rare to see real Hollywood couple play husband and wife onscreen, but there is a possibility that it may happen in "" apparently.

, who has been billed to play J.R. Ewing in the project, reportedly has asked his wife to star as his character's long-suffering wife Sue Ellen, a role ditched by Jennifer Lopez last year.

News
>
Music News
March 03, 2007 05:45:45 GMT
Hosted by and attended by A-list celebrities, the 38th Annual NAACP Image Awards has announced its winners for the music category.

First of all, takes the nomination of Outstanding Male Artist with initial competitors of , , and . The vocal wonder on the other hand, takes on the female position. With that she beats her fellow warriors , , American idol winner and also . Besides the award, Mary also brings home Best Music Video for "Be Without You".

News
>
Celebrity Gossip
March 03, 2007 05:12:42 GMT
Winners of the 38th annual NAACP Image Awards have been unveiled Friday March 2nd in an awards show hosted by rapper . There are five award categories and here we bring you list of winners of the Television and Special awards.

A Grammy and Tony Award nominated American R&B/Pop/theatrical singer and actress, has been bestowed the award for Outstanding Supporting Actress in A Comedy for "Ugly Betty," which during the event won the Outstanding Television Comedy Series award. Winning the Outstanding Supporting Actor in A Comedy Series award, in the meantime, is Reggie Hayes for his role of attorney William Dent on the CW sitcom, "Girlfriends."

News
>
Music News
March 03, 2007 04:29:26 GMT
With the constantly changing front man and no near future recording plan for rock band , the band has confirmed its cancellation to participate in Rock and Roll Hall of Fame supposedly mapped on May 12, 2007 in Waldorf-Astoria Hotel.

The empty slot will be filled in by with lead vocalist Scott Weiland and guitarist speaking on behalf of the band. Releasing the upcoming album "" later this year, the band is very much the more available and prepared candidate for the festival.

News
>
Movie News
March 03, 2007 04:09:41 GMT
The awards season in film industry does still continues even though it has reached its peak on the Oscar ceremony last month as the American National Association for the Advancement of Colored People took its turn to unveil the recipients of its Image Awards on Friday, March 2 2007 at Los Angeles' Shrine Auditorium.

Recognizing best achievements in filmmaking, the organization eventually handed out the top honor of best picture to "" while naming of "" and of "" the best actor and actress, respectively.

News
>
Celebrity Gossip
March 03, 2007 03:59:36 GMT
You should not miss it, the new clothing line from our beloved actress . The star has teamed up with athletic footwear giant Reebok to create a sporty clothing line, called "Scarlett Hearts Rbk."

The collection, features baseball tees, leggings, hooded tunics, jackets and sneakers among others, will be available in department stores and boutiques around the world by March 1st. You can shop "Scarlett Hearts Rbk" at .