News
>
Music News
March 28, 2007 03:03:08 GMT
British authority has reached its final decision regarding 's entry permit, it's an absolute no. In that case, Snoop has no choice but to cancel his presence in the 5 British gigs.

Despite the amiable and ample approach from Snoop, UK Home Office gave an equal persistence that Snoop is not eligible to enter the country because of the Heathrow incident. It is reported that Snoop had tried his best and even desperately gave 'backstage attempts' which eventually also went unsuccessful.

News
>
Celebrity Gossip
March 28, 2007 03:01:20 GMT
Moving to LA enables to get even closer to best friend . Found out that they have something in common with motherhood and fashion style, the twosome reportedly comes to an idea of launching a children's clothing line.

"They are both really excited about this new project. Katie recently sketched out some designs for a party dress for Suri's first birthday and Victoria saw there was the potential there for the two of them to come up with some great designs. As they are both mothers who love fashion, it couldn't have been more ideal for them," a source told Britain's Daily Express newspaper.

News
>
Movie News
March 28, 2007 02:46:21 GMT
Apparently talks about "Bond 22" never run out of words following the speculations on being considered as a new Bond girl. British newspaper The Guardian has brought in tidbits that the project may head back to Prague as representatives of the country's Barrandov Studios, where part of "" was shot, has reportedly been in talks with Sony Pictures and MGM to get it filmed at its pit.

In attaining the goal, however, the company has first to face tough competition from UK's Pinewood Studios which appears to be very determined in winning the series back after last year's fire incident. According to Guardian, "Pinewood's famed 007 stage has been rebuilt after it was destroyed by fire last July and now offers even more extensive facilities than before."

News
>
Celebrity Gossip
March 28, 2007 02:37:54 GMT
A Grammy winning R&B/soul singer, was honored Monday March 26th at the 18th annual Gay and Lesbian Alliance Against Defamation (GLAAD) media awards ceremony with a Special Achievement award for championing gay and lesbian rights, and participating in the fight against AIDS.

Oscar-winning "Dreamgirl" was the one presented the award for LaBelle. Designer Tom Ford during the same event, held in Time Square's Marriott Marquis hotel, also was presented with the Vito Russo Award for his humanitarian contributions and work with AIDS-related charities.

News
>
Movie News
March 28, 2007 02:37:11 GMT
Striving to bounce back after getting stumbled on the disappointing result of "", Darren Aronofsky is in negotiations to helm boxing drama "" which is currently being set up at Paramount Pictures, Variety has learned.

Based on the life account of Boston boxer "Irish" Micky Ward, the picture takes focus on his rise to the Light Welterweight world championship with the help of his trainer who is also his down-and-out half-brother Dickie Eklund. "" stars and have both been poised to topline the flick as Ward and Eklund, respectively.

News
>
Celebrity Gossip
March 27, 2007 09:45:39 GMT
Despite all the persistent rumors claiming she's romancing , claims she's single.

Set the record straight on the speculation, the actress says, "I think I'm too busy for men. I'm a single girl right now."

News
>
Movie News
March 27, 2007 09:31:26 GMT
Slated to provoke good laughs from moviegoers, and have both agreed to team up in highlighting a romantic comedy feature entitled "Ghost Town (2009)", The Hollywood Reporter has revealed.

A DreamWorks Pictures production, the picture concerns a dentist who dies briefly during routine dental surgery and gains the ability to see dead people who ask him for help in contacting the living.

News
>
Music News
March 27, 2007 09:29:14 GMT
After announcing the release date of "", finally brings it together with tour dates.

The trek will begin June 13 at HiFi Buys Amphitheatre, Atlanta, stop at other venues such as Tampa, San Diego and Seattle before wrapping up on September 21 at ScotiaBank Place, Ottawa. Then the tour will continue with European dates that start in Glagow, Scotland on October 3 until Oct 29 in Helsinki, Findland.

News
>
Celebrity Gossip
March 27, 2007 09:24:01 GMT
showed the good part of her celebrity status, making donation to a Mexican orphanage she supports.

The singer-actress donated a brand new minivan to the Casa Hogar Elim orphanage in Nuevo Laredo, Mexico Sunday March 25th.

News
>
Music News
March 27, 2007 09:02:25 GMT
is not only invited to the private awards dinner of Broadcast Music Incorporated, but will also be honored with Icon Award. The lifetime achievement award will be handed to the surviving members, Barry and Robin Gibb on May 15.

Held at Regent Beverly Wilshire Hotel, it is not certain whether the brothers will perform as a duo. After all, the only sang twice since the death of Maurice. If they are not to play, then other artists will take the place by singing their hits.

News
>
Celebrity Gossip
March 27, 2007 09:01:02 GMT
has to, unfortunately, put her television career on hold due to her pregnancy.

Carrying her and boyfriend, Gavin Henson's child, the professional singer turned TV presenter was forced to postpone the filming of the third series of her Friday night program "The Charlotte Church Show" until an unspecified date.

News
>
Music News
March 27, 2007 08:34:27 GMT
Family Values Tour is back this year. 's Jonathan Davis had announced through VirtualMTV.com that is made the headliner.

Supporting this event are metalcore band , alternative rock band , trash metal band and the newly formed rock band . "It's gonna rock," he typed on the computer. One of Korn's members, David Silveria meanwhile, will not be present because he is in hiatus.

News
>
Celebrity Gossip
March 27, 2007 08:31:49 GMT
is dating Anderson. Note that it's not , but another Andersen who happens to be May Andersen, a Sports Illustrated and Victoria's Secret model.

Rock, who has his divorce to Pammy finalized Feb 1st, has been seen strolling the streets of NYC on Saturday March 24th with the new lady. The new couple, moreover, also attended 's birthday concert in NYC the next day, looking happy and comfortable around one another.

News
>
Movie News
March 27, 2007 08:29:48 GMT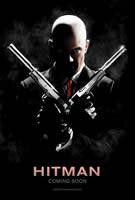 Begin to line up names following the inclusions of and Dougray Scott, the filmmakers of "" have successfully enticed the likes of , , Ulrich Thomsen, and Michael Offei to gather together in the film's cast, Variety has learned.

Adapted from the Eidos popular video game, the thriller finds Olyphant assuming the role of Agent 47 who is hired by a group dubbed "The Agency" to kill targets for cash. Things, however, go awry for him as he later ends up being chased by Interpol and the Russian military as well as Scott's character.

News
>
Celebrity Gossip
March 27, 2007 08:03:51 GMT
Her star would shine even brighter throughout the year judging from the early good start she had at the beginning of the year. has been selected to receive the 2,333rd star on the Hollywood Walk Of Fame.

The actress, who has just made public her vow to never get married again, is slated to receive the honor Tuesday April 3rd.