News
>
Music News
August 24, 2012 07:43:35 GMT

Kat DeLuna takes inspiration from Adam and Eve story in a music video premiering on 's official blog to support her latest dance track "Wanna See U Dance". The "Whine Up" hitmaker is wandering in the forest and frolicking with a shirtless hunk in the rain.

The single will appear in her next studio album "Viva Out Loud" which is due later this year. "It has new sounds. I have ballads, but infused with crazy dub step. And then again, I'm giving you guys the hard core pop, Latin, dance infused dance songs, but with something new," she said.

News
>
TV News
August 24, 2012 07:22:38 GMT

The first official cast promo photo of "" season 4 has been unveiled, thanks to Ryan Murphy who posted it on his Twitter. The original members of the New Directions as well as the new faces are all featured in it along with Sue and Will. Behind Kurt, there's a sign that mentions where the characters are heading: New York, Los Angeles, Lima and St. Louis.

, however, is nowhere to be seen in the image, sparking a speculation that she won't return to the upcoming installment. The show creator Murphy quickly brushed off the rumor by tweeting, "Gleeks, please relax. Dianna is still on the show. We love her and have great plans for Quinn. #QuinnFabrayLives."

News
>
Celebrity Gossip
August 24, 2012 06:53:36 GMT

and enjoyed a double date on Wednesday night, August 22. The couple, who never officially confirms their relationship despite numerous date sightings, attended the Los Angeles Dodgers game with her parents.

The four of them watched the Dodgers took on the San Fransisco Giants from their exclusive seats at Lexus Dugout Club. Mila, 29, donned a Dodger attire, while Ashton, 34, wore a white-and-blue checkered shirt and baseball cap.

News
>
Music News
August 24, 2012 06:34:17 GMT

refuses to answer 's latest diss with another harsh comment. Instead, the Material Girl opted to dedicate one of her songs to the "Rocket Man" hitmaker during a concert in Nice, France on Tuesday night, August 21, saying she forgave him for insulting her.

"I'd like to dedicate this next song to a Mr. Elton John. I know he's a big fan of it," Madge, who was clad in an all-black ensemble, stated before launching into a performance of "Masterpiece". She added, "And I know he's a big fan of mine. And you know what? I forgive him. Gotta start somewhere."

News
>
Movie News
August 24, 2012 06:30:55 GMT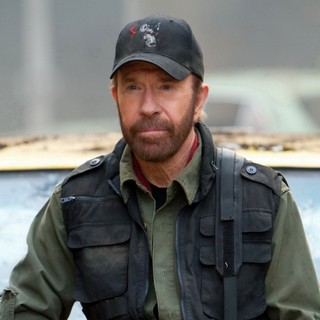 ©
It's official, will not join his fellow action veterans in "". The actor playing Booker in "" revealed his departure when interviewed by Access Hollywood during a recent premiere event for the star-studded actioner.

When asked if he would return to the follow-up film, Chuck, who was accompanied by his wife Gena O'Kelley and children, responded, "Nope. Just number 2." He stated, "This is it for me. Oh, yeah. This is very special."

News
>
Celebrity Gossip
August 24, 2012 06:13:00 GMT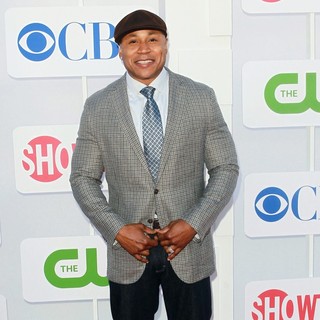 's home in Sherman Oaks, California was charged on Thursday, August 23. Jonathan Kirby, 56, was slapped with first-degree burglary with a person present. If convicted, he could face up to 38 years to life in jail.

Prosecutors are asking bail for Kirby be set at $1.1 million. The homeless man currently stays in hospital to nurse a broken nose, jaw and ribs after taken down by Cool J and held until the LAPD arrived at the scene. No arraignment date has been set.

News
>
TV News
August 24, 2012 05:43:55 GMT

If there is anyone who can help Bill regain his sanity, it will be Sookie, so Eric says in a new clip for the season 5 finale of "". In the snippet, Eric, Nora and Tara visit Sookie's house to ask her to help save Pam and Jessica who are held captive in the Authority headquarters.

Tara constantly reminds Sookie that she owes Pam, but Jason who now seems to hate all vampires won't let his sister go with Eric, leading to him trading insults with Eric. Sookie then brings up the factory bombing incident, and learns the hard truth that Bill was behind the bombing.

News
>
Music News
August 24, 2012 04:57:14 GMT

The front page of 's new CD "" has been revealed. The artwork sees her putting her hands on her hips while looking straight to the camera. "Just chose the album art for my new album #girlonfire!!! Coming at you 11/27!!! R u excited?! I AM!!! ;-)," she tweets.

At the same time, Alicia announces that the new album is going to be released across the United States on November 27. It will be preceded by the live debut of her first single, the title track, at the 2012 MTV Video Music Awards on September 6.

News
>
Movie News
August 24, 2012 04:41:38 GMT

Stephen Gaghan is courting high-demand actors to star in next film "". The Hollywood Reporter shares the words that the filmmaker has set his eyes on and to headline the upcoming crime thriller flick.

It is said that Pitt and Washington are already in early talks to join the project, which is set up at Lionsgate Films. Multiple insiders stress that both actors are still far from sealing the deal since the discussions are in the nascent stage.

News
>
Celebrity Gossip
August 24, 2012 04:31:44 GMT

Mark David Chapman, the man who shot 32 years ago, was denied parole on Thursday, August 23, New York State's Department of Corrections said. It marked the seventh time he asked to be released on parole and was turned down each time. He first presented his request in 2000 and has since repeated it every two years.

The parole board explained, "The panel notes your prison record of good conduct, program achievements, educational accomplishments, positive presentation remorse, risk and needs assessment, letters of support, significant opposition to your release and all other statutory factors were considered. However, parole shall not be granted for good conduct and program completions alone."

News
>
TV News
August 24, 2012 04:14:54 GMT

While "" is nearing its conclusion, its spin-off "The Farm" continues filling out the cast line-up. Thomas Middleditch, who has a role on and -starring comedy "", is tapped to portray Dwight Schrute's brother, Jeb.

Jeb is described as an easygoing 30-something man who is the polar opposite of Dwight in terms of hierarchy, work ethic and sense of principle. He failed at some business ventures, including worm farmer, Bigfoot hunter and Army farmer, but finds some success with a pot farm. He has also made an exercise video about things you can do with a knife and a canoe.

News
>
Movie News
August 24, 2012 03:52:54 GMT

starrer "" has lost its director for the third time. Vulture reported that "" helmer David Fincher has exited the long-gestating project, but the reason behind his departure remained unclear.

Fincher was the third filmmaker who decided to pass on the potential tentpole, which has been in development since 2010. Back in October that year, "" helmer James Cameron was attached to the gig, but he later let it go due to his commitment to the "" film franchise for 20th Century Fox.

News
>
Celebrity Gossip
August 24, 2012 03:52:13 GMT

It seems that some people fail to see the funny side of 's joke about "leaning toward gay." The Sophie-Anne Leclerq of "" is forced to explain her remarks after being slammed by those critical persons.

She deletes her joke and then clarifies it in a series of posts, "Ok. To be clear. I believe you should be able to joke and have a sense of humor about everything. And i hate explaining, but just to be clear, i dont judge people on how they look. Nor do i associate a hair style with sexuality."

News
>
Celebrity Gossip
August 24, 2012 03:20:34 GMT

and 's budding romance is short-lived. A source tells PEOPLE that the couple, who was first romantically linked in November 2010 and then reconnected earlier this summer, is no longer dating.

"They'll end up as friends," the source claims. "They were honestly having fun. People made it out to be far more than it was."

News
>
Movie News
August 24, 2012 03:16:30 GMT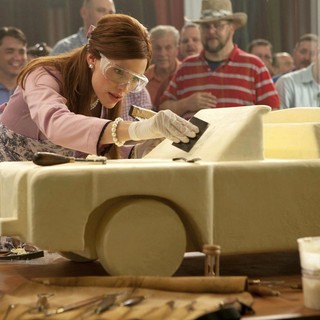 ©
is a butter-carving expert in the first trailer "". Offering a mix of political satire and witty humors, the sneak peek to the Jim Field Smith-directed comedy also highlights Garner's rivalry with .

Wilde plays a sultry young lady who has an affair with Garner's on-screen husband, . Things get even worse as Wilde decides to back Garner's adoptive daughter during a local annual competition.