August 30, 2008 07:34:48 GMT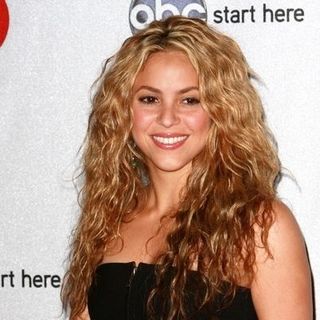 Ambassador for Latin pop music, , has reportedly revealed that she is now in the recording room to get her new song done. An Arabic-American singer named Dania Youssef is chosen to be her partner in the not-yet-titled song.

The song, that is still in the work, is written in half English and half Arabic lyrics, which will see Arab world from a positive point of view. Furthermore, an Egyptian composer Mohamed Saad is reportedly writing the Arabic portion of the song, as well as the music.

August 30, 2008 07:01:13 GMT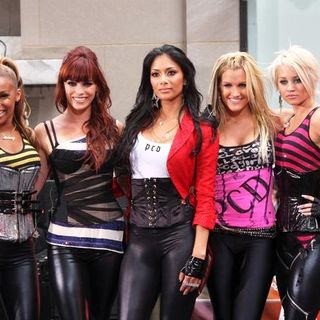 Hot female group have just released a second single from their upcoming second album through their official website. The song is called "Whatcha Think About That" and confirmed to appear on their upcoming sophomore album "".

The tune, which carries 's vocals, talks about getting rid of a boyfriend, who is not good enough to be with. Some of Missy's verses say, "Up in that club it's just me and my girls, play like kissing on girls."

August 30, 2008 06:47:45 GMT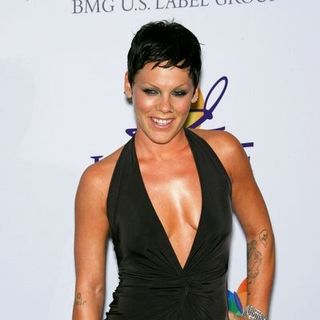 is on full throttle to promote her upcoming effort which will be titled "". Beside being scheduled to sing "So What" at 2008 MTV Video Music Awards in Los Angeles on September 7, she will also play the same song in Australia. The singer has been lined-up as one of the performers at this year's ARIA Music Awards.

The Australian annual awards show will be held on October 19 at Sydney's Olympic Park and the nominees will be announced on September 10, the same day tickets for general public will go on sale. The performance is only one part of her promotional appearances in Australia. She will return to the country in April 2009 for a supporting tour.

August 30, 2008 06:33:05 GMT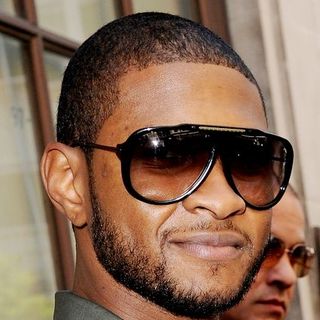 R'n'B superstar is lending his voice in the kickoff celebration for the new NFL season. The 29-year-old performer has been set to perform at a concert held at Columbus Circle in New York on Thursday, September 4 alongside other big name musicians, including and .

Confirming his appearance in the special event, Usher confessed that his participation is his way to be the halftime entertainment at the 2009 Super Bowl. "I'm hoping that this leads, definitely, to that," he said. "This whole process is basically you scratch my back, I'll scratch yours." In the concert, he will be accompanied by ' and performing three songs, "Here I Stand", "Changing Places" and "What's Your Name".

August 30, 2008 06:25:23 GMT
has exclusively revealed the artwork for her upcoming sophomore effort "", which will hit the stores on November 11 via Big Machine Records. Eleven tracks in the album are all either written or co-written by Taylor herself. She even goes into the production table with Nathan Chapman for her first single "Love Story", which will reportedly arrive on radios in early September.

As part of the promotion project, Taylor provides fans with three pre-order options on her . At the top level, the CD will come out in a limited edition collector box which includes a leather bracelet, T-shirt, photo book, "Taylor Nation" sticker, and locker poster. Besides that, one lucky fan who purchases the $75 package, will also have a chance to win an "Ultimate Taylor Swift Fan Experience", that includes an autographed guitar and two airplane tickets for her meet-and-greet show.

August 30, 2008 04:51:45 GMT

have gone into a mediation room with recording company Universal Music. The band's single called "Dirty Little Things" is claimed to be copied from the melody and guitar riff of "Cyber Babe", a song belongs to one of the company's artists, named Tony Newton.

Tony says during a recent interview, "A couple of years back a mate of mine in LA called me to say he'd heard what he thought was my song on the radio, and that he had been a bit shocked when he realized it was Velvet Revolver. When I checked it out myself, ... it was basically the same riff." Tony has then called his label to seek information and then decided to leave the matter to the recording company. "I called my publishers to check whether they knew anything - which of course they didn't - and then basically left it with them," Tony explains.

August 30, 2008 03:36:50 GMT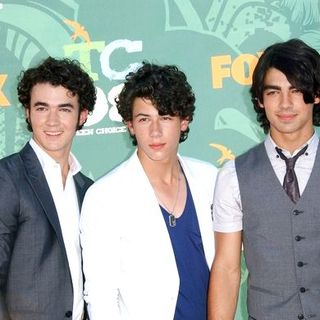 Teen band sensation have just released "Band in a Bus", the first episode of a video blog series. The video allows their fans to have a closer look at the making of the brand new Jonas album "", which has been available for purchase since August 12.

The band have been followed by cameras inside and outside the bus, and accompanied by a bunch of crew, including their music producer, John Fields and music director John Taylor. On a statement, Kevin Jonas says that the idea to record their new songs on a bus is brilliant considering their busy schedule. "Recording our new album on a bus is totally a great idea," Kevin says to the camera.

August 30, 2008 03:16:24 GMT

's thirteenth studio album will be named "" and will be released on October 14 in U.S. No explanation given for the title's meaning, but the Geffen album has been circling on the number thirteen, releasing its singles in the past four months on every date 13.

Prior to the album's street date, an EP containing remixes of all the four spawned singles from the set will be put in the market first on September 13. The EP, which is called "Hypnagogic States" features the remixes by of , Jade Pudget of , 's Gerard Way and 's and . Artist royalties from the EP sale will go to The International Red Cross.

August 30, 2008 02:34:07 GMT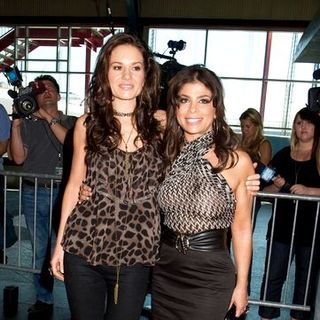 This week's addition of Kara DioGuardi in the judging panel of talent TV show "American Idol" have left some speculations, one of which says that the show will change their judge line-up. A source even claims that the show's producer is hiring a new younger female judge to ditch .

Paula has recently showed her concern over the new judge and says that she is worried about the audience's acceptance. According to Us Magazine, Abdul has told Phoenix's KISS-FM, "I am concerned about the audience and acceptance. Time will tell. We'll see."

August 29, 2008 09:56:53 GMT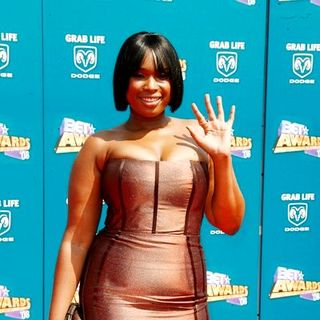 has done Barack Obama a favor by appearing at the Day Four of the Democratic National Convention at Mile High School's Invesco Field in Denver, Colorado. The Oscar-winning actress and singer sang the American national anthem on Thursday, August 28 in honor of the presidential candidate.

Wearing purple dress and standing in front of the American and democratic flags, Hudson delivered her version of "The Star-Spangles Banner". She was reportedly personally requested by Obama for the performance and through her publicist, Hudson said that she was "thrilled and excited. It's a tremendous honor."

August 29, 2008 09:35:21 GMT

is giving back to the community by scheduling another concert in Persian Gulf to entertain the U.S. troops who are serving their nation. The country crooner had visited the U.S. army base camp in 2002 and received a USO Merit Award last year but is looking forward to return for a tour and performance.

"I'm really humbled by the opportunity to spend more time with our nation's finest," Adkins said. "This is such an honor for me to be able to visit with our military and tell them how much we truly appreciate all the sacrifices they make for our country and our freedom." No specific time frame has been mentioned but it is known that the trip will be sponsored by USO and Armed Forces Entertainment.

August 29, 2008 09:19:31 GMT

A 27-year-old man from California has been arrested by police officers for copyright infringement over ' songs. The blogger, later identified as Kevin Cogill, has allegedly posted six unfinished songs from the band's long-awaited album "", which has been in the works for more than a decade.

A few hours after the uploading, he removed the songs when the Los Angeles-based rock band's lawyers complained. However, he has never publicly disclosed the source of his scoop. The next day, an RIAA investigator wrote to FBI, stating that Kevin has been questioned and confessed that he has leaked the songs. "Cogill provided a typed, signed confession which stated that he had posted the unreleased Guns N' Roses songs to the internet on his web site," the agent wrote.

August 29, 2008 07:36:52 GMT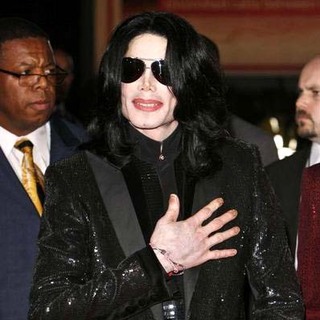 A promo CD for 's not-yet-titled record has gone on eBay website for an exclusive purchase. An executive from Sony BMG says that the promo CD is a mega-rare edition. "This promo CD is one of the rarest Michael Jackson items in existence, only 10 are said to exist and this is the first time one has been on eBay," the Sony boss states.

The CD contains an early demo of an unreleased Michael's song, "Men In Black", which was planned to be listed on his 1991 eight studio album "" but later had to be shelved and was never leaked ever since. "The most interesting track on the CD is 'Men In Black' (not related to the films staring ), as it was intended to be a single release from Dangerous, but 'Men In Black' was shelved and since has not been released or leaked," the executive staff of Sony says. Furthermore, the CD has also carried alternative versions of "Black or White" and "Too Much Monkey Business".

August 29, 2008 06:49:21 GMT
Multi-Platinum rock band have unveiled a music video for their second single "Don't Go Away," from their forthcoming Eleven Seven Music/Atlantic Records' album "". Their fourth major studio effort will hit the stores on September 16 and compete with Taproot's "Our Long Road Home".

The music video features actress Arielle Kebbel, who will star as Alex in a big screen movie "", which will come out next year. A full look for the band's video can be exclusively found on for one week, starting from August 28.

August 29, 2008 06:39:21 GMT

will show their naughty alter ego on the music video for "Girls", a new single taken from their upcoming studio album. The three-piece opt a stripping show theme for the clip and, true to the song's subject, they will play with "girls".

A bunch of have been unveiled through The Sun, revealing member Amelle Berrabah leaning against a stripper pole and fooling around with a female dancer. In one shot, she is seen with her hand on the 'crotch' part of the dancer. Heidi Range sports a '60s hair-do and black lacy mini dress while Keisha Buchanan performs sultry dance in front of her boyfriend Dean Thomas who will also appear in the video.