November 18, 2006 06:00:16 GMT
Amidst all the negative response and reactions directed toward "" in recent week, a good publication has delightfully come to the surface from a leading newspaper in the real Kazakhstan which is known to be liberal but usually loyal to the country's leadership.

The paper, a weekly tabloid named Karavan, was reported to have dubbed the mockumentary the "best film of the year" yesterday, November 17, stepping into the fray after sending a correspondent in Vienna to watch the movie.

November 18, 2006 04:34:03 GMT
Gearing things up for its drama project "", Paramount Pictures has assigned "" writer Ron Nyswaner to pen the movie's script, The Hollywood Reporter revealed.

The fourth film set in Nyswaner's home state of Pennsylavania, the flick will be made based on the landmark 2005 trial that stopped a Pennsylvania school board from teaching 'intelligent design,' creationism, and over evolution. Names of director and cast members have not yet been revealed.

November 18, 2006 04:00:30 GMT
Cheer up, Potter fans! Warner Bros. Pictures has officially announced that the teaser trailer for "" will go online for the first time on Monday, November 20th on the official "" site at HappyFeetmovie.com at 12:00 p.m. PST/ 3:00 p.m. EST.

In support, the studio has also published ten brand-new high-resolution movie stills, which can be viewed via various movie sites on the web after previously released the picture's teaser poster online. The film itself will open on July 13, 2007 in both conventional and IMAX theaters.

November 18, 2006 03:27:40 GMT
No longer playing superspy agent James Bond apparently does not mean that is shut off completely from the spy world. The actor turns out to have signed on to play as a handsome, debonair spy in comedy feature "Spy vs. Stu", The Hollywood Reporter has learned.

A New Line Cinema production, the picture takes focus to a commitment-phobe named Stu who intends to propose to his girlfriend during their vacation on an island. However, the plan gets scrapped as Brosnan's character emerges, forcing him to compete with the spy in order to win the heart of his true love.

November 18, 2006 03:00:32 GMT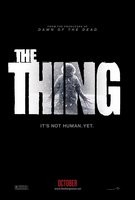 The outer-space creature finally makes its return after more than two decades. Yes, Universal Pictures and Strike Entertainment are set to work hand in hand to develop "", a horror film remake of John Carpenter's picture of the same title.

Intended to be more "a companion piece" to the Carpenter film than a note-for-note remake, the project has already had "Battlestar Galactica" writer Ronald D. Moore onboard to pen the script. Meanwhile Marc Abraham and Eric Newman will both serve as producers with original film producer David Foster executive producing.

November 18, 2006 02:49:32 GMT
Taking an unexpected turn, DreamWorks will develop a children horror flick entitled "" from an upcoming kids' book of the same title written by actress and her brother, Dann Gershon.

Also set to be produced by Nickelodeon Films, the picture centers on a young boy sent to a summer camp who finds out that the haunt is little more than an alien-run smuggling operation.

November 18, 2006 02:44:19 GMT
A good deal has been reached between Warner Bros. Pictures and Broken Lizard. The giant company has obtained rights to a spec script from the comedic troupe's members Kevin Heffernan and Steve Lemme to bring it up as a big screen feature.

Entitled "", the project follows an obese guy as he decides to transform himself after getting sick of being everyone's mascot. Heffernan will also star as well as produce alongside Lemme as part of their first-look deal with Warner.

November 18, 2006 02:07:37 GMT
Extending its collaboration with writer/director/actor , Lionsgate Films is set to produce not only one, but two flicks of the man's writing works entitled "" and "Jazz Man's Blues."

Both urban-themed features, the former one will be made based on Perry's stage play of the same title which deals with the trials of marriage while the latter, set in the south in post-WWII, centers on a struggling singer who becomes a Ku Klux Klan's target after having an affair with the wife of a racist man.

November 18, 2006 02:06:17 GMT
Back into film directing field after her last work in "Agnes Browne", Angelina Huston will go behind the camera to helm comic drama flick "", an adaptation of Daniel Woodrell's novel of the same title, Variety has revealed.

A production of Focus Features, the project is set in the Ozarks and revolves around a crime novelist, his underachieving brother, plus a pot deal gone awry. "" writer Angus MacLachlan has been hired to work on the script with Houston also executive producing via her Gray Angel Productions.

November 17, 2006 09:56:17 GMT
Endless problem continues to afflict "" following its controversial content. A woman owning an etiquette business featured in the flick being handed a plastic bag supposedly containing feces by the title character has reportedly filed a complaint yesterday, November 16, with California Attorney General Bill Lockyer, requesting an investigation toward the filmmakers for possible violations of the California Unfair Trade Practices Act.

Cindy Streit, the name of the woman, alleged that she was told that the shooting would be used for a documentary in Belarus instead of a fictional film and got so shocked upon learning that she became the object of ridicule in the movie.

November 17, 2006 09:05:16 GMT
Seemingly enjoying his role as the titular superhero in "", has revealed to E! Online yesterday, November 16, that he will once again team up with director Bryan Singer to work on the flick sequel set to be released sometime in 2009.

"I'm certainly excited to do another one," he remarked. I don't think we'll start for awhile since we have a 2009 release, but I'm excited about the potential."

November 17, 2006 07:52:58 GMT
Moviegoers sure will have many good choices of films as they greet year 2008. Two major studios at Hollywood namely Warner Bros. Pictures and Columbia Pictures have delightfully given specific release dates for their productions launched during the year, ComingSoon.net has reported.

Warner Bros. has confirmed that two of its movies namely "" and "" will both see the light in the particular year exactly on May 23 and July 18, respectively.

November 17, 2006 06:26:16 GMT
The first blow coming from the new James Bond has proven to be extremely powerful indeed.

Opening in wide release yesterday, November 16, in the U.K, "" has gloriously hit the screen harder than any 007 franchise had ever done, selling 1.7 million pounds ($3.2 million) worth of tickets to become the new first-day record-holder of the film series replacing its predecessor, 2002's "."

November 16, 2006 09:35:21 GMT
At last a writer is found for "The Monstrous Memoirs of a Mighty McFearless." Variety revealed that "" scribe Tim Firth has been confirmed to work on the flick's script for Jerry Bruckheimer Films and Walt Disney Pictures.

Based on Ahmet Zappa's children book of the same title, the picture has been floating around since Disney picked up the rights to film the work last year. It tells about a young brother and sister who learn that their family is part of a long line of monster hunters and have to team up fighting against the most diabolical creature in the universe.

November 16, 2006 08:20:46 GMT
Peter Weir is bracing himself to deal with sea again, only this time he will go deep down the surface, if everything goes smooth. The "" helmer is reportedly engaged in talks to both produce and direct "" for Fox 2000, The Hollywood Reporter has learned.

Adapted from Robert Kurson's best-selling nonfiction book "Shadow Divers: The True Adventure of Two Americans Who Discovered Hitler's Lost Sub", pic follows two deep-sea wreck divers as they risk their lives to identify a sunken U-boat they have found 60 miles off the coast of New Jersey.