November 18, 2006 02:49:32 GMT
Taking an unexpected turn, DreamWorks will develop a children horror flick entitled "" from an upcoming kids' book of the same title written by actress and her brother, Dann Gershon.

Also set to be produced by Nickelodeon Films, the picture centers on a young boy sent to a summer camp who finds out that the haunt is little more than an alien-run smuggling operation.

November 18, 2006 02:44:19 GMT
A good deal has been reached between Warner Bros. Pictures and Broken Lizard. The giant company has obtained rights to a spec script from the comedic troupe's members Kevin Heffernan and Steve Lemme to bring it up as a big screen feature.

Entitled "", the project follows an obese guy as he decides to transform himself after getting sick of being everyone's mascot. Heffernan will also star as well as produce alongside Lemme as part of their first-look deal with Warner.

November 18, 2006 02:07:37 GMT
Extending its collaboration with writer/director/actor , Lionsgate Films is set to produce not only one, but two flicks of the man's writing works entitled "" and "Jazz Man's Blues."

Both urban-themed features, the former one will be made based on Perry's stage play of the same title which deals with the trials of marriage while the latter, set in the south in post-WWII, centers on a struggling singer who becomes a Ku Klux Klan's target after having an affair with the wife of a racist man.

November 18, 2006 02:06:17 GMT
Back into film directing field after her last work in "Agnes Browne", Angelina Huston will go behind the camera to helm comic drama flick "", an adaptation of Daniel Woodrell's novel of the same title, Variety has revealed.

A production of Focus Features, the project is set in the Ozarks and revolves around a crime novelist, his underachieving brother, plus a pot deal gone awry. "" writer Angus MacLachlan has been hired to work on the script with Houston also executive producing via her Gray Angel Productions.

November 17, 2006 09:56:17 GMT
Endless problem continues to afflict "" following its controversial content. A woman owning an etiquette business featured in the flick being handed a plastic bag supposedly containing feces by the title character has reportedly filed a complaint yesterday, November 16, with California Attorney General Bill Lockyer, requesting an investigation toward the filmmakers for possible violations of the California Unfair Trade Practices Act.

Cindy Streit, the name of the woman, alleged that she was told that the shooting would be used for a documentary in Belarus instead of a fictional film and got so shocked upon learning that she became the object of ridicule in the movie.

November 17, 2006 09:05:16 GMT
Seemingly enjoying his role as the titular superhero in "", has revealed to E! Online yesterday, November 16, that he will once again team up with director Bryan Singer to work on the flick sequel set to be released sometime in 2009.

"I'm certainly excited to do another one," he remarked. I don't think we'll start for awhile since we have a 2009 release, but I'm excited about the potential."

November 17, 2006 07:52:58 GMT
Moviegoers sure will have many good choices of films as they greet year 2008. Two major studios at Hollywood namely Warner Bros. Pictures and Columbia Pictures have delightfully given specific release dates for their productions launched during the year, ComingSoon.net has reported.

Warner Bros. has confirmed that two of its movies namely "" and "" will both see the light in the particular year exactly on May 23 and July 18, respectively.

November 17, 2006 06:26:16 GMT
The first blow coming from the new James Bond has proven to be extremely powerful indeed.

Opening in wide release yesterday, November 16, in the U.K, "" has gloriously hit the screen harder than any 007 franchise had ever done, selling 1.7 million pounds ($3.2 million) worth of tickets to become the new first-day record-holder of the film series replacing its predecessor, 2002's "."

November 16, 2006 09:35:21 GMT
At last a writer is found for "The Monstrous Memoirs of a Mighty McFearless." Variety revealed that "" scribe Tim Firth has been confirmed to work on the flick's script for Jerry Bruckheimer Films and Walt Disney Pictures.

Based on Ahmet Zappa's children book of the same title, the picture has been floating around since Disney picked up the rights to film the work last year. It tells about a young brother and sister who learn that their family is part of a long line of monster hunters and have to team up fighting against the most diabolical creature in the universe.

November 16, 2006 08:20:46 GMT
Peter Weir is bracing himself to deal with sea again, only this time he will go deep down the surface, if everything goes smooth. The "" helmer is reportedly engaged in talks to both produce and direct "" for Fox 2000, The Hollywood Reporter has learned.

Adapted from Robert Kurson's best-selling nonfiction book "Shadow Divers: The True Adventure of Two Americans Who Discovered Hitler's Lost Sub", pic follows two deep-sea wreck divers as they risk their lives to identify a sunken U-boat they have found 60 miles off the coast of New Jersey.

November 16, 2006 06:30:59 GMT
Back to big screen producing field after their latest outing in "", Peter and Bobby Farrelly are partnering with National Lampoon Inc. via their Conundrum Entertainment to produce a comedy feature entitled "", Variety has learned.

Intended to begin production before the end of the year, the project focuses on an underdog teen who discovers that he has the talent to excel in the world of competitive grocery bagging. Mort Nathan is in charge to direct as well as rewrite the script originally penned by Hans Rodionoff as Champion Fill.

November 16, 2006 05:21:34 GMT
Screenwriter Russell Gewirtz should be getting busier by now. Already being tapped to work on the script of the sequel to Spike Lee's "", the man will also carry out the same job to an untitled thriller from "" helmer Brett Ratner, Los Angeles Times has reported.

Assigned to build the screenplay from Bill Collage and Adam Cooper's first draft which was based on an original idea of comic actor , Gewirtz will develop a story involving "an unsuccessful, oh-so-last-millennium high-tech heist that is pointedly juxtaposed against the decidedly low-tech but no less artful plot of a couple of blue-collar guys with much more to gain and more believable motives."

November 16, 2006 04:45:24 GMT
Not yet done with the lawsuit placed by the two college students, "" is about to face a legal action again, this time from the local people of a Romanian village named Glod who were featured as stand-ins in it.

Outraged that the movie has ridiculed their simple ways of life, the Gypsy citizens of the village are threatening to sue producers of the flick for paying them a pittance to put farm animals in their homes and perform other crude antics.

November 16, 2006 03:16:24 GMT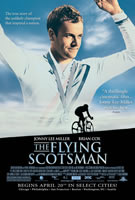 "" is about to make a safe landing in the States. MGM has picked up the distribution rights to this inspiring British film, an adaptation of Scottish cyclist Graeme Obree's autobiography of the same title published in 2003.

Plotted to be released on December 29, the picture depicts Obree's struggle in breaking world records on a bicycle he designed from scrap metal and old washing machine part despite his mental illness. Johnny Lee Miller, , and Laura Fraser are all starring under the direction of British TV director Douglas Mackinnon.

November 16, 2006 02:38:18 GMT
Both making a turn into horror genre, and have given agreement to highlight "Town Creek", a vampire-themed film project of Gold Circle production, The Hollywood Reporter has revealed.

Eyeing a March 1 start date, the picture will bill the twosome to play brothers who are trapped in a terrifying occult experiment that dates back to the Third Reich. Joel Schumacher is on board to direct with Paul Brooks producing alongside Tom Lassally and Robyn Meisinger.