News
>
Celebrity Gossip
March 23, 2014 14:18:19 GMT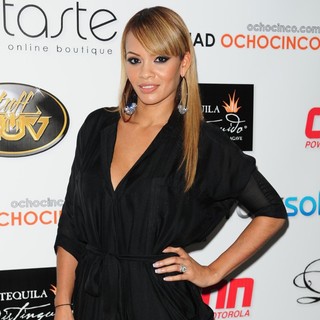 It's a boy for "Basketball Wives" star and Dodgers outfielder Carl Crawford. She gave birth to the baby on Saturday, March 22 at 3:55 A.M. MST. The newborn weighed 8 lbs. and was 21 inches long.

"I have EXCITING NEWS!" the 38-year-old tweeted the announcement on Saturday. "Thank you God for my blessing!" Showered with congratulatory messages, Lozada wrote, "Just wanted to thank all of u for ur loving tweets today! Means so much to me! LOVE ALL OF U!"

News
>
Music News
March 23, 2014 08:15:44 GMT

's "G.U.Y." music video debuted on NBC's "Dateline" on Saturday, March 22 evening. Clocking in at almost 12 minutes, this is her longest video yet, ahead of her nine-minute video collaboration with on "Telephone" a few years ago.

The video opens with men in suits fighting with each other while money bills are floating. GaGa plays a fallen angel who gets pierced in the chest by an arrow shot by one of the men. She struggles her way to a large castle where she is carried by two men and later submerged into a pool of water. The track "G.U.Y." does not begin until she reemerges from the pool.

News
>
Celebrity Gossip
March 23, 2014 07:46:03 GMT

turns a fashion designer for children costume. The actress has partnered with Stella McCartney for a capsule collection inspired by her latest film "".

Named after the Disney movie, the line includes eight styles for kids - boys and girls - ages 4 to 14. There will be princess frocks and shoes for little girls, as well as T-shirts and sneakers for little boys. They will be sold between $75 to $185, with 10 percent of all sales going to SOS Children's Villages.

News
>
Celebrity Gossip
March 23, 2014 07:25:55 GMT

The Hanson clan has grown. Isaac Hanson, the oldest brother in rock band , and his wife Nikki have welcomed their third child, a baby girl named Nina Odette. Born on Tuesday, March 11, in Tulsa, Oklahoma, she weighed in at 7 lbs., 15 oz.

The newborn joins older brothers Clarke Everett, 6, and James Monroe, 5. "After more than five years of not having a baby in the house, having our first little girl is going to be fun," Hanson told Us Weekly in a statement. "I know that Everett and Monroe are excited about being big brothers."