News
>
Celebrity Gossip
January 01, 2014 10:41:32 GMT

Indie guitarist Benjamin Curtis has passed away. The School of Seven Bells founding member died on December 29 at the age of 35 after losing his fight against T-cell Lymphoblastic Lymphoma cancer. He was diagnosed with the illness less than a year ago. He passed away at Memorial Sloan-Kettering Cancer Center in New York City, the band's manager Brady Brock revealed to E! Online.

"We lost our friend and brother Benjamin Curtis to his fight against cancer," the band announced on their Facebook. "We kindly ask that his immediate family, friends & bandmates' privacy be respected during this time."

News
>
Celebrity Gossip
January 01, 2014 07:11:24 GMT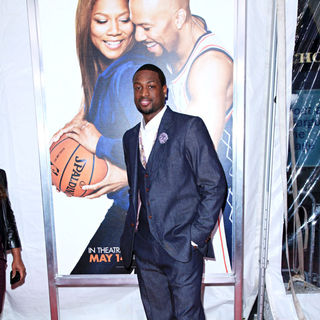 broke silence on the report that he fathered a love child with a woman who's not his fiancee . The Miami Heat player addressed the matter during a Monday press conference before the Heat's game against the Denver Nuggets. He called his infant son "a blessing to the bloodline, to the Wade bloodline."

New report emerged saying that Wade welcomed his third son with a woman named Aja Metoyer. He admitted he hooked up with his baby mama while he was on a break with Union, "I had a time, a part in our break, in our pain and our hurt, a blessing came out of it in my life, having a son that was born healthy. So I'm moving on."

News
>
Celebrity Gossip
January 01, 2014 06:17:22 GMT

failed to see Twitter's appeals. In a new interview with Harper's Bazaar U.K. for its latest issue where she graced the cover, she revealed that she once secretly joined Twitter using a pseudonym only to delete the account 12 hours later.

The "" actress said Twitter was not for her. "It made me feel a little bit like being in a school playground and not being popular and standing on the sidelines kind of going, 'Argh,' " the notoriously-private star explained.

News
>
Music News
January 01, 2014 05:39:31 GMT

' dress almost fell off during the second night of her Las Vegas residency show at Planet Hollywood. During "Circus" performance, her gold glittery sequin leotard popped open at the back threatening to reveal more than she intended.

The Southern Belle handled the Saturday, December 28 incident like a pro. Though looking a bit distracted, she managed to continue singing and dancing as one of her backup dancers was trying to fix the mishap before it could turn into a total disaster.

News
>
Movie News
January 01, 2014 05:36:23 GMT

With hundreds of potential movies coming out next year, it's hard to pick only ten of them, but here are those AceShowbiz thinks worth to get excited about. First that came to the mind is "", for it has Christopher Nolan behind it. Then the other titles started pouring in once we establish the parameter, i.e the hype and the talents. Take into mind that there's a separate article to list .

Also found within the list is definite audience magnet, "". It's one of those movies that has countless misleading remakes in the past but is now served justice by being put in line with the original classic. In the case of "", it is undeniable that young adult novels are the trend, and to make a movie based on them is a studio's smartest move in money making.

News
>
TV News
January 01, 2014 05:36:23 GMT

Everybody's looking to have a fresh start in New Year and so are TV networks which add new programs to their line-up in early 2014 in hopes to gain more viewers in addition to maintaining loyal fans with the returning popular series. To help you pick among the pile which freshmen that meet your interest, AceShowbiz presents a list of New TV Series to Watch this midseason.

Michael Bay-executive produced pirate drama "" and Alfonso Cuaron-co-created fantasy series "" as well as "" and "", which mark the first TV series regular roles for and respectively, are among those that should not be missed. Anticipation is also high for the arrival of a new face in TV's late-night slot, with ready to take over the hosting duty on NBC's "".

News
>
Movie News
January 01, 2014 04:32:22 GMT

The gang is lined up in the first official picture from Marvel's new superhero film "Guardians of Galaxy". Gamora () and Drax the Destroyer () are reporting for duty along with leader Star-Lord a.k.a. Peter Quill () as well as Rocket Raccoon and Groot voiced by and respectively.

An action-packed, epic space adventure, "Guardians of the Galaxy" expands the Marvel Cinematic Universe into the cosmos, where brash adventurer Peter Quill finds himself the object of an unrelenting bounty hunt after stealing a mysterious orb coveted by Ronan, a powerful villain with ambitions that threaten the entire universe.

News
>
Celebrity Gossip
January 01, 2014 03:51:35 GMT
Wedding bells are on the way for . The 35-year-old female rapper confirmed that she's engaged to marry her beau, British fashion designer Maximillion Cooper, after dating him for more than three years. He proposed to her in Edinburgh, Scotland on Christmas Day, Us Weekly learns.

The bride-to-be proudly showed off her new diamond ring on Instagram. "#familytime!!!! Me and my mom and my lil brother Farrod just got to the English country side," so she wrote. "Feel so#blessed to be with my family and sharing my life here. I pray that you bring 2014 in with people you #love. And nothing but #good #energy."