News
>
Movie News
April 21, 2006 09:23:45 GMT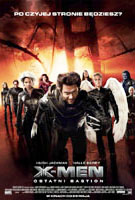 ": The Videogame" will soon hit the market, on June 26th to be exact. But prior to the release of the set, "X-Men: The Official Game" will be released earlier on May 16th, ten days before "" hits worldwide theater.

And to make sure the game remains true to the movie version, not only it will include the likenesses and voices of several stars from the action drama fantasy flick, but it brings in too the screenwriter from the film. , , and will all reprise their film roles.

News
>
Music News
April 21, 2006 08:54:57 GMT
As for there won't be time for relaxing in the coming days for the singer/songwriter has lots of things to do. First on his schedule, he is slated to serve as the musical guest for an entire week's worth of "Last Call With Carson Daly."

Harper will tape his performances next week in Los Angeles and will have the set aired May 2-5 on NBC. In the meantime, he also will headline an 11-date October tour of France in support of his album "Both Sides of the Gun". Kicked of on Wednesday at Jack Johnson's Kokua Festival in Hawaii, the trek will run through September 15 in Atlanta with about to support on the North American dates.

News
>
Movie News
April 21, 2006 08:17:24 GMT
is such person who likes challenge so it's not surprising then to find out the actor signs to topline "Journey 3-D," a contemporary, 3-D update of the Jules Verne classic.

Of action adventure science fiction genre, "Journey 3-D" follows the story of Brendan's character, a geologist who, with his teenage son, discovers a message hidden in an ancient artifact, leading them into a previously unseen world.

News
>
Music News
April 21, 2006 07:28:05 GMT
Give applause to who after five years hiatus manages to resurrect their Family Values tour. The music act reportedly are getting ready to go on a summer tour around USA with the help from the likes of , Stone Stour, Felyleaf and some Japanese new-comers to the rock scene, all of whom to join them on the trek.

The "new" Family Values tour will be begun on July 27th at Virginia Beach with tickets worth for $9.99. Aside from the main stage, where Korn and the already onboard supporting performers will play, there will also be a second stage with bands to be announced soon.

News
>
Celebrity Gossip
April 21, 2006 06:50:59 GMT
It maybe is a good month for parents to have their baby born. Is it? Anyway, there are two "significant" births within this week. The first is of and , while the other one is of and husband Chris Henchy.

Now adding the number of baby's birth in US, frontman and his wife, Jordyn Blum, welcomed their first child on Saturday, April 15. The baby, named Violet Maye, was born in Los Angeles, weighs 6 lbs., 15 oz., and measures 21 inches.

News
>
Celebrity Gossip
April 21, 2006 06:26:06 GMT
Famous actor is linked to another new beauty, 20-year-old Israeli swimsuit model .

The 31-year-old film star was spotted out on Paris' Champs Elysees holding hands with Bar last weekend and noshing at a Lebanese restaurant.

News
>
Movie News
April 21, 2006 06:05:44 GMT
Don't know what the importance of "Texas" for such actress as . Apparently she keeps the project deep in the heart and willingly gives hand at performing.

Based on a pitch by Pam Buchignati and Lynnette Ramirez, the flick tentatively titled "Deep in the Heart of Texas", tells the story of a spoiled Beverly Hills diva who is relocated to San Antonio to run the new Latin division of an ad agency. Being completely out of touch with her Mexican roots and speaking not a word of Spanish, she has to win over the gringo urban cowboy who is her new boss, speaks fluent Spanish and is more in touch with her heritage than she is.

News
>
Music News
April 21, 2006 05:07:51 GMT
While there are ups and downs on the Billboard Hot 100 singles chart, stands firm, remaining still on his top position on the chart. The Canadian singer/songwriter's "Bad Day" again leads the singles chart by Thursday April 20th, 2006 making it the 4th straight week for the star to do so.

Held at No. 2 and No. 3 respectively are 's "Temperature" and rapper 's "What You Know". Meanwhile, hip-hop artist 's "Control Myself" reenters the chart at No. 4, ahead of 's "Unwritten" which ups two places to No. 5.

News
>
Celebrity Gossip
April 21, 2006 04:29:21 GMT
Acting is very close related to Hollywood hunk . He can do and be anything on screen. But can he, in real life, rebuild New Orleans after Hurricane Katrina? It sounds impossible for the actor to do it alone and upon realizing his limitation he then brings into life his willingness to rebuild the city by conducting "green" designs contest.

Pitt announced Thursday April 20th, 2006 that he has teamed up with national environmental group Global Green USA, sponsoring the Sustainable Design Competition for New Orleans, a contest to find an Earth-friendly plan for housing and community centers in New Orleans.

News
>
Celebrity Gossip
April 21, 2006 03:51:47 GMT
"I've been training some, but I wouldn't call it serious," told the Associated Press on Wednesday April 19th, 2006 speaking on his going to run in the Nov. 5 New York City Marathon, his first-ever marathon.

Also the seven times Tour de France champion added "It's just something to fill a void in my life after I quit competing as a professional cyclist."

News
>
Celebrity Gossip
April 21, 2006 03:35:19 GMT
The world's No.1 golf player is taking a break from the PGA Tour, that's none other for he wants to spend more time with father Earl Woods who is battling cancer. Made the announcement Thursday April 20th, 2006 in New Zealand while he was attending the wedding of his caddie, the player added that he might not play in a golf tournament before the U.S. Open in June.

He said "It's kind of up in the air with the situation back home, so I don't know what's going to happen. I'm taking time off. I'm here for this event and for Steve, and to enjoy time off and be with my father, so I won't play for a while." Further he continued, "My father is hanging in there. The guy is an absolute fighter and walking miracle."

News
>
Celebrity Gossip
April 21, 2006 03:14:13 GMT
British rocker has on Thursday April 20th, 2006 been ordered to attend an 18-month drug rehabilitation program and placed on two years' probation. The star, moreover, also is banned from driving for six months because of drug possession.

As for everybody to know, Pete had pleaded guilty last month to seven charges of possessing drugs including heroin, crack cocaine and marijuana, all of which was found by police when he was stopped once in December and once in January.

News
>
Movie News
April 21, 2006 02:45:33 GMT
John Milton's "" is being brought to the big screen thanks to Legendary Pictures for the studio has attached Scott Derrickson to direct the project.

Published in 1667, "Paradise Lost" tells the story of Lucifer's failed rebellion in heaven and subsequent role in Adam and Eve's fall from grace.

News
>
Celebrity Gossip
April 21, 2006 02:18:07 GMT
Singing isn't something new for , but when it comes to acting it surely something challenging for him. The singer reportedly is in talks to star in ABC's untitled comedy pilot about a group of blue-collar guys in New York who decide to rob a celebrity.

There in the Rob Burnett and Jon Beckerman's project, Jagger will play the celebrity. He would appear in only a few scenes, and his name is not expected to be in the title of the project, sources said. Nevertheless, the role he played holds a crucial part in the project and thus is mentioned numerous times in the scenes.