News
>
Celebrity Gossip
April 20, 2005 04:52:44 GMT
Brad Pitt will fly to Africa later this week, doing a journey to fight againts poverty, for which he also invites TV cameras to film his trip as an attempt to raise people's awareness of the "Make Poverty History" campaign. Pitt, who is determined to help stamp out spiraling debt in the developing world, will suceed the campaign, launched by "Love Actually" filmmaker Richard Curtis, alongside stars including Kylie Minogue, Thom Yorke, Bob Geldof and Kate Moss.



News
>
Celebrity Gossip
April 20, 2005 04:34:30 GMT
Actor James Caan, best known for his role as Sonny Corleone in the 1972 "The Godfather," files for divorce from his wife of more than nine years Linda. Doesn't give any details about the divorce, Caan stated he loves and respects his wife as a friend and a mother. Further the actor said that he and Linda will continue to be great parents and great friends for the sake of their two children Jacob, 6, and James Jr., 9.



News
>
Music News
April 20, 2005 04:20:30 GMT
Yesterday April 19, 2005, Rob Thomas' new album "Something To Be" has hit the stores. Unlike any other singers, the Matchbox Twenty frontman marked his debut with a very rare TV occurrence, a two-night stand on "The Tonight Show with Jay Leno."

The singer joined Jay Leno's show on April 18, 2005, to perform "Lonely No More" for the show audience. Then, the next day, Tuesday April 19, he returned to the show to play more music from his solo disc.

News
>
Movie News
April 20, 2005 04:03:27 GMT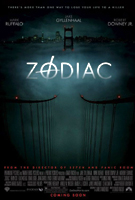 David Fincher's next film "Zodiac," which is based on the real-life tale of a serial killer known as the Zodiac Killer, who terrorized San Francisco for 25 years, has attracted new actors, including Mark Ruffalo, Jake Gyllenhaal and Robert Downey Jr.. The Hollywood Reporter writes, Mark Ruffalo is in talks and Jake Gyllenhaal and Robert Downey Jr have signed on to appear in the movie.

Gyllenhaal is said will play Robert Graysmith, the journalist and author of the two books, Zodiac and Zodiac Unmasked. Downey, at the same time, will play fellow reporter Paul Avery, and Ruffalo would play the San Francisco homicide inspector in charge of the case. The film supposedly will be produced by Pheonix Pictures and will be distributed by Paramount.

News
>
Music News
April 20, 2005 03:48:49 GMT
Paul Simon will be honored at the 53rd Annual Pop Awards, scheduled to take place in Los Angeles on May 17, 2005. The event hosted by BMI, the performing rights organization that represents more than 300,000 songwriters, will honor Simon a BMI Icon, joining pervious honorees James Brown, Chuck Berry, Brian Wilson, Van Morrison, Little Richard, Dolly Parton and Carlos Santana.



News
>
Music News
April 20, 2005 03:32:10 GMT
British singer Sting went back to classroom this week, taking the role of a musical mentor for a group of college students of University of Illinois at Chicago. Burst in with MTV cameras in companion, Sting and his band had completely surprised the students, who had been told that their regular class was going to be filmed for a promotional video for the university.

Immediately cheers by the students, Sting opened the "coincidence" visit by playing "Message In A Bottle," a hit with the Police, the rock trio that he led to fame during the 1970s and '80s. Sting played an electric bass, accompanied by two acoustic guitars and a shaker. He later took questions from the audience, discussing unusual time signatures, his music influences and his composition techniques.

News
>
Celebrity Gossip
April 20, 2005 03:13:59 GMT
Rapper Jay-Z and watchmaker Audemars Piguet are partner and have announced Tuesday April 19, 2005, their creation of a limited-edition timepiece, which is a series of 100 watches that will retail for between $23,500 and $69,500. Jay-z who co-designed all the watches admits he chooses to partner with Audemars mainly because of the quality and integrity of the brand, and the watches are to commemorate his 10th anniversary in the music industry, with a portion of the proceeds to benefit the S. Carter Scholarship Fund.



News
>
Celebrity Gossip
April 20, 2005 02:52:35 GMT
Actor Jackie Chan is scheduled to lead tsunami goodwill mission, by heading a four-day goodwill visit to struggling Indonesian communities, as an attempt to raise awareness of the plight victims of December's Indian Ocean tsunami are facing. As part of the mission, the star will travel to the hard-hit region of Banda Aceh, northern Sumatra, to meet thousands of people left orphaned, injured or homeless by the deadly disaster.

Joining Chan in the mission also Hong Kong film star Eric Tsang, last year's Miss World Julia Garcia Mantilla, and British Olympic gold medalist Daley Thompson. To support the charity trip, the journey of the famous will be filmed by Hong Kong satellite TV broadcaster Phoenix.

News
>
Celebrity Gossip
April 20, 2005 02:23:57 GMT
Actor Chris Tucker has briefly put in McDuffie County Jail, Georgia, Sunday April 16, 2005, after being clocked at a 109 miles per hour on a stretch of Georgia's Interstate 20, nearly 40 mph over the speed limit, and then leading police on a high-speed chase. The Georgia State Patrol even said the actor had once drove his 2005 Bentley up to 120.

Georgia State Patrol spokesperson Larry Schnall, in addition, explained that a trooper had at first tried to stop Tucker's car, but he continued to drive even faster, pushing the trooper to radioed ahead to other troopers and asked them to stop Tucker's vehicle. And so as the trooper continued to pursue him, Tucker continued to accelerate until he hit a rough patch and was "forced to slow down."