October 18, 2014 02:05:18 GMT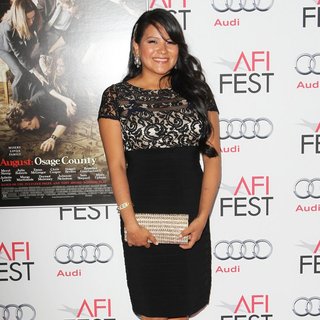 Misty Upham's family believes her death is accidental and she did not commit suicide. The body of the 32-year-old actress, whose credits included "", "", "" and "" among others, was found on Thursday, October 16 more than a week after she went missing. In a statement released on Facebook on the next day, her family explains that the actress fell to her death when trying to escape from police.

"We believe that Misty's death was accidental. She did not commit suicide," her father Charles Upham wrote. "We believe she ran into the wooded area behind her apartment to hide from the police. The area in question has a hidden drop off and evidence suggests that she slipped and fell off of the steep embankment when she tried to get out of a view from the road. She simply did not see the drop off."

October 18, 2014 01:57:56 GMT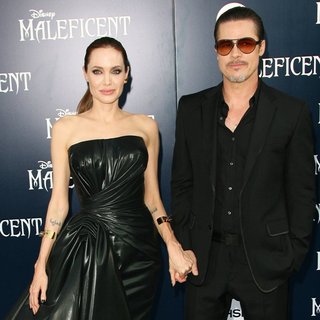 talked about his marriage to in an interview with David Muir on "World News Tonight". Asked about their intimate nuptials, the "" actor replied, "It was an amazing day and I think there's an added security that comes with it."

Brad and Angelina famously vowed not to wed until it was legal for gay couples to marry. "That's just a no-brainer to me. That's the basis of our country," the star of "" said, "Equality for everyone."

October 17, 2014 23:01:18 GMT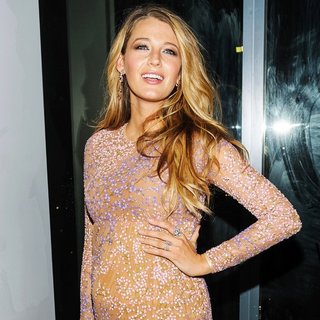 makes her first red carpet appearance since having a bun in the oven. The wife of dresses her baby bump is an oleander and lilac embroidered stretch tulle gown from the Michael Kors Resort 2015 collection.

She was joined at God's Love We Deliver Golden Heart Awards in New York City by board member Kors, , , , and Anna Wintour. The Vogue editor received Michael Kors Award for Outstanding Community Service.

October 17, 2014 22:40:47 GMT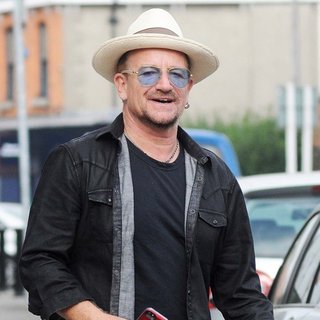 reveals the real reason of his ever-present sunglasses, and turns out it's not because of a rock star affectation. During a visit to "The Graham Norton Show", the frontman says he is suffering from glaucoma that makes his eyes sensitive to light. If not treated properly, it can lead to blindness.

When asked if he ever removes his shades, Bono says, "This is a good place to explain to people that I've had glaucoma for the last 20 years."

October 17, 2014 22:19:08 GMT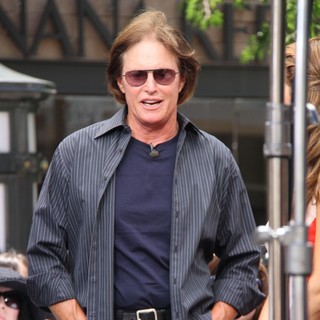 may have found a new love after splitting from . According to PEOPLE, 64-year-old Bruce is dating Rhonda Kamihira, Kris' former assistant and best friend. The two were spotted together at an concert in Los Angeles on October 4.

The Kardashian matriarch, who recently said that dating again was "daunting" for her, reportedly "is just shocked." "She's so sad and completely heartbroken," says a source. "Kris is devastated. This was her former assistant and best friend of 20 years."

October 17, 2014 09:14:05 GMT

has teamed up with Michael Kors to use the power of fashion and Hollywood to support the U.N. World Food Programme. On Thursday, October 16, Michael told CNN that he would donate 100 meals to children in need for every selfie people took while wearing his "Watch Hunger Stop" tee and posted it along with hashtag #WatchHungerStop.

"I think the amazing thing about the hunger initiative with the World Food Programme is that everyone has the possibility to pitch in," Michael, who initiated the #WatchHungerStop campaign in early 2013, said, "You don't have to be wealthy. You don't have to be a certain age. You don't have to live in a certain geographical area. Everyone can really contribute."

October 17, 2014 09:06:41 GMT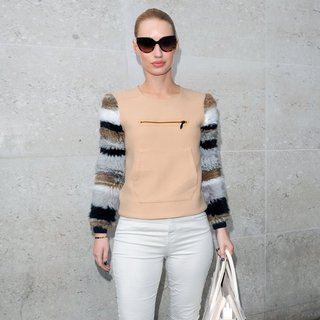 is unhappy that the Australian division of her label seemingly did not listen to her request, so she vented her frustration on Twitter. The "Fancy" hitmaker took to the social networking site on Thursday, October 16 to criticize her label for giving magazines permissions to use her old photos for covers of new editions.

"I'm going to publicly say something to the Australian division of my record label right now because my message seems to be ignored privately," she started. "Stop giving permission on my behalf for magazines to purchase images of me that have already been printed in major publications for covers."

October 17, 2014 08:16:07 GMT

Former MMA fighter War Machine who is waiting his trial for attempted murder of his ex-girlfriend and her friend reportedly tried to kill himself in prison earlier this week. The fighter, whose real name is Jonathan Koppenhaver, was found by a guard unresponsive on Tuesday night, October 14.

Sources at the law enforcement office told TMZ that the officer saw him sitting on the floor of his Las Vegas jail with his feet up on the bunk. The officer entered the cell and noticed a piece of linen around Koppenhaver's neck which was tied to the leg of the bed. The officer removed it and his condition got better. He currently is in a medical isolation cell under suicide watch.

October 17, 2014 08:00:58 GMT

opens up about her sexual orientation to in upcoming episode of "Oprah: Where Are They Now?" which is scheduled to air on Sunday, October 19. The Filipina songstress reveals when she realized she was a gay.

"I knew when I was five," the "Pyramid" singer tells Oprah in a sneak peek clip, "I was in grade school and I saw this girl and I felt different. I didn't know what it was but I just knew that time, like it felt special. And when I was 10 I was like, 'Oh, that's it. I'm gay.' I found the word."

October 17, 2014 07:23:16 GMT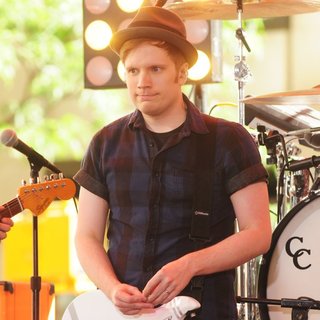 's member is now a father. His wife Elisa Yao gave birth to their first child together, a baby boy, named Declan. The exciting news was shared by on her Twitter account on Thursday, October 16.

"It's a boy! Actually, it's a @FallOutBoy. Congrats @PatrickStump and welcome baby Declan! See y'all in 2 weeks!" the host of "" wrote, attaching an adorable snap of baby Declan on the post. FoB's account also shared the same photo and wrote, "Welcome to the world the newest Fall Out Baby Declan."

October 17, 2014 07:13:33 GMT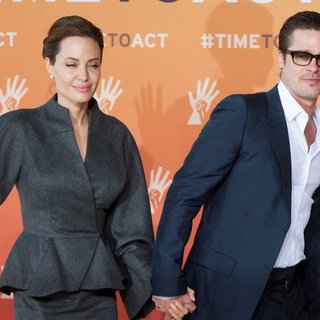 talked about his marriage to and their honeymoon in an interview with Extra at the premiere of "" in Washington D.C. When asked if their "" filming in Malta was a honeymoon, Brad replied, "It's a completely dysfunctional honeymoon."

Brad then explained the project, "It's a really elegant kind of... sparse story that she has written about a dysfunctional couple. It's really about grief, it's a couple dealing with grief." The "" actor added, "And yes, this is our honeymoon. It's not a bad place to be, I'll tell you that."

October 17, 2014 06:47:30 GMT

and his fiancee Brett Rossi decided to go separate ways ahead of their wedding. The "" actor announces their separation in a statement released on Thursday, October 16, saying that Rossi is a "terrific" girl.

"Scotty and I had a great year together as we traveled the world and crossed a lot of things off our bucket list. She's a terrific gal - but we've mutually decided to go our separate ways and not spend the rest of our lives together," reads the statement. "I've decided that my children deserve my focus more than a relationship does right now. I still have a tremendous fondness for Scotty and I wish her all the best."

October 17, 2014 05:57:32 GMT
John Grisham has apologized after saying that jail sentence for people who watch child porn is too severe. In a statement released on on Thursday, October 16, the author who is popular for his works such as "The Firm", "The Client" and "A Time to Kill" among others backtracks his previous statement and says that he's sorry.

"Anyone who harms a child for profit or pleasure, or who in any way participates in child pornography - online or otherwise - should be punished to the fullest extent of the law," the statement reads. He adds that his comments published on U.K.'s were "in no way intended to show sympathy for those convicted of sex crimes, especially the sexual molestation of children."

October 17, 2014 05:54:15 GMT

took to Instagram on Thursday, October 16 to share a video of him making a plea to save a female fan's job. According to TMZ, the fan who works as a bus driver was suspended without pay after taking a selfie with Kevin while she was on the job.

In the video, Kevin asked the company "to give this moment a pass," before adding, "I love National." The "" actor then joked that if he were to see him, he would also take a selfie with him. He concluded his message, "C'mon have some compassion!"

October 17, 2014 04:13:04 GMT
Tracy Rector, a friend and Upham family's spokesperson, has shared more details about a body on Thursday, October 16 which is believed to be the missing actress Misty Upham's. As reported by The Hollywood Reporter, the Seattle-based filmmaker said the body was found by Misty's uncle Robert Upham, who organized a search party, alongside two other people who took part in the search. The actress' father Charles Upham then confirmed the identity to the authorities.

"We waited at the site where the team found the body. It took about five-and-a-half hours to confirm. Then we gathered around her body to say prayers and now we're all gathered at the church," Tracy, who also contributed to the search, said on Thursday evening.