January 25, 2007 07:25:33 GMT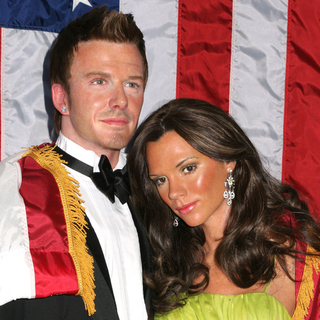 Bravo America. The country shows its hostility by welcoming the wax figures of and even before the couple moves there.

Waxen figures of Beckham and Victoria were unveiled at the Madame Tussauds New York wax museum on Tuesday January 23rd. The figurines of the pair, welcomed to the US by a model of President George Bush who holds a sign reading: "Welcome to America", will be on display at the Times Square Tussaud's for two weeks.

January 25, 2007 06:05:05 GMT
California-based company Beverage Concepts provokes controversy with their plan to release a non-alcoholic "Liquid Experience" drinks, which is named after 's breakthrough 1967 album, "Are You Experienced?"

It is okay with the product, but the concept obviously makes the guitarist's fans upset. Despite the fact that Beverage Concepts has said to honor Hendrix's memory by donating some of the profit from the Liquid Experience to an unidentified music education foundation, still it makes fans unhappy.

January 25, 2007 04:13:30 GMT
Which one is correct? was never meant to be success or entertainment industry is just not fit him? Either one, the self-called aspiring rapper has proven that he was never born to be a star.

After his failed rap career, the man is giving hand at doing ads. Sad to say that this time around he also doesn't make it, as a leading restaurant association has called for the cancellation of a TV commercial featuring him as a failed rap star working in a fast-food eatery.

January 25, 2007 03:42:19 GMT
To everyone shock, it is reported that R&B singer was involved in a fatal, four-car accident on a Los Angeles freeway last month which sadly left a 38-year-old woman dead.

Police said on Wednesday January 24th the accident happened at 10:30 AM on December 30, 2006 on the 405 Freeway in Los Angeles. It is reported that Brandy was driving her 2007 Land Rover at 65 mph and did not notice that cars in front of her had slowed considerably that her vehicle then struck a 2005 Toyota.

January 25, 2007 03:21:40 GMT
Maybe they think they have had enough from their five years marriage. Thus, it comes to no surprise at all that and her husband Coleman Laffoon decided to go separate ways.

A spokeswoman for the actress confirmed the report Wednesday January 24th. "They have requested that they be allowed their privacy at this time," publicist Lisa Kasteler said in a statement.

January 25, 2007 02:33:13 GMT
Just days after rumors on their break up came to the surface, talk is heating up on and have secretly tied the knot.

Ledger and Williams, the parents of 14-month-old daughter Matilda, applied for a marriage license in Brooklyn last November and the actor has now been spotted wearing a wedding ring.

January 24, 2007 09:35:36 GMT
Ranging from acting to singing, is now adding radio host to his resume. The actor-singer is launching "The Foxxhole," an entertainment and lifestyle radio channel, Sirius radio announced on Tuesday January 23rd.

The 24/7 channel, which is about to be launched in the spring, will feature urban comedy bits from comedians, as well as showcase music, skits, radio theater and more. It is Foxx himself who will serve as executive producer, on-air host and contributor for the channel on a daily basis.

January 24, 2007 09:13:02 GMT
is now a mom. The singer has given birth to her first child with boyfriend, music engineer and producer Mike Napolitano Saturday Jan. 20.

The newlyborn, a baby daughter named Petah Lucia, was born at the couple's Buffalo, N.Y., home and weighed in at 7 lbs., 8 oz.

January 24, 2007 08:13:54 GMT
The anorexia claim published by the Daily Mail has made so furious that the actress then decided to take legal action against the publication.

The British movie star is reported to be taking legal action against the Daily Mail after the paper suggested that she lied about having an eating disorder. That's not all, the newspaper also published a picture of Keira in an article on January 11th about the death of a teenage girl suffering from anorexia.

January 24, 2007 07:47:32 GMT
Aside from the many negative publication concerning her private life, has on Friday January 19th been appointed ambassador for Rio de Janeiro.

On the supermodel choosing, Mayor Cesar Maia said that it is all because Campbell "has an image which is the face of Rio de Janeiro, and can represent the city abroad like no-one else".

January 24, 2007 06:17:48 GMT
The time has not yet come for to leave the "Wonderland". Though so, the actress-singer was spotted Monday afternoon January 22nd, taking a break from rehab and entering the lobby of her apartment building.

Speaking on that matter, Linday's publicist confirmed that she will be granted a leave of absence each day of her program, so that she may be able to go on set to continue filming on her halted movie, "".

January 24, 2007 05:15:08 GMT
Would you believe me if I say and both are virgin? I bet you won't. Though so, the Hollywood's babes have secured "virgin" projects.

Paris and Jenna, have been contacted to participate in a reality show called "Virgin Territory", in which "a group of the uninitiated will find their way to the promised land."

January 24, 2007 04:23:32 GMT
"Friends", and , will have their relationship gets a "dirty" treatment when they share an on-screen kiss on the new FX Networks show "Dirt".

TVGuide.com is reporting that while Cox will play Lucy Spiller, a tabloid queen, Aniston has been tapped to appear on the season finale of the show in March, portraying the role of Tina Harrod, a rival magazine editor who is a lesbian.

January 24, 2007 03:53:55 GMT
It is no longer impossible for you to get endless offering of 's belongings. The Web site, ParisExposed.com, launched Tuesday January 23rd makes it a mission possible for you to get all, ranging from Paris photographs, home videos, diaries, love letters, recorded phone conversations to phone numbers of friends and celebrities.

All the new goods "were acquired by me through a broker," said Bardia Persa, who created ParisExposed.com. He noted that he obtained the Paris possessions in September 2006. Those who are interested will have to pay a monthly fee of $39.97 to gain access to the site, which promises footage of the hotel heiress in a "sexy bubble bath" video. It also says it has various shots of Paris in "racy situations," and footage of her drinking with friends and using illegal substances.

January 24, 2007 03:34:00 GMT
is showing her support for boyfriend as she reportedly is planning to design new outfits for his Nets' cheerleaders.

Jay-Z, who is widely known as rapper, is a part-owner of NBA team the New Jersey Nets.