April 03, 2007 02:31:58 GMT
She's been sporting a walking cast on her right leg for the past few weeks, leads people to ask what happens. Speaking on her behalf, 's representative tells People the actress fractured her ankle after jumping from a boat during a cover shoot for June's 2007 issue of health and fitness magazine Self.

"It happened at the end of February in Mexico. It was for one of the setups for the spread where she had to jump into the water," the representative told the publication.

April 02, 2007 07:29:43 GMT
The supermodel is busier than ever. Not only is having a week of community service, but also she is planning to launch lingerie label.

Campbell who has just completed a week's community service in New York for assaulting her assistant, is about to launch her own signature lingerie line. She is said to team up with fashion designer Christopher Kane.

April 02, 2007 04:33:32 GMT
No more speculation in the future as it has been known who the mystery man is. The identity of the mystery man was seen dining with on Monday night March 26th has been revealed.

Aniston, as reported by "Extra," was spotted eating with an unidentified fellow at Il Sole on the Sunset Strip. And now the media have learned that the mystery man is Hollywood producer Ryan Kavanaugh.

April 02, 2007 03:35:05 GMT
Beyond her "Simple Life", life is just not so simple for . In addition to working on the hit TV series, the socialite is busy working to launch her signature scent.

In an interview with Britain's OK! magazine Nicole revealed to have a number of exciting projects by the time she finishes filming the "Simple Life." "I'm working on a style book, plus I'm launching a jewelry and accessories line, a sunglasses line and my own perfume," she told the publication.

April 02, 2007 03:06:55 GMT
It's been quite sometimes since we last reported that is engaged to his stylist. By Wednesday March 28th, a publicist for the R&B singer, Simone Smalls, did confirm to MTV that Usher is engaged to his longtime girlfriend, stylist Tameka Foster.

While no further details being disclosed, Usher said in recent interview he could be walking down the aisle before the end of the year. When and where, just keep it here for we'll keep you posted with more.

April 02, 2007 02:22:36 GMT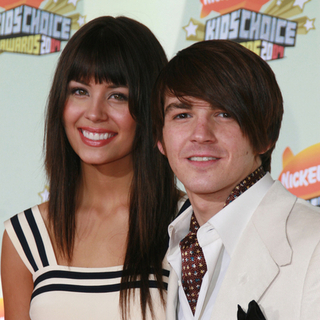 , an American actress and singer best known for starring as Miley Stewart / Hannah Montana on the Disney Channel Original Series "Hannah Montana," wins the category of Favorite TV Actress at the 20th Annual Nickelodeon Kids' Choice Awards held Saturday March 31st.

The other TV frontrunner is , well known among young audiences for his role on the series "Drake & Josh," who earns the Favorite TV Actor award. The annual American televised singing competition "American Idol," in the meantime, is named Favorite TV Show.

March 30, 2007 07:13:39 GMT
and . What do they have in common? Can you please find one? If not then here I tell you what. They have the same feeling toward each other.

Speculation is mounting that Butler and Campbell are couple. Completed her five days of community service as a result of throwing a cell phone at a former employee, the supermodel returned to New York where she has been spotted out and about with Butler several times.

March 30, 2007 06:34:45 GMT
Talk is heating up that has been hospitalized. While report on that matter remains speculative, a spokeswoman for the star set the record straight Thursday March 29th, saying Michael is "a little bit under the weather," but has not sought hospital treatment.

"He was a little under the weather when he returned from Europe. He probably had a bad cold or the flu. But he was never hospitalized," Raymone Bain said, claiming Michael was in Las Vegas recording music for a new project after attending to "personal business" in Europe.

March 30, 2007 05:56:15 GMT
The heiress' life will not be that simple anymore as she is facing jail term for violating her probation. is facing a 90 days in jail sentence after being accused of violating the terms of her probation by driving without a license, the Los Angeles City Attorney's Office announced Thursday March 29th.

The decision to revoke Paris' probation is taken following a Feb 27th incident during which she was stopped for speeding down Sunset Boulevard without her headlines on. The officers who pulled her over impounded her 2007 Bentley Continental GTC Convertible upon discovering her license had been suspended.

March 30, 2007 04:37:28 GMT
The wedding bell will ring sooner than ever for and his model girlfriend . The lovers are reportedly planning to walk down the aisle June later this year.

Rumor has it that the actor has popped the question to his lady and they are already planning their big day. "Although it may be a bit of a rush, they're thinking about getting married this June. That's when Bar turns 22," a source told the National Enquirer magazine.

March 30, 2007 04:02:23 GMT
rocks. For women at her age it's amazing that she still has the body curve. The rocker, who's been photographed wearing a skimpy bikini in Hawaii showing off her sleek toned body, opens up about weight loss.

Courtney, in a posting on her , said she's already lost 44 pounds and intends to lose "6 more maybe 11."

March 30, 2007 03:19:43 GMT
Now that and have reached a settlement in their long divorce battle, it only takes a judge to approve the settlement for the divorce to become final.

The estranged couple reached a settlement in their divorce Thursday March 29th and have finally signed "a global settlement on all issues of their marriage," Michael Sands, a spokesman for Federline's attorney Mark Vincent Kaplan, said.

March 30, 2007 02:53:48 GMT
adding a more prestigious title to that of rock star. The frontman was named a Knight Commander of the Most Excellent Order of the British Empire Thursday March 29th.

The honor, given in an informal, laugh-filled ceremony in the Dublin home of British Ambassador David Reddaway, is given in recognition of Bono's services to the music industry and for his humanitarian work.

March 30, 2007 02:20:04 GMT
She's an Oscar winning actress. She is famous and rich. So what? Despite all her good luck is just a human being, who like many of us, has to face the ups and downs in life. The movie beauty once experienced broken heart that she nearly killed herself.

In an interview with
March 30, 2007 01:52:16 GMT
Judging from the way she lives her life in recent days, deserves the title, I guess. The pop star has been voted the Most Unhealthy Celeb according to the poll by healthy living brand, .

It is said that Spears is the one most needs to "live the change and take steps towards striving for a healthier and more balanced lifestyle." She got of the vote. Fellow rehab celeb comes in 2nd with