November 09, 2007 02:18:45 GMT

Has just debuted her fresh look as she's been granted the US visa, finally, hits the low point of her life once more. The troubled singer might be happy with her being granted the permission to enter the United States, but she surely won't feel glad about this news that her London home has been raided, not by thief, but by the police. Surprise, surprise.

According to the Daily Mail, there were more than a dozen of British police went in to Amy's house around 5 p.m. London time on Thursday November 8th, breaking the doors with a crowbar and battering ram to force their way into the empty North London home.

November 08, 2007 09:54:18 GMT
Broken heart and remain single is an old story for . The former boy-bander, who recently publicly stated that he once married a girlfriend after having a wild night with her in Sin City with the intention to get free drinks all night, is off the market. And this time on, referring to his being gay, found himself a new boyfriend.

Previously dated "Amazing Race" winner Reichen Lehmkuhl and has since their split being romantically linked to model Pedro Andrade, Bass' new fling, Ben Thigpen, comes from not-far-away from Hollywood entertainment profession. He's a hairdresser.

November 08, 2007 09:25:22 GMT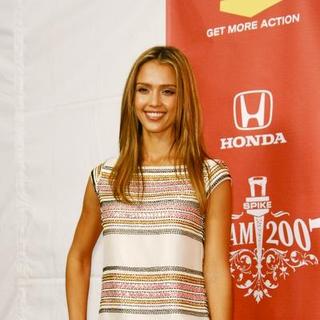 Having seen such famous actors, as and , making their Broadway debut, its' just a matter of time to finally see our adorable movie beauty doing her part on stage. The sexy actress is being courted to star in a Broadway revival of David Mamet's "Speed-the-Plow" in the spring, it has been reported.

Most recognized for her movie career but is having zero experience in case of stage play, in fact, doesn't prevent Broadway from wanting Alba.

November 08, 2007 08:48:04 GMT

Remains single since breaking up from her latest boyfriend DJ AM in March, keeps herself away from both public and media attention. She's rarely seen hanging out in the places common to Hollywood celebrities. And just now, the singer-actress sent shock to public worldwide with her being reported dating actor .

Both stars, according to Page Six, were seen on a date last week in New York.

November 08, 2007 08:10:52 GMT

Just now we presented you with more pictures of showing off her growing baby bump. And here it comes the official conformation right straight from the diva's mouth. Unlike fellow expectant celebs and who made their pregnancy official in an interview, the Bronx singer shared the good news to fans first.

Lopez was performing one of several concerts in Miami Wednesday night November 7th along with her husband when she unexpectedly told South Florida concertgoers that she and husband are having a baby on the way. "Marc and I are expecting," Lopez told the crowd of fans in Miami who erupted with screams and applause.

November 08, 2007 07:38:22 GMT

Nick Hogan's freedom stops just now. The son of wrestling superstar was cited on numbers of serious criminal charges, one most obvious is third-degree felony reckless driving involving serious bodily injury, stemmed from an August car crash that left his passenger in critical condition.

Nick was arrested early Wednesday morning November 7th by police in Clearwater, Florida, for his involvement in the street-racing crash back on August 26th that left his best friend John Graziano remains hospitalized, reportedly in a coma.

November 08, 2007 06:06:34 GMT

Is having a very full plate on her nowadays' acting agenda, self-proclaimed gamer is taking time out from her hectic filming schedules to have a bit fun doing something related to her gaming hobby. The screen beauty adds one more credit into her career resume with her invading the video game world, lending her likeness to the highly anticipated "Assasin's Creed."

Computer and video game publisher and developer Ubisoft announced Tuesday November 6th the tapping of Bell to play a key character in its historical-fantasy game, "Assassin's Creed" which will be available on Microsoft's Xbox 360 and Sony's PlayStation 3 by November 13th.

November 08, 2007 04:55:52 GMT

With his divorce saga with estranged wife is still in the on-going stage, has become media darling with the divorce settlement issue, mainly focused on the custody of daughter Beatrice and spousal support payment, which has yet come to an end by now. Hot on the heels of the former couple's splitting up business, there comes a new report that suggests Macca has found new love in American millionaires divorcee, Nancy Shevell.

McCartney and Nancy are reported to have been photographed kissing. The shot of the former Beatle kissing the divorcee in the front seat of his truck was published first by The Sun of London, but quickly made its way across the pond to the Daily News, the New York Post and Newsday.

November 08, 2007 03:58:46 GMT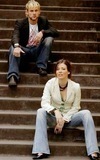 It is sad for us to inform that "Lost" lovers, and , have lost their love for each other. The couple is reported to have broken up.

Monaghan, an English actor who received international attention from the success of playing Merry in Peter Jackson's adaptation of J. R. R. Tolkien's "The Lord of the Rings" trilogy, is said to be spotted crying in a woman's arms, not Lilly, at El Coyote restaurant in L.A. on Saturday November 3rd.

November 08, 2007 03:36:26 GMT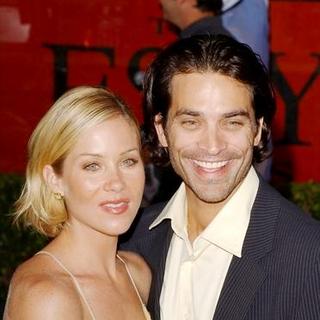 Have had their union as husband-and-wife officially dissolved back in August apparently won't prevent and Johnathon Schaech to act "friendly" to one another. The former couple was seen hooking up just last week, thus prompted rumors they are back on again. Are they?

Confirmation on Applegate and Schaech have rekindled their romance sounds make sense and acceptable by the fact that they've been reported to be getting cozy together at L.A. hot spot Les Deux on Friday night November 2nd. People, who first to bring the matter to public, quoted a witness as saying, "They just made out all of a sudden. They didn't really look around to see who was looking, it just happened, but it wasn't that weird after. They just went along talking to friends and separated soon after and both kept partying."

November 08, 2007 03:11:27 GMT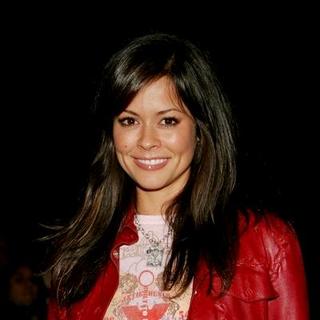 A fourth child is just around the corner for and actor fiance .

Words are mounting that the television personality and model, known for hosting "Wild On!" (1999-2002) and "Rock Star" (2005-2006), is pregnant again.

November 08, 2007 02:49:12 GMT

Pictures speak lauder than words. She herself remains silent on the pregnancy reports surrounding her, whereas her husband insists no baby in the oven. Just last week her high profile fashion designer Roberto Cavalli confirmed that is waiting for the baby, and just now the remain silent star has revealed her growing baby bump. And it's big you know? Could it be true that she and husband are expecting twins?

Notwithstanding with speculation on double babies for J.Lo, the singer has made it obvious to everyone of us that there's indeed a bun in the oven when photos appeared of her showing off her growing bump at a charity baseball game Monday November 5th.

November 07, 2007 09:30:36 GMT

A glamor model and actress, needless to say that has curvy body which, in addition to her good-looking face, becomes an additionally plus point that scores her a deal with lingerie brand Ultimo to model their range.

Might not be a household name just yet, Gemma proves to be a professional in the business though, as obviously apparent through her promotional shoots for Ultimo's D-G lingerie range, available for view after this news.

November 07, 2007 08:56:20 GMT

While he has confirmed his heading for Broadway, bringing along his horsey-loving role of Alan Strang in Peter Shaffer's 1973 play "Equus" for New York audiences, there comes a new report that suggests has had a girlfriend. And the lucky girl reportedly is his "Equus" co-star Laura O'Toole.

Radcliffe, according to Dailymail.co.uk, has been spending an increasing amount of time with O'Toole who's four years his senior. The twosome are said to become "very close" since their being together in the controversial stage play.

November 07, 2007 07:24:07 GMT

The always looks stunning looks gorgeous on the pages of the 2008 Campari Calendar. Campari, should you don't have any idea on what is it, is a major Italian alcohol beverage company.

The American actress, who became known after a series of roles in several major Hollywood films, including "" (2003) and "" (2005), has posed in numbers of sexy angles as captured by Italian photographer Marino Parisotto for the 2008 Campari Calendar.